Renovate to innovate: Why traditional offices need to redesign to race ahead
Design has a powerful effect on us all. The environment we're in can evoke enthusiasm or indifference, motivate us to be productive or become a hindrance. Instinctively, we are aware of this effect. We know that a particular space, maybe at home or at the office, enables us to work better or faster. While it's difficult to explain this phenomenon, there are studies that explain the reasons behind it.
The impact of design
An interesting study, funded by the Engineering and Physical Sciences Research Council, examined the impact of classroom design on learning rates of over 3500 students attending schools across the UK. The results concluded that design alone could lead to a 16% variation in performance.
The study went on to suggest that a key reason for the variance was the difference in the levels of flexibility and connection each classroom offered particular groups of students. This is interesting because most of us think of design in terms of appearance, not functionality.
So what does this mean for the office workspace? Should all offices move into spaces that encourage flexibility and connection? Not at all. What it does mean is that there is benefit in redesigning the office to reflect the culture of the organisation.
Cultural shift
DBS Bank India has been in the process of rebuilding itself as a startup for some time now. What we wish to achieve by doing this is to reimagine the user journey and leverage upon new technologies to offer a differentiated experience to our customers. Over the past three years, we have made significant progress, both in terms of creating a startup culture and rolling out innovative products. The office from where we were charting our journey was, however, lagging behind.
A new beginning
The new space, at Express Towers in Nariman Point, Mumbai, has been custom-designed to enable the attributes of our new culture. If this seems hard to comprehend, maybe a few examples of the change our employees are experiencing will better explain the transformation.
Open layout: For starters, the new office eschews cubicles, in favour of an open layout. We've done this because we want our employees to be able to communicate with each other with ease. The openness of the floor will also lead to greater interaction between teams. This is why we have, in some cases, positioned connected teams alongside each other. For example, the IT and product teams sat on separate floors at our old office, despite the need for regular interaction between them. At the new office, they sit alongside, leading to quicker feedback and better results.
Social zones: The old office had only a few meeting rooms and no informal meeting spaces. This discouraged impromptu discussions. Also, fewer employees ended up building relationships with those outside their team. The new space makes room for two social zones on each floor. So, rather than hold discussions over the phone, our employees can now exchange ideas in an informal setting. Rather than pass each other by in a narrow hallway, our employees can now spontaneously interact and share ideas. This can have a positive effect. According to a 2012 study by the Human Dynamics Laboratory at MIT, an increase in face-to-face interactions could alone account for a "35% of the variation in a team's performance". It also found e-mails and text messages to be the least valuable form of communication.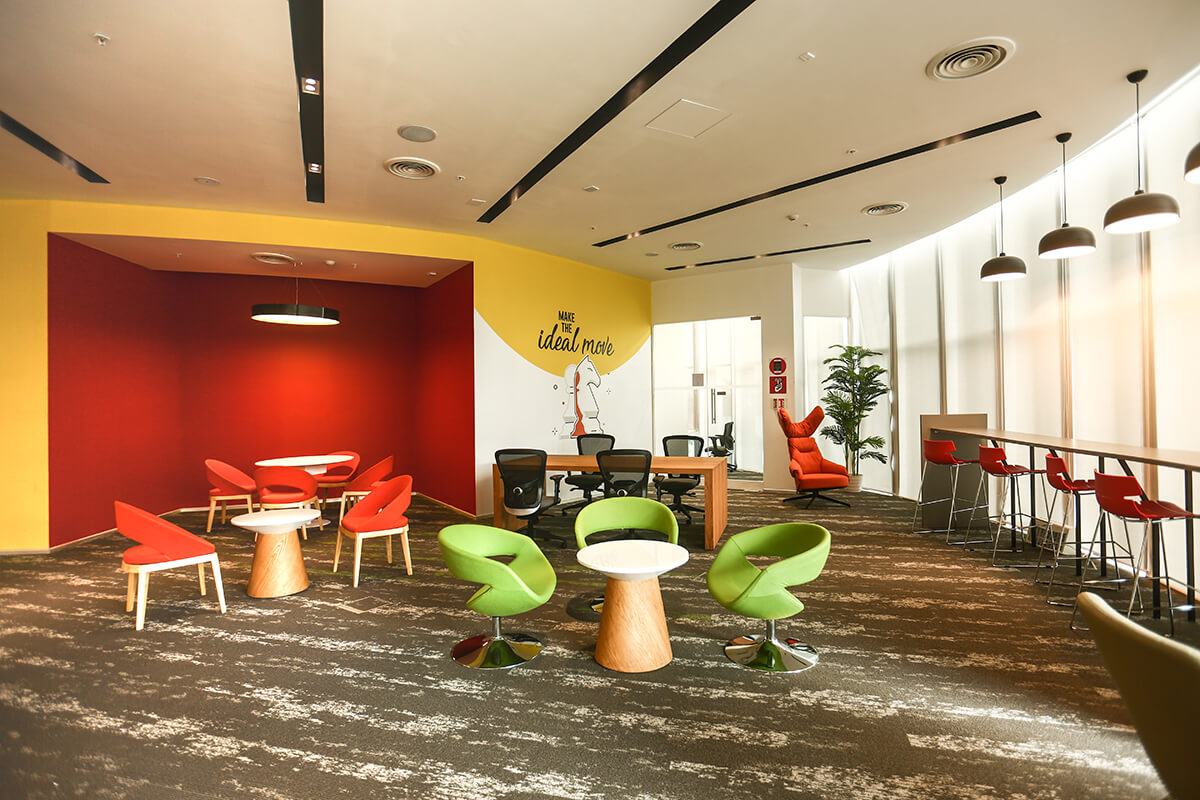 Activity-based working: Many of our employees will experience activity-based working (ABW), which is based on the premise that flexible workstations better equip employees to go about their daily tasks. Leesman, a company that studies interactions between the workplace and employees, has found ABW to greatly benefit the modern employee, as it accounts for the various activities that take place in a given day, such as focussed work, collaborative work and impromptu meetings.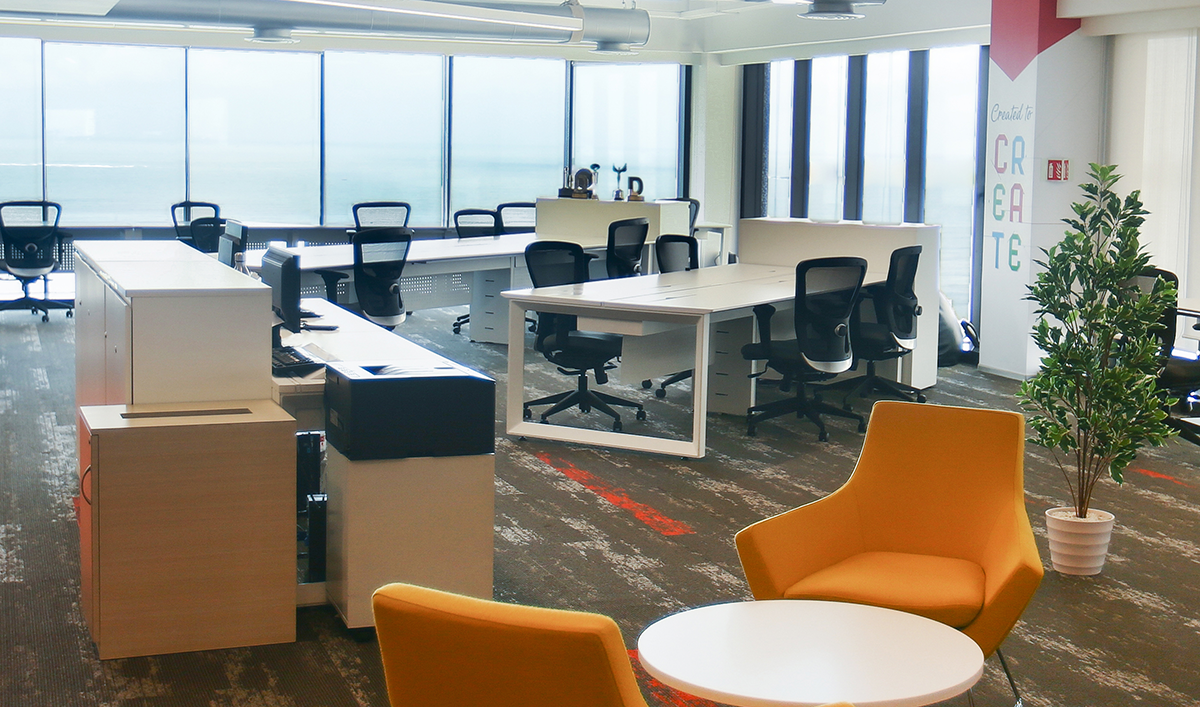 Quiet zones: A collaborative workspace can lead to higher volumes around the office (we've installed decibel metres around the office to keep this in check). This can pose a problem if you're working on a task that requires your full concentration. However, we have a solution for this, too: quiet zones. Each floor has spaces where an individual can retreat to in case the din is too distracting.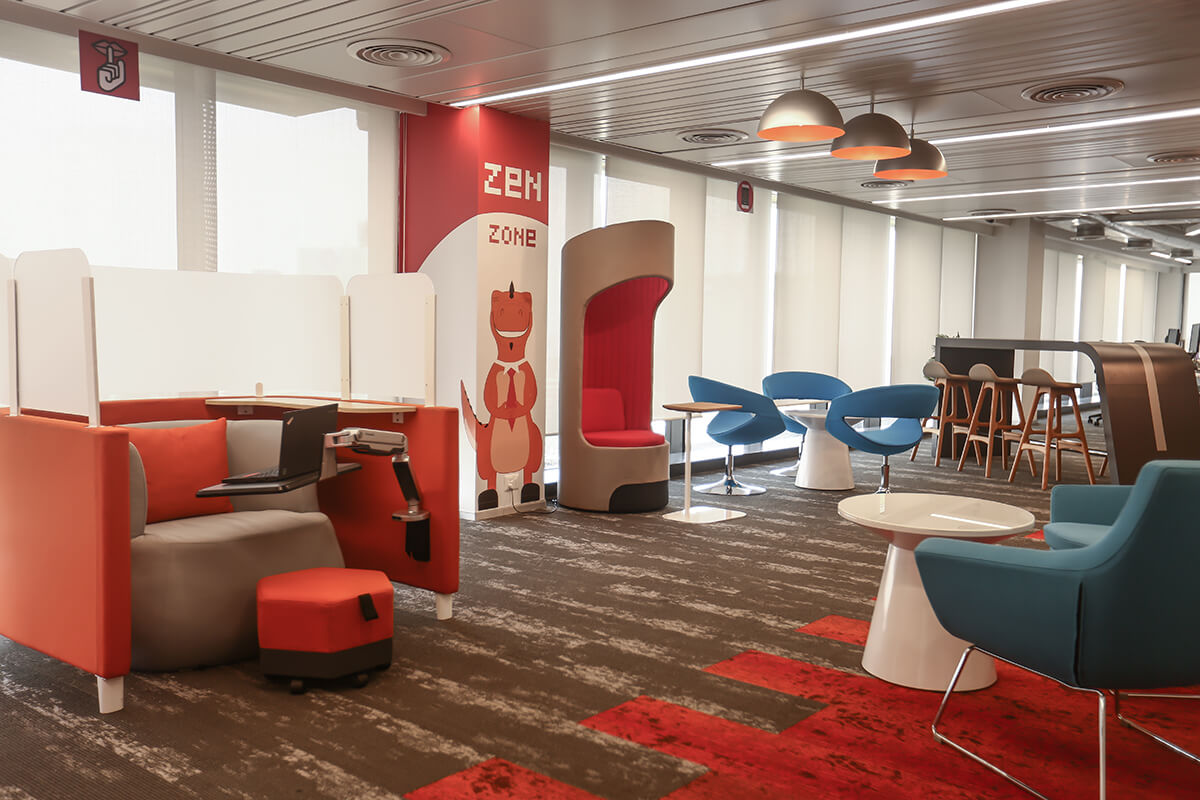 Change management
The move itself might not bring us any closer to a startup culture or lead to an increase in innovation. However, change management is an important part of the process. Complete transformation will be a long drawn process, but once we're past it, there is a good chance that the right ideas will emerge and make a significant contribution towards our goal of shaping the future of banking.