Krishi Naturals's farm-to-plate mission helps both farmers and consumers
This story is a part of Portraits of Purpose series sponsored by DBS Bank.
As a young boy, Ketan Parmar would often hear snatches of conversation among the elders in his family about farming practices, the potency of certain seed types, and how soil can be enriched to bear a healthy produce. There were times when an uncle would recall misfortunes of other farmers struck by illness or damaged crop, and wonder whether the pesticide being used by them was the culprit. He distinctly remembers a dinner conversation when the men in his family were visibly agitated about an incident where farmers had travelled all the way from Punjab to Ahmedabad to be treated for various ailments and diseases, including cancer.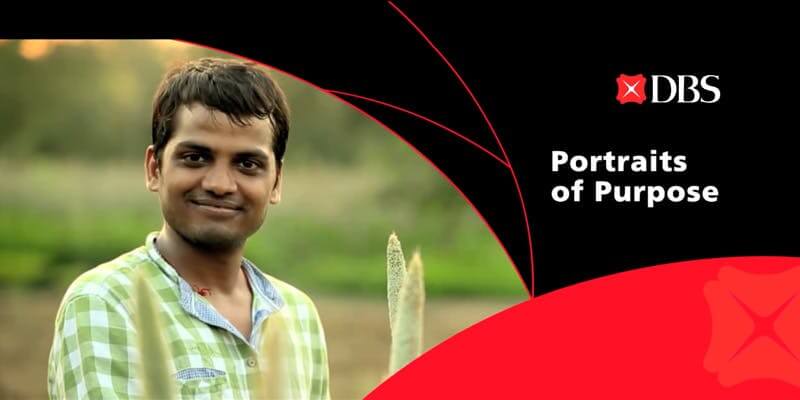 Hailing from an agricultural family from a small town in Dahod in Gujarat, Ketan intrinsically understood the value of chemical-free soil and how it affects our well-being. After all, his grandfather was an organic farmer even before the term became popular. At the same time, Ketan was not oblivious to the common practice of using harmful chemicals by other farmers for increasing farm yield. He says,
I saw a total shift in agriculture pattern; the remotest villages were also affected because of the use of harmful chemical pesticides.
In 2011, Ketan formally founded a social enterprise, Krishi Naturals, to promote organic farming on a larger scale by educating farmers and helping them find customers for their organic produce. It has now become his life's mission.
Dream project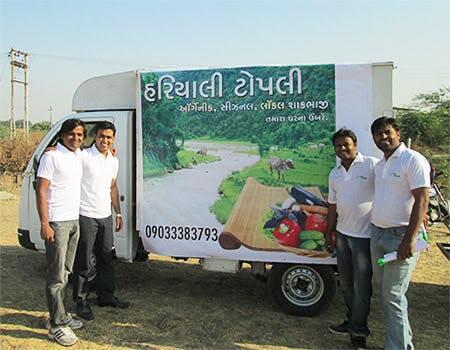 Ketan is an HR Management graduate who always had a keen interest in improving rural livelihood.
After a stint with an NGO working to improve conditions of tribal women in villages, he joined the social entrepreneurship course at Tata Institute of Social Sciences (TISS). In retrospect, this decision turned out to be the tipping point in his life. TISS provided the much needed exposure to different models of entrepreneurship. Ketan also went on to explore many models of organic farming. "After being trained in social entrepreneurship from TISS, I felt that I can actually apply these principles in creating something in the space of organic farming. I was also very keen to work for preservation of indigenous breeds of cows," adds Ketan.
As a part of the SE curriculum at TISS, Ketan was required to do an on-ground project and his obvious choice was to promote organic farming. Ketan chose his home state to do the pilot project. He formed farmer groups to create awareness about organic farming and in a span of three months the pilot reached almost 50 farmers. The massive response encouraged Ketan to take the idea forward. He says the inspiration from his grandfather's lifelong adherence to organic farming strengthened his resolve to start up in this space.
This pilot project turned out to be his dream project for life. Today, the Krishi Naturals team has grown to 12 members. The team works relentlessly to educate farmers, procure and process farm produce, and open up more channels to reach customers. Krishi Naturals has two verticals - Haryali Topli, the model under organic farming, and Girij that helps improve the quality of indigenous cows. About 70 to 80 farmers have already signed up under Haryali Topli and they have around 400 families in Vadodara who have subscribed to their organic produce.
From farm to plate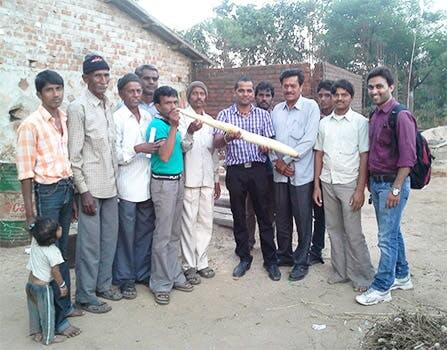 Krishi Naturals engages closely with farmers by disseminating advice on the best practices for organic farming and providing technical support. Interested farmers are organised into a co-operative and are then taught about organic farming free of cost by knowledge partners. The knowledge partners are well-trained organic farmers who associate with Krishi Naturals free of cost. Krishi Naturals ensures that its enrolled farmers have a guaranteed market and provides Vadodara households with weekly baskets of fresh organic produce.
Customers register their needs in advance and these subscriptions provide required working capital. Farmers get a premium price for their produce in the range of 30 to 60 percent of the produce cost, that is, approximately Rs 6 more than the market price. Krishi Naturals also provides farmers with basic equipment such as plastic crates and weighing machines. Vegetables are weighed and packed properly and delivered to respective consumers in mini trucks or bikes. Under its Girij vertical, Krishi Natural procures high quality bulls and cows, and provides A2 variety of milk to consumers. Desi (indigenous) cow's milk is termed as A2. Ketan boasts of being the only player who provides A2 variety of milk under this model. For every 12 desi cows, a premium price is paid to the respective farmers.
Support from DBS Bank, India
Ketan has achieved this scale with Krishi Naturals with the only marketing tool at his disposal - 'word of mouth'. "The week we launched, around 200 customers subscribed for our products. Word-of-mouth publicity works best for us. All our customers are our source of marketing. So money invested in marketing is negligible," says Ketan. The company also organizes consumer-farmer meets in order to help consumers understand how and where their produce is coming from. This leads to a better relationship building too since both consumers as well as farmers learn from their drawbacks. As a founder of a growing startup, Ketan also faced and still faces many challenges. Convincing farmers to adopt the organic method of farming is the utmost challenge. Logistics is another. But Ketan believes that he will overcome these challenges with the support of customers and the partners he has found in the DBS Bank India team.
Krishi Natural is one of the 21 ventures DBS Bank India has supported in the past 3 years as a commitment to give back to the society. At the core of DBS Bank's corporate social responsibility efforts is their support for social entrepreneurship across Asia. In India DBS has partnered with TISS and launched the DBS-TISS Social Entrepreneurship Programme wherein they not only seed funds these social enterprises but also act as a mentor to various innovative entrepreneurs from TISS. He says that raising funds is a challenge faced by every startup, but with the help of DBS Bank, they even survived the financial crunch. Ketan adds,
DBS Bank not only helped us financially but also helped us sustain. They were and are like our facilitators.
Every three months, the DBS team conducts a performance review which helps the team at Krishi Naturals be on track in achieving their goals. It also gives them a chance to plan and overcome any constraints they may have. With support from DBS Bank, growing popularity among farmers and more customers coming on board every day, Ketan now wishes to cater to larger markets of Surat, Ahmedabad and Rajkot. Other than promoting healthy farming, he also aims to improve the lifestyle of farmers in the region. In the next five years, Ketan wishes to reach 10,000 farmer families and also improve genetic quality of more than two to three lakh indigenous breed of cows.
Ketan firmly believes that organic farming is the way forward for sustainable agriculture, and more farmers and consumers will wake up to this in the coming decade.
Portraits of Purpose (PoP) is a series through which we have showcased the journey of the Social Enterprises that are supported by DBS. A journey that will take you through the dedication, passion and a sense of belief that drives each of these social entrepreneurs. These stories are a testimony of how perseverance backed by innovative sustainable solutions can emerge triumphant over social and economic challenges that confront our society. Over 500 DBS employees have volunteered with the ventures in the past two years.
Source - https://yourstory.com