How a 23-year-old's battle with cancer is transforming the lives of others
As a student of social entrepreneurship, 23-year-old, Sushanth Kodela was an average young man, full of hopes and aspirations, raring to make a difference in the world with his skills and training. But within days of enrolling in a Master's programme in 2011, Kodela was diagnosed with adrenal cortical carcinoma, an aggressive cancer so rare, it afflicts 1-2 people per 1.5 million annually and real numbers of those diagnosed with it remain unknown. "Despite the initial biopsy report, I hoped that, somehow, given my age and the rates of incidence of the illness, I wouldn't be one of those 2 people," he says. The tumour turned out to be malignant, bringing Kodela's world crashing down. "I was shattered," he says, describing that long, dark period of his life, "and began to sink into powerlessness and desperation."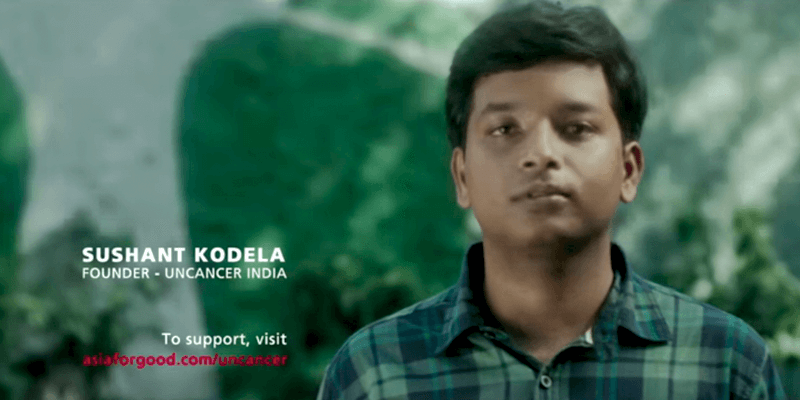 The real victory over cancer is what you make of it
After many gruelling sessions of surgery, Kodela is now in remission, but not before he and his family went through a harrowing ordeal. "Running around for doctors, diagnostics, reports, and treatment is an inevitable part of the recovery from cancer and a strong support system eased my journey," he says. What was harder is the havoc cancer can wreak to your spirit. "With a desperate urgency, I began searching for cherished moments in my life when I had done something meaningful. Sadly, none existed."
Once he came to terms with his condition, he realised something profound and powerful about it: "I realised that I didn't have control over my cancer, but I did have control over my life and what I chose to do with it henceforth." Thus, in his close shave with mortality, Kodela gained a newfound appreciation for life and that was the first step in his journey to real recovery.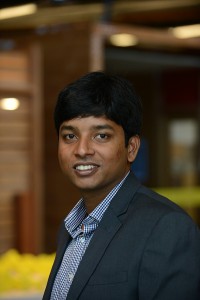 Lifting the veil on cancer
But questions about what makes recovery challenging prevailed. Once he was back in college, Kodela and fellow cancer survivor Chiragkumar Patel began assisting other cancer patients to understand their illness better and arrange financial support for treatment. They were faced with inefficient, expensive, and compliance-ridden hospital management systems and inconsistent healthcare information, making navigating treatment a nightmare, even for the literate and financially secure. "We realised how such factors can compound the hardships of cancer and impede one's recovery," he recalls.
These early experiences, bolstered by Kodela's social entrepreneurship background, led the duo to start unCancer India in 2013 as a support network for people facing cancer – as patients, survivors, or caregivers.
In the English language, the negative prefix 'un', besides meaning a lack or an absence of something can also denote a reversal of things or to an action not yet taken. Kodela explains unCancer India's mission saying, "Cancer can be all-consuming, but we want to help people transcend their disease and undo the damage it has done. Without trivialising cancer, we want to empower people to be able to fight it like they would any other disease rather than be overwhelmed by it and quit."
He adds, "Very often, people do not want to admit in public that they have cancer for fear of judgment, victimisation and abandonment by family and friends. Many fear losing their jobs, are apprehensive about finding life partners, or worry that their children will inherit their disease and find it hard to get married. So, the afflicted hide behind the disease."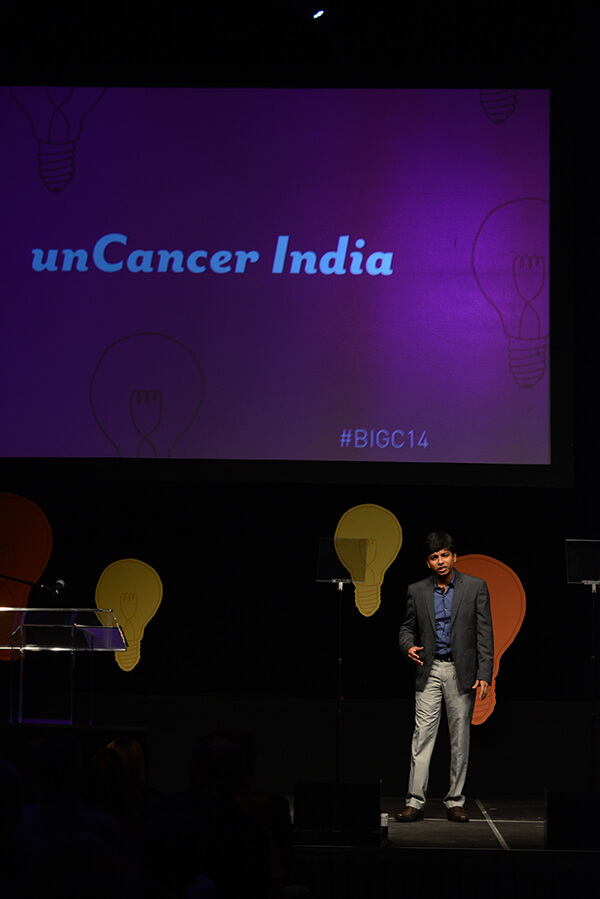 The importance of support networks in dealing with cancer
unCancer India is founded on the belief that the stigma surrounding the illness can be wiped out only if cancer survivors lead the conversation. Its core mission is to reach out and engage with cancer patients as they chart the path to recovery.
Studies on the role of support networks in overcoming cancer suggest that being amongst people with similar experiences can improve a patient's quality of life and chances of survival. Such networks are a source of strength and companionship, and give patients a chance to voice and work through their challenges.
Once cancer patients/survivors/caregivers register on its online platform or Facebook page, they are connected with others who are undergoing or have had similar experiences and cancer types. It offers a safe space where people are nudged away from the strong negative conditioning associated with the illness and encouraged to exchange information, share lessons, and inspire others battling cancer. Cancer survivors too are actively encouraged to join the platform and share their experiences to help others battling the illness.
Once on the platform, members receive the personalised guidance of a survivor to support them whenever they need help in overcoming a hurdle. "We are also onboarding specialists in different areas of oncology who can address people's questions about cancer," says Kodela.
The team is also working on improving the interface and user experience of its online platform to make information more readily accessible.
WHO data is gruesome in its estimates that there will be 22 million new cases of cancer annually across the world by 2022. Given growing healthcare costs and an infrastructure that's scarcely prepared to deal with this explosion, organisations like unCancer India will play a crucial role in providing patients with support that hospitals are ill equipped to provide.
"Our ultimate vision," says Kodela, "is to build an entire ecosystem of care around each individual struggling with cancer – one that will address their concerns in real time, ensure positive outcomes in response to the challenges of living with cancer, and encourage them to become stakeholders in our mission."
C for Champions
As a young student of social development, Kodela admits he was unprepared for the challenge ahead. "I started unCancer with a lot of unrealistic assumptions," he laughs, "but DBS believed in our mission, invested in us and stood behind us all the way, doing their best to connect us to the right people and resources and learning from us in the process. Add to this the unwavering support of its incubation centre at his alma mater, Tata Institute of Social Sciences, and the duo were able to safely experiment with new ideas. "The interest and investment in social enterprises is encouraging and we hope this ecosystem to support social enterprises flourishes in our country," he adds.
As part of the Livestrong Foundation's Big C Competition, which awards innovative solutions to improving the lives of people facing cancer, unCancer's business model was selected as one of the top five global innovations. Its solutions were recognised as highly impactful and the duo emerged runner ups in the global challenge. The exposure provided the fillip the fledgling startup needed to push ahead and bring a ray of hope to the lives of so many afflicted by cancer.