Digibank: Riding the digital wave
Towards the end of 2017, development engineers Rajat Kusumwal and Rohit Kumar, employed at DBS Asia Hub2 (DAH2) in Hyderabad—it is Singapore-based DBS Bank's largest technology hub outside of Singapore—used the platform of Amazon's cloud-based virtual assistant Alexa to create and automate tasks so that developers did not have to perform them manually. Presented at an internal employee hackathon this March, the innovation is now being tested as a minimum viable product. After receiving feedback, it can be used by the bank to build its digital platforms, involving Alexa speech and voice services.
At another employee hackathon in Hyderabad in 2016, four staffers had come up with a fingerprint (biometric) login idea for DBS's Digibank, India's first mobile-only bank. The bank quickly adopted the idea, becoming one of the earliest banks in the country to do away with user IDs and passwords for online logins.
DBS Bank Ltd, India, (DBS India), which in the mid-1990s and 2000s focussed on corporate lending, chose to take the digital route to enhance its retail presence in India, and became the first in Southeast Asia to hire through hackathons, much like technology companies.
"We have hired 1,000 people in Hyderabad, of which about 30 percent were through one-day hackathons held over the past six to eight months," says Surojit Shome, CEO, DBS India. "Such hirings test the ability of the person to not only think but also deliver digital solutions, often within a space of a few hours. We can also understand how they gel in a group."
Following DBS, Axis Bank and State Bank of India (SBI) also hire through hackathons now.
Digibank, which has 2 million customers, "is adding about 100,000 customers per month", Shome says, and is targeting 5 million customers by 2021 by betting on India's smartphone-led digital transformation.
This January, there were 1.11 billion (worth ₹131.93 trillion) digital transactions in India, according to the Reserve Bank of India (RBI), spurred by the government-backed Unified Payments Interface, which aids quicker fund transfers across banks and financial institutions.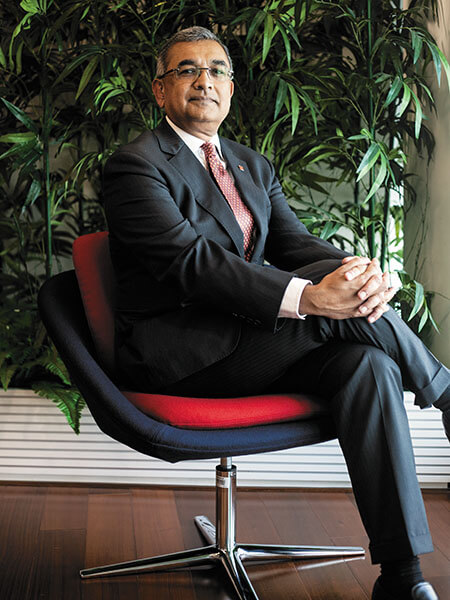 Surojit Shome, CEO, DBS India, is proud that the bank became the first in Southeast Asia to hire through hackathons
*****
Since Digibank's launch, much of India's digital landscape in banks and non-banking finance companies (NBFCs) has changed dramatically. Traditional banks are using technologies such as touch and voice capabilities; ICICI Bank, which launched its e-wallet ICICI Pockets a few months before Digibank's, uses software robots and chatbots to reduce response time for customers and improve accuracy; HDFC Bank introduced a robotic assistant at one of its Mumbai branches in 2017.
Digibank is set to launch fully digital personal loans of up to ₹15 lakh, by partnering with rating agencies and fraud control agencies. And although most banks offer similar loans online, Digibank is focusing on security features by hosting its service on a private cloud platform, instead of a public cloud one; most banks work on a hybrid model, using private and public cloud.
In late 2017, Digibank became the first digital bank to offer mutual funds (MF) trading on its platform, in nine fund houses and more than 150 MF schemes; its risk profiling tool gives customers risk-mapped schemes to track and invest in. Although asset management companies such as SBI MF (InvesTap), Birla Sun Life Mutual Fund (FinGo), HDFC MF and Axis MF (EasyApp) have mobile apps through which investors can access their portfolios, Digibank was the first bank to have a similar app.
Following a revision of guidelines in 2015-16 allowing for open-architecture platforms, DBS claims it became the first bank in India in 2017 to offer multiple insurance options—from Tata AIA, Birla Sun Life and Aviva India Life—on a single platform.
Digibank launched internet banking in 2018, well behind its peers. Shome argues that offering online banking was "a fallback activity", something that customers had asked for in case of a loss or damage to their mobile phones.
But it is not from banks alone that Digibank feels the heat; fintechs are not just competing, but also joining hands with banks to expand their reach. Paytm Payments Bank, and State Bank of India's (SBI) Yono (You Only Need One) will be strong rivals, with offers ranging from payment gateways, bank accounts, loans and ecommerce platforms; Singzy helps authenticate and identify clients, whose partners include HDFC Bank and Axis Bank; Fisdom offers online mutual fund advisory and management service.
*****
One of the growth drivers for the India economy is the manufacturing and services sectors, with its small and medium enterprises (SMEs) base. While in the past lenders have been reluctant to finance SMEs due to perceived high credit risks, NBFCs such as Bajaj Finance and Capital Float have tapped the segment with loans over the past few years.
Digibank is one of the few digital banks to have entered this space. Last September, DBS India got RBI's in-principle approval to offer banking services through a wholly-owned subsidiary (WOS), which will allow it to move all its branches into the subsidiary and expand its distribution. With this, DBS India plans to focus on SMEs by increasing its physical presence in the form of banks, e-kiosks, points-of-sales by October 2018.
DBS has also partnered with Bengaluru-based Tally to provide SMEs a platform to make electronic payments to DBS; these payments are approved through an internal mobile app called DBS Ideal. "Each month we add 600 to 1,000 new SME customers digitally. This, along with Digibank, is allowing us a route into a segment that is otherwise very difficult," Shome says.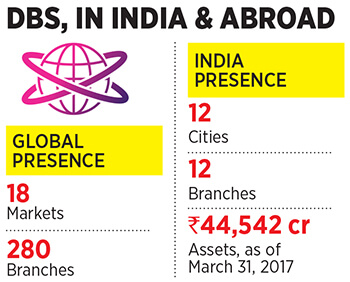 Apex Actsoft Technologies is a client of DBS's new SME platform. Based in Thane, Mumbai's neighbouring district, it started off as a computer software dealership and has more than 5,000 clients in the steel firms, realty, education, jewellery and logistic sectors. Chairman Sunil Ghumatkar says, "With DBS-Tally banking solutions, the time taken to complete payments to clients has shortened dramatically from four days to 30 to 45 minutes."
On savings bank accounts, DBS offers 6 percent interest for a balance of up to ₹1 lakh, 7 percent on the incremental amount over and above ₹1 lakh and up to ₹2 lakh. Most other banks offer 4 to 6 percent interest on zero-balance accounts. In March 2017, Kotak Mahindra Bank launched 811, a mobile-first, Aadhaar-led bank, offering 6 percent interest on savings account balances over ₹1 lakh.
"We can be aggressive in how we price ourselves [in terms of interest rates offered]," says Shome. Kotak Mahindra Bank, he argues, may not be able to bridge the gap easily unless it increases the cost of its existing liabilities, he adds; further, Digibank offers a wider range of pure digital products.
*****
After launching in India in April 2016, Digibank was launched in Indonesia in August 2017, using 60 to 70 percent of the digital platform that was built in India. This included technologies such as enhanced security features and a chatbot. "On Artificial Intelligence specifically, about 80 percent of customer queries are answered by the chatbot, reducing our costs. This year, we are extending the utility of the chatbot to new areas such as cross-selling through contextual conversations," wrote Piyush Gupta, CEO of DBS Group, in an email.
"The next stage of our journey is to complete our digital product suite and deliver profitability."
According to analysts, DBS's growth strategy in its larger markets of Singapore and Hong Kong and in growth markets such as India and Indonesia is starting to pay off. In Singapore and Hong Kong, the focus has been to pre-empt disruptors but in India and Indonesia, it is focusing on new distribution models (SME, insurance and mutual funds) to grow.
"Digital banking is an established means to a delivery mechanism.
All banks are still at a 1.0 level; they have done a good job of offering the best digital features on savings accounts. But they all have a long way to go," says a banking analyst with a foreign equity research firm. All digital-focussed banks will need to deepen their product offerings going ahead, based by data analytic findings.
With physical expansion being ruled out for foreign banks—several have, in fact, consolidated operations in recent years—the focus has been to hold onto capital in an uncertain business environment. In this scenario, banks with strong digital presence will continue to grow, although they would soon need to be profitable.
DBS's digital operations have fewer legacy issues compared to conventional banks; it can continue to take risks and expand quickly, thanks to a much lower cost structure compared to larger players. Although its zero-interest, paperless banking and the trust factor of a strong parent bank have played out well for Digibank in India, it will need to launch more products, and expand distribution while collaborating with fintechs to stay ahead of the curve.