Zaya: A start-up looking to change the way children learn in India
Zaya is one of the two Indian start-ups that won the Microsoft Corporation Affordable Access Initiative, a grant given to 12 entrepreneurial businesses globally, last week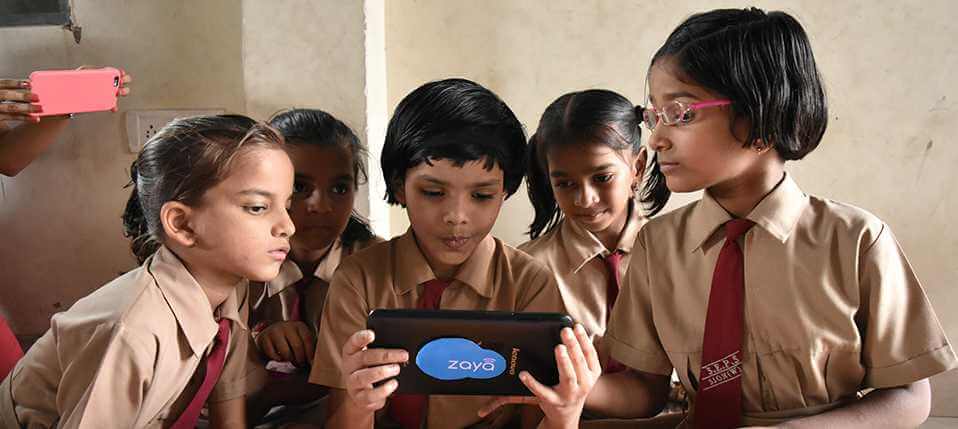 The start-up does not have a sales team as it chooses to save that money and spend it on research and development instead.
Bengaluru: Neil D'Souza realized the inadequacies of the Indian school system only when he moved to North Carolina, US, in 2003 as a teenager to study engineering.
Seven years later, he realized the problem was quite universal when he took a break from his high-profile job at a multi-billion dollar technology firm in the Bay area in the US and started working as a teacher in the schools of Mongolia.
So, when he moved back to India from Mongolia in 2011 in his mid-20s, he wanted to build a company that uses technology to bridge the gap in education systems at home and abroad, in terms of access to quality content and teachers.
Fast forward to 2016 and Zaya Learning Labs, the ed-tech company he founded with as much investment needed to buy a decent Mercedez Benz in India (he did not want to disclose the exact amount), is close to breaking even and is accessed by some 50,000 students across the globe.
Zaya, named after a Mongolian student who impressed D'souza by translating many Khan Academy videos to her native language on her own, is one of the two Indian start-ups that won the Microsoft Corporation Affordable Access Initiative, a grant given to 12 entrepreneurial businesses globally, last week.
"If you go to a classroom in India and if you sit down, you realise isme padhai nahi ho raha hai bache ka (the kids are not learning anything). It's everything other than that," said D'souza, over the phone from Hong Kong, where he is trying to convince educational institutions to install Zaya in their classrooms.
The start-up does not have a sales team as it chooses to save that money and spend it on research and development instead, he said.
"Today, schools are trying to get teachers to do something they are not good at. 50% of the teacher's job is knowledge giving, 30% is that of a facilitator and 20% is that of an administrator. The knowledge giving can be done in a better and personal way through technology," he said.
So, how does Zaya work? It basically comes as a device with an embedded software, sort of like an Apple TV, said D'souza.
The device is loaded with high-quality learning material such as videos and interactive assignments to learn subjects from Mathematics to English, mostly for students up to the fifth grade who can access them via classroom labs or personal tablets, said D'souza.
And for the benefit of most in India, which still has very poor or no internet access, Zaya can work with and without internet, he said.
It can also prove useful to fast and slow learners.
"Suppose you and I are students in grade five learning maths, you may be a fast learner and I may be a slow learner. And the teacher may be teaching to a class average of 40 to 50 students," said D'souza.
The teacher can use Zaya to give a to-do list for both types of students to go home and watch, and get reports of where each of them needs to improve.
"It is a blended model. Kids can access affordable and quality online learning material. Teachers can get personalised analytics and reports. All of this by spending less than $1 per month," he said.
Zaya is backed by Pearson Affordable Learning Fund, an investment fund of UK-based publishing company Pearson Plc.
But Zaya is not the only one doing this. Other ed-tech start-ups are also eying the business opportunity in the education sector, including Vidyanext (run by Pengala Learning Pvt. Ltd), flipClass (run by Gyankosh Solutions Pvt. Ltd), and Tiger Global-backed Vedantu Innovations Pvt. Ltd.
Last month, Advitiya Sharma, who quit as co-founder of real estate portal Housing.com in March, also launched an education start-up, Genius, to provide software for neighbourhood tutors to make learning more effective.
There are a number of companies which work on a similar set-top-box type model and the challenge that they all have to face is the same-how to make their product attractive enough, pricing-wise and value-wise, so that people will actually pay money to sign up, said Anand Sudarshan, founder, Sylvant Advisors, an education advisory firm, which currently incubates 19 education start-ups.
In cases like Zaya, the pricing of the product is a major challenge, he said.
"Seems like they are targeting a segment which we call as affordable private schools or budget private schools, where the fees typically ranges from Rs.3,000 to Rs.10,000 per annum. Based on available information, my guess is that these schools will have to shelve out an additional 20% of the annual fees from a student to run Zaya in their classrooms. Whether they will be ready for it or not has to be seen. Also, pricing is necessary, but not sufficient to achieve scale for start-ups like Zaya," said Sudarshan.
Zaya gets the Microsoft grant at a time when investments in ed-tech start-ups are picking up in India. Byju's, which provides programmes for Class VI to XII students to prepare for competitive exams, alone raised $75 million in March, compared to the $70 million that all the education start-ups raised last year, Mint analysed on 29 April, using data from start-up tracker Tracxn.
However, despite what seems to be a favourable climate for ed-tech start-ups, Zaya hopes to grow only conservatively, said D'souza.
"People still don't understand that the way the (ed-tech) industry grows is way different from fin-tech or food-tech. You have to build a trust relationship with users for them to able to spend money on your product," he said.
"We are trying to build an operating system for the schools of the future. The actual scale (for it) will come when you have everybody sitting at home and learning. It's a mindset change, that day will come," said D'souza.
Sadhana Chathurvedula from Bengaluru provided inputs for this story
Source - http://www.livemint.com