With no prior experience, Dee and Xiuwen embarked on an ambitious mission
They had no idea what they signed up for. In the words of Dee Tan, it was a "rollercoaster ride with plenty of ups and downs".
Dee Tan and Zhang Xiuwen, recruiters at DBS, had signed on to create a chatbot from scratch. With no prior experience in this area, the duo embarked on their task with support from their teammates, gumption and a strong vision of what the end product was to be.
Fast forward a year later, the duo's "baby" was born. Chatbot Jim – or Jobs Intelligence Maestro – was launched as the first virtual bank recruiter in Southeast Asia.
Developed in partnership with Singapore start-up impress.ai, Jim helps shortlist potential hires by automating the first stage of the hiring process.
Currently focused on hiring wealth planning managers, Jim reviews resumes, collects applicants' responses for pre-screening questions, conducts psychometric profiling assessments, and answers questions.
In doing so, Jim offers applicants a faster, more streamlined process, with real-time interaction available 24/7, while saving recruiters some 40 man-hours a month. With more time, recruiters can focus on other areas of their job, including sourcing for candidates and interviewing applicants.
"When we first learnt about this project we were excited because we realised it could be a gamechanger in the HR space. The goals of the project were aligned with our team's vision of using AI to help make decisions in recruitment."
– Dee Tan, Talent Acquisition Group, Human Resources, DBS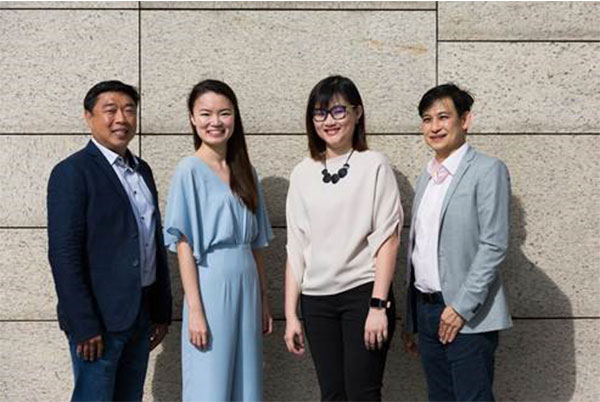 Swimming in the deep end
Xiuwen recounts, "When we first took on the project, we didn't anticipate how intense it would be."
With a laugh, Dee adds, "We used to think Artificial Intelligence was quite straightforward … that all one needed to do was write the programme and it'd work automatically!"
The pair soon realised there was so much more to it. To quickly bring themselves up to speed, the pair started intense research on AI and related topics. They consulted other teams in DBS that had created their own chatbots, learning best practices from them.
After selecting impress.ai as a partner, work officially began in April 2017. Dee and Xiuwen used their deep understanding of hiring practices to ensure the chatbot would meet both recruiters' and candidates' needs, while impress.ai's technological expertise helped bring the chatbot to life.
"We learnt from each other," says Xiuwen, describing the partnership with impress.ai, which specialises in AI powered recruitment solutions. "They were receptive – nimble and responsive to our feedback."
For the first few months, they worked on Jim's personality, wrote the chatbot script and designed its interface. They would meet regularly, launch experiments and finetune based on results.
For instance, when testing one of the prototypes, they had to find out why some applicants dropped off halfway. "We had to review if they understood Jim's communications. Was Jim clear enough?" says Dee.
There was also the user interface and user experience testing. "One learning was that open-ended questions may result in candidates providing overly-detailed answers. We added a button that allows candidates to see the next few questions so they can pace themselves," says Xiuwen.
After months of revisions, Jim was ready for a soft launch. Jim was deployed to "speak with" 20 real candidates, who would then rate their interaction with Jim.
The result? A satisfying 4.2 stars out of 5.
Jim's main strengths, according to the candidates, were convenience and natural speech patterns.
"Some candidates even thanked Jim and said goodbye at the end! They treated interaction with Jim as interaction with a human, which encouraged us a lot."
– Dee Tan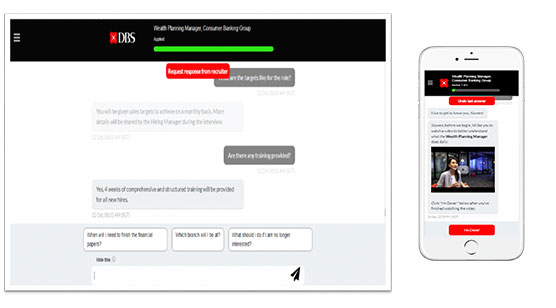 Raising the bar
Finally, in May 2018, Jim was officially launched. In about five months, Jim has spoken to over 600 candidates.
"Candidates used to have a 15% drop off rate but with Jim it's 3%," says Xiuwen, citing the convenience of interacting with Jim 24/7 as a reason.
Data shows that 97% of candidates' questions could be answered by Jim.
The team continues to train Jim to answer more questions and improve its functions. There are plans to launch Jim in other markets and use Jim for more job roles.
Their biggest takeaways from this experience?
"One was managing our relationships and bringing everyone to an understanding about the work we do," says Xiuwen.
"We had to let go of certain views about recruitment and consider how a bot might do things differently but better. This helped us be free to truly innovate and pioneer something awesome."
- Zhang Xiuwen, Talent Acquisition Group, Human Resources, DBS
She adds, "This project has also allowed us to focus on how digitalisation can value add to our work – just consider the time savings recruiters now have, which can be channelled to other productive work. Technology can really change the entire HR landscape.
That's what excites us. Without this project, we won't have seen it in this light."
To others embarking on new projects, the duo advise, "When things get tough, never forget why you started! While our journey had a lot of challenges, we remained committed because we knew it would make a difference and change things on a bigger scale."