We find that adding up current account balance and debt due (on a residual maturity basis) provides a rather comprehensive sense of an economy's hard currency needs in the relevant horizon.

Photo credit: AFP Photo
Chart of the Week: 2019 external funding needs
We find that adding up current account balance and debt due (on a residual maturity basis) provides a rather comprehensive sense of an economy's hard currency needs in the relevant horizon. In 2013, the market sold the currencies of those economies with the lowest reserves to GFSR, and that has been the case in 2018 so far. IDR and INR have faced pressure like they did in 2013, but they have been followed by CNY and PHP this year. Both China and the Philippines have seen a sharp deterioration in our metric over the past 5 years as their current account surpluses have shrunk and external debt ballooned. The picture is equally, if not more, challenging for 2019, as per our forecasts. If rates keep going up in the US, expect these four currencies to face sustained pressure next year.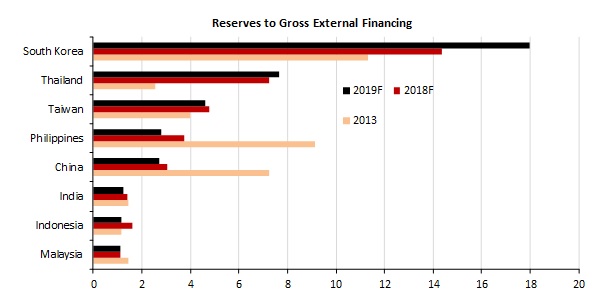 Source: CEIC, World Bank, DBS
These are the key events investors need to pay attention to:
Eurozone:
3Q18 GDP and September inflation are due this week. The first reading of the growth numbers is likely to register a slowdown to 2% YoY vs 1H18's 2.3%. Nominal wages and negotiated wage growth improved, although higher energy prices likely dampened consumption at the margin. Retail sales slowed in July and August, signaling that the crucial boost from higher consumption eased in 3Q18. Industrial production eased despite better capacity utilisation rates. Factoring in softening lead indicators and global protectionist trade policies, the European Central Bank (ECB) staff projections for growth were lowered to 2% from 2.2% YoY earlier. October inflation is seen holding around the ECB target, at 2.1% YoY driven by firm energy prices, with core inflation to stay steady around 1%. While QE withdrawal plans remain on the cards, a rate hike from the ECB is unlikely in midst of Italian budgetary worries, Brexit uncertainty and easing growth momentum at home.
Japan:
No policy action is expected from the Bank of Japan (BOJ) this week. Focus will be on its quarterly economic outlook report – whether the BOJ will further revise down growth and inflation forecasts for FY2018 (current: 1.5%, 1.1%). GDP growth should have slowed notably in 3Q18, due to the disruption of the typhoon/earthquake disasters and the weakening of export demand. While core CPI (excluding fresh good only) has picked up to 1% YoY in September from 0.8% in June, it was largely driven by the volatile energy items. The April-September inflation average remained below the 1% mark, at 0.8%. A downward revision in FY18 growth/inflation forecasts, combined with the prospects of a consumption tax hike in FY19 and weaker global economic conditions ahead, would dissuade the BOJ from normalising monetary policy (ending the negative rate policy and hiking the long-term yield target) in the next 6-12 months.
China:
The manufacturing PMI is projected to fall to 50.7 in October from 50.8 in September. Industrial activities are expected to moderate further due to weakening domestic demand. New export orders are also set to decrease due to second round of tariffs imposed on Chinese exports by the US. Exports will be dampened should the US impose tariff on all Chinese exports in Jan 2019.
Hong Kong:
Retail sales are expected to have increased by 9% YoY (6.7%) in value (volume) terms in September, a slower pace than 9.5% (8.1%) in August. Although local consumption sentiments are well supported by rising wages of low-skilled workers (3.8% YoY in 2Q18) amid full employment (unemployment rate at 20-year low of 2.8% in September), the outlook is clouded by the equity market correction amid an intensifying Sino-US trade war. Looking forward, tourist spending is also likely to moderate due to a weakening CNY that constrains the purchasing power of Chinese visitors.
Indonesia:
Inflation for Indonesia are on tap this week, we expect a spike to 3.1% YoY from 2.88% YoY previously. The fuel price increase which has become effective on October 10 will be reflected in October headline inflation. The average increase – which accounts for less than 30% of consumption – was 16%. The impact will be limited as the biggest share of fuel – Gasoline 88 (Premium) and Gasoline 90 (Pertalite) – was unchanged. On another account, rice price has increased in the last two months after a continuous deflation since the beginning of the year contributing to this month figure. We believe that this year average inflation will remain stable as the government has committed to keep Premium and Pertalite prices fixed and rice price stable by allowing rice imports when needed to maintain adequate domestic supply.
South Korea:
CPI inflation is projected to have eased to 1.6% YoY in October from 1.9% in September. Food prices should have retreated after the Chuseok Festival, helping to offset the inflationary effect of higher oil prices. Core CPI is expected to have remained subdued at 1%, thanks to the lackluster domestic demand and sluggish labour market conditions. Despite a benign inflation picture and a weakening growth prospect, the Bank of Korea is prioritizing the financial imbalance problems including property price increases and capital outflows. The hawkish board members will likely continue to push for a 25bps rate hike at the next policy meeting on 30 November.
Taiwan:
The economy is expected to have grown 2.5% (YoY) in 3Q, a moderate slowdown compared to 3.3% in 2Q. But the sequential growth should have picked up slightly, to 2.4% (QoQ saar) from 1.6%. On the YoY basis, exports slowed in 3Q, as global demand softened and seasonal effect in the electronics sector was not as strong as last year. Consumption indicators also eased, amidst the sluggish stock market performance and the weakening consumer confidence. Investment growth appears to have picked up in 3Q, but largely helped by the low base effect. Thanks to the strong growth in 1H (3.2% YoY on average), our full-year GDP forecast of 2.7% should still be attainable. Considering that the US-China trade war may start to hurt the regional supply chain and the Fed tightening would cause more financial strains in global emerging markets next year, we expect lower GDP growth for Taiwan in 2019, at 2.2%.
Thailand:
October CPI inflation likely ticked up to 1.36% YoY vs September's 1.33%, holding near the lower end of the Bank of Thailand's target range. Amongst the sub-components, transport has been the main contributor to headline CPI, while others including the heavy-weight food category remains relatively flat. While the BOT has signalled less complacency to global volatility and pressure to normalise rates from multi-year lows, we reckon that benign inflation lowers the need for imminent action. Nonetheless, we note that after a calmer 1H18, the Thai baht has joined the rest of the Asian FX space to pare gains in the face of US dollar strength and outflows.
To read the full report, click here to
Download the PDF
.
Disclaimers and Important Notices
The information herein is published by DBS Bank Ltd and PT Bank DBS Indonesia (collectively, the "DBS Group"). It is based on information obtained from sources believed to be reliable, but the Group does not make any representation or warranty, express or implied, as to its accuracy, completeness, timeliness or correctness for any particular purpose. Opinions expressed are subject to change without notice. Any recommendation contained herein does not have regard to the specific investment objectives, financial situation & the particular needs of any specific addressee. The information herein is published for the information of addressees only & is not to be taken in substitution for the exercise of judgement by addressees, who should obtain separate legal or financial advice. The Group, or any of its related companies or any individuals connected with the group accepts no liability for any direct, special, indirect, consequential, incidental damages or any other loss or damages of any kind arising from any use of the information herein (including any error, omission or misstatement herein, negligent or otherwise) or further communication thereof, even if the Group or any other person has been advised of the possibility thereof. The information herein is not to be construed as an offer or a solicitation of an offer to buy or sell any securities, futures, options or other financial instruments or to provide any investment advice or services. The Group & its associates, their directors, officers and/or employees may have positions or other interests in, & may effect transactions in securities mentioned herein & may also perform or seek to perform broking, investment banking & other banking or finan­cial services for these companies. The information herein is not intended for distribution to, or use by, any person or entity in any jurisdiction or country where such distribution or use would be contrary to law or regulation. Sources for all charts & tables are CEIC & Bloomberg unless otherwise specified.
DBS Bank Ltd., 12 Marina Blvd, Marina Bay Financial Center Tower 3, Singapore 018982. Tel: 65-6878-8888. Company Registration No. 196800306E.
PT Bank DBS Indonesia, DBS Bank Tower, 33rd floor, Ciputra World 1, Jalan Prof. Dr. Satrio Kav 3-5, Jakarta, 12940, Indonesia. Tel: 62-21-2988-4000. Company Registration No. 09.03.1.64.96422.