Recent economic and geopolitical developments have likely paved the way for a few months of reprieve for EM assets, but the trend of strong USD and rising rates will soon return.
Some near-term respite: Iran sanctions waivers may limit the upside on oil price for the time being

EM asset valuations have begun looking attractive, offsetting the USD liquidity squeeze

US mid-term election results are being seen as a potential check on President Trump's hyper unilater

There is however a good chance that this reprieve will prove to be temporary

Photo credit: AFP Photo
A much-awaited reprieve, but for how long?

After a torrid October, there is finally some breathing space for market participants and policy makers. Volatility markers have eased (see chart below), FX sell-off against the USD has been tempered, bond markets have seen a return to investments, and the equity market has brought back some EM value seekers.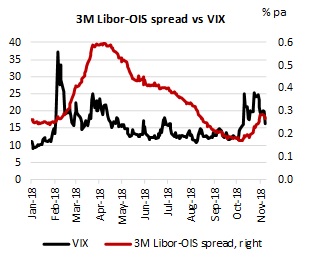 Source: Bloomberg, DBS

Three developments have helped stabilise emerging market sentiments in recent weeks:
First, oil prices have eased for now, reflecting buoyant production in the US and some waiver for oil importers from Iran. On the US, production has soared lately, solidifying its ranking as the largest oil producer in the world. This has pushed down US oil prices (WTI) steadily in recent weeks. Indeed, forecasts are being revised upward for US production for next year, which is now expected to exceed 12mn barrels/day by mid-2019. Outside of the US, Russia and Saudi Arabia have ramped up their production as well, helping stabilise Brent prices. Regarding Iran sanctions, which were re-imposed by the US on Monday November 5, waivers for some key importers, including China, India, , Japan, South Korea, and Turkey, have eased fears of a supply crunch.
Second, since the IMF meetings in Bali a month ago, concerns about USD funding for certain beleaguered economies have eased somewhat. In mid-October, on the side-lines of the IMF meetings in Bali, the central banks of Indonesia and Singapore, BI and MAS, announced that a deal would be signed for a USD10bn local currency swap and USD repurchase agreement. This amounts to nearly 10% of reserves held by BI. Then, in late-October, the central banks of India and Japan, RBI and BOJ, signed a USD75bn currency swap agreement. India's side of the swap line will be INR-USD, while the Japanese side would be JPY-USD. The relative size of this deal is nearly twice that of the BI-MAS arrangement. These arrangements ought to be beneficial for IDR and INR; indeed, since the announcement of the swaps, both currencies have shown new-found stability.
Third, the US mid-term election outcomes, with House majority going to the Democrats, are being seen as positive for EM, as checks on President Trump's brand of aggressive unilateralism could reduce the risk of exacerbating frictions on trade and security.
These three developments could well mark a few months of reprieve. Going toward the end of the year, companies are engaged in share buybacks, some value-seeking investors are deploying funds, and there is little in the pipeline that could dampen the above three developments, in our view.
But the reprieve could well prove to be temporary
. Note that Iran sanction waivers will last just 180 days, after which the US could either reduce the amount of Iranian oil that could be imported under the waiver or refuse to extend waivers altogether. Geopolitical friction around the shipment of oil through the Persian Gulf could easily flare up as well. Furthermore, while we expect US oil production to remain robust, we are not sure if Russia and Saudi Arabia can keep pace. Concerns about oil supply could readily return next spring, in our view.
With respect to USD liquidity and rates, recent Fed communication makes it amply clear that there will be no let-up in the policy normalisation cycle amid a tight labour market, rising wages, and strong consumer demand. We continue to see the risk of inflation as asymmetric in the US, with the chance of an upward surprise of core PCE printing well above 2% to be much higher than any downward surprise. Trade wars, wage pressure, and tight capacity have given US producers plenty of excuses to raise prices, in our view. Also, US debt trajectory is firmly on the rise, while the supply-demand dynamic for new treasury issuance is not favourable. Curve steepening and USD strength could return quickly, against this backdrop.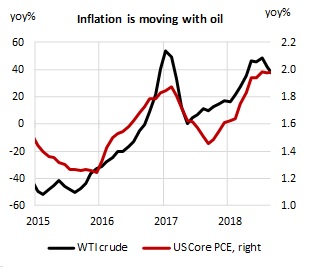 Source: Bloomberg, DBS


Finally, pushing back against domestic challenges posed by a resurgent Democratic-majority Congress, President Trump could well push for assertive foreign policy through the Executive route. Thus noise around Iran and China, as well as the immigration issue, could get ratcheted up next year. Confrontation in the Middle-East or South China Sea would hurt risk sentiments considerably, making the ongoing respite look distant.
Highlights of the week:
•
India: Non-banks not out of the woods
•
Malaysia Budget 2019: Recalibration
•
Chart of the Week: Soybean as a proxy for trade war sentiments
To read the full report, click here to Download the PDF.

Disclaimers and Important Notices
The information herein is published by DBS Bank Ltd and PT Bank DBS Indonesia (collectively, the "DBS Group"). It is based on information obtained from sources believed to be reliable, but the Group does not make any representation or warranty, express or implied, as to its accuracy, completeness, timeliness or correctness for any particular purpose. Opinions expressed are subject to change without notice. Any recommendation contained herein does not have regard to the specific investment objectives, financial situation & the particular needs of any specific addressee. The information herein is published for the information of addressees only & is not to be taken in substitution for the exercise of judgement by addressees, who should obtain separate legal or financial advice. The Group, or any of its related companies or any individuals connected with the group accepts no liability for any direct, special, indirect, consequential, incidental damages or any other loss or damages of any kind arising from any use of the information herein (including any error, omission or misstatement herein, negligent or otherwise) or further communication thereof, even if the Group or any other person has been advised of the possibility thereof. The information herein is not to be construed as an offer or a solicitation of an offer to buy or sell any securities, futures, options or other financial instruments or to provide any investment advice or services. The Group & its associates, their directors, officers and/or employees may have positions or other interests in, & may effect transactions in securities mentioned herein & may also perform or seek to perform broking, investment banking & other banking or finan­cial services for these companies. The information herein is not intended for distribution to, or use by, any person or entity in any jurisdiction or country where such distribution or use would be contrary to law or regulation. Sources for all charts & tables are CEIC & Bloomberg unless otherwise specified.
DBS Bank Ltd., 12 Marina Blvd, Marina Bay Financial Center Tower 3, Singapore 018982. Tel: 65-6878-8888. Company Registration No. 196800306E.
PT Bank DBS Indonesia, DBS Bank Tower, 33rd floor, Ciputra World 1, Jalan Prof. Dr. Satrio Kav 3-5, Jakarta, 12940, Indonesia. Tel: 62-21-2988-4000. Company Registration No. 09.03.1.64.96422.