Amid support from public sector banks, the liquidity squeeze faced by India's non-bank financial companies (NBFCs) has eased somewhat in recent days.
But balance sheet constraints and higher funding costs is likely to …

… prompt NBFCs to slow lending activity

This is likely to moderate overall credit availability, adding to growth headwinds

Regulatory changes for NBFCs are forthcoming

Photo credit: AFP Photo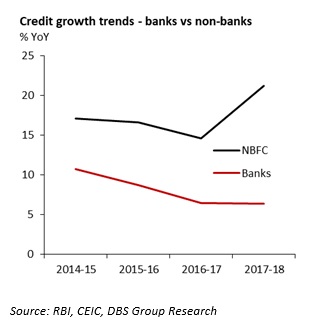 Following up with our
previous note
, in midst of a funding squeeze facing non-bank financial companies (NBFCs), banks' loans growth improved further in October. The latter rose 14.4% YoY by mid-October from 12.5% in September. While loan growth has been on an upmove since early-2017, the latest boost was likely due to, firstly, substitution demand as firms shift away from non-banks. Secondly, non-banks have also sought more bank credit lines as cost of markets-based borrowings tick up. This trend is apparent in late-August, where bank loans to NBFCs jumped 44% YoY and is likely to have persisted into September and October.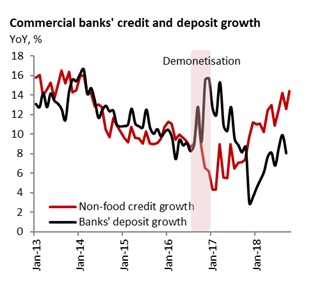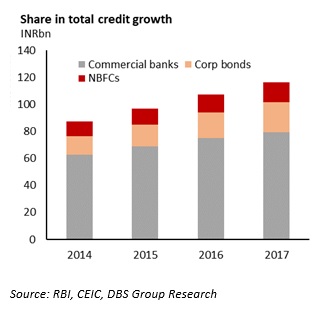 We continue to look for banks to increase their share as a primary source of funding to the commercial sector, as balance sheet constraints and higher funding costs prompt NBFCs to slow lending activity.
NBFCs made up 12-15% of the total credit generated in FY17, and likely built on it 2017-18. As funding costs rise, their liabilities are likely to get re-priced more often than assets (particularly shorter-tenor borrowings), posing refinancing challenges. Larger NBFCs can still manage their costs by tapping public issues, however, the smaller outfits will find it a challenge to seek alternate sources of funding. Impact on margins is also likely, which in turn will push players to restrain balance sheet expansion plans.
It will be, however, a challenge for banks to meet all the displaced funding demand; on two counts. Firstly,
at least half of the public-sector banks that face high NPAs have been ring-fenced under the PCA (Prompt Corrective Action) framework, with restrictions on fresh loans and dividend distribution. This has crimped credit availability, with higher due diligence amongst non-PCA banks. The future of the PCA framework has been one of the key areas of disagreements between the Reserve Bank of India and the government, with the latter calling for relaxations of few of the restrictions placed on the PCA banks. There is a likelihood that few of the operating rules might be relaxed in the coming weeks.
Secondly,
NBFCs (particularly specialised entities in microfinance, housing, vehicle, rural etc.) have thrived in pockets where traditional banks face limited geographical reach, lower appetite and ability of mainstream banks to reach such borrowers. Take for instance MSMEs (micro and small medium enterprises). According to SIDBI's MSME Pulse, the share of NBFCs in MSME financing has risen to 11.3% as of mid-2018 vs 8.4% two years prior. By comparison, public sector banks make up 51% in June 2018 vs 60% two years ago [1]. Even if troubled NBFCs were to rollback their presence, it will be an uphill task for banks to fill this gap. On a related note, the government announced measures for the MSMEs on November 2, making access to credit easier and lowering associated costs, including interest subsidies.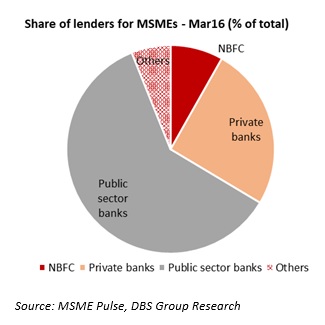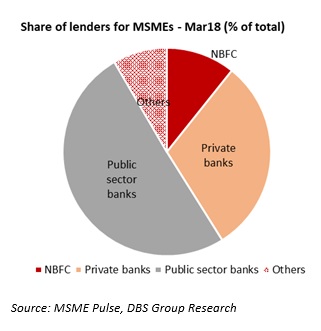 Lower credit availability to hurt growth
The likelihood of stricter lending controls on NBFCs and tougher operating environment is likely to impinge on their ability to expand their books, prompting them to scale back their aggressive growth targets. Slower growth could reduce asset quality concerns, if incremental funding is deployed in quality loans rather than high risk loans. On this count, overall credit availability is likely to moderate, in turn hurting GDP growth. An RBI working paper [2] estimates that an 1% increase in real bank credit increases non-agricultural output by around 30 bps with a lag of one year. This adds to other growth headwinds (higher rates, lower fiscal headroom, sub-par private sector spending etc.), raising downside risks to our FY19 and FY20 forecasts, presently at 7.4% and 7.8% respectively.
Erroneous to place heterogenous NBFCs in the same basket
Understandably in the initial phase of panic in September, all NBFCs were viewed in the same light and hence endured a broader sell-off. Since then, nerves have settled as markets differentiate between solvency and liquidity risks within the sector.
In a tough operating environment where rates are rising, and liquidity becomes scarce, quality NBFCs are the natural winner.
Higher-quality entities i.e. with a strong promoter or shareholder backing, lower reliance on wholesale funding, favourable sectoral and geographical spread, will be able to withstand volatile market conditions, for instance by fixing any asset-liability mismatches through sale of non-core assets or issuing a rights issue. Few NBFCs also benefit from strong shareholder support, which is a key credit strength, especially as operating conditions get more challenging. A shift from capital/ money market borrowings to bank borrowings, particularly those with unutilised/ undrawn credit lines is likely. Smaller entities, however, which were heavily reliant on leverage and benefiting from regulatory arbitrage will have to revisit their strategies.
Finally, the government and the RBI are likely to reach a common ground on support mechanism for NBFCs, which has been a contentious point of late.
The government has called for dedicated liquidity windows, while the RBI has, keen to contain moral hazard risks, opted for indirect liquidity support through banks (including purchase of good quality loans) and money markets. One of the litmus tests will be the upcoming commercial paper maturities, in the region of INR1-1.5trn, in Q418, like the scale in Q3 according to press reports. Other high-frequency data has suggested that NBFCs have returned to banks and INR debt markets to raise funds, lowering the reliance on short-term borrowings. Nonetheless, the writing is on the wall that more regulatory changes are forthcoming for NBFCs, particularly on the funding make-up for non-bank entities to limit pipeline systemic risks.
Sources:
[1] MSME Pulse; SIDBI-TransUnion CIBIL; June 2018
[2] RBI Working Paper; June 2018
To read the full report, click here to
Download the PDF
.
Disclaimers and Important Notices
The information herein is published by DBS Bank Ltd and PT Bank DBS Indonesia (collectively, the "DBS Group"). It is based on information obtained from sources believed to be reliable, but the Group does not make any representation or warranty, express or implied, as to its accuracy, completeness, timeliness or correctness for any particular purpose. Opinions expressed are subject to change without notice. Any recommendation contained herein does not have regard to the specific investment objectives, financial situation & the particular needs of any specific addressee. The information herein is published for the information of addressees only & is not to be taken in substitution for the exercise of judgement by addressees, who should obtain separate legal or financial advice. The Group, or any of its related companies or any individuals connected with the group accepts no liability for any direct, special, indirect, consequential, incidental damages or any other loss or damages of any kind arising from any use of the information herein (including any error, omission or misstatement herein, negligent or otherwise) or further communication thereof, even if the Group or any other person has been advised of the possibility thereof. The information herein is not to be construed as an offer or a solicitation of an offer to buy or sell any securities, futures, options or other financial instruments or to provide any investment advice or services. The Group & its associates, their directors, officers and/or employees may have positions or other interests in, & may effect transactions in securities mentioned herein & may also perform or seek to perform broking, investment banking & other banking or finan­cial services for these companies. The information herein is not intended for distribution to, or use by, any person or entity in any jurisdiction or country where such distribution or use would be contrary to law or regulation. Sources for all charts & tables are CEIC & Bloomberg unless otherwise specified.
DBS Bank Ltd., 12 Marina Blvd, Marina Bay Financial Center Tower 3, Singapore 018982. Tel: 65-6878-8888. Company Registration No. 196800306E.
PT Bank DBS Indonesia, DBS Bank Tower, 33rd floor, Ciputra World 1, Jalan Prof. Dr. Satrio Kav 3-5, Jakarta, 12940, Indonesia. Tel: 62-21-2988-4000. Company Registration No. 09.03.1.64.96422.