Soybean prices have jumped in the last few days in response to signals from the US that some progress in the trade war is forthcoming.

Photo credit: AFP Photo
These are the key events investors need to pay attention to:
• The US Fed and Bank Negara will likely stand pat on policy for their meetings this week
• Third quarter GDP growth in Indonesia and Philippines are likely to remain stable
• Trade data across Asia will likely turn out mixed
Chart of the Week: Soybean as a proxy for trade war sentiments

Although it began with washing machines and solar cells in January, the first serious salvo in the trade war was on March 1 of this year, when the US imposed tariff on steel (25%) and aluminium (10%) imports. In retaliation, China announced tariffs in late March on a modest range of products (amounting to USD3-5bn, similar to its exports value of steel/aluminium to the US). Matters escalated thereafter, and by mid-June USD100bn worth of exports from each country to the other was subject to 10-25% tariffs, including the politically sensitive soybean products from the US. Two things ensued thereafter, (i) US soybean prices corrected by about 15%, and (ii) the spread between US and Argentine soybean prices widened to 15-18%. This reflects concerns about demand for US exports to China falling, but perhaps also reflects some rerouting of exports from the US to Argentina, en-route to China. Both prices have jumped in the last few days in response to signals from the US that some progress in the trade war is forthcoming, but as the chart below shows, there have been several false dawns like this previously. Nonetheless, this is a useful proxy of trade war sentiments for us.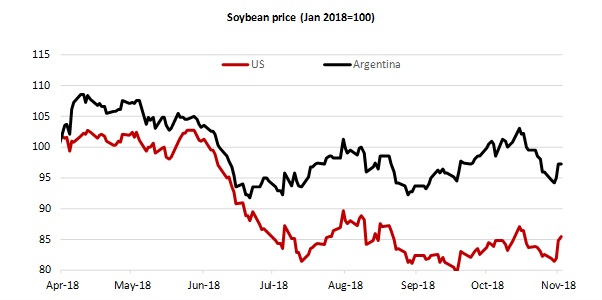 Source: Bloomberg, DBS Group Research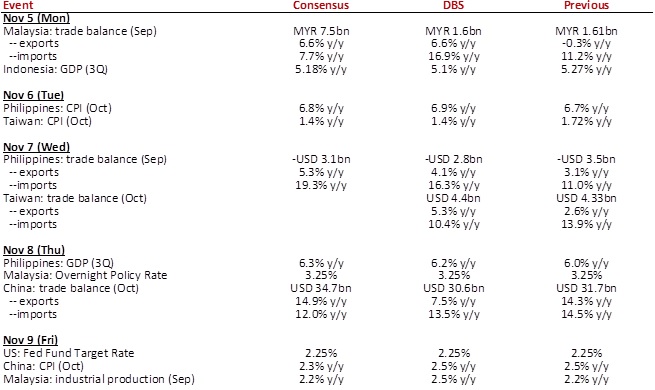 China
: After the implementation of additional tariff on USD200bn China's exports to the US, exports growth should have slowed to 7.5% in October, down from 14.5% YoY in the previous month. Import growth is also expected to ease back due to slowdown in domestic activities, at 13.5% YoY, despite appreciable increase in oil prices. In fact, early indicators already point to moderating trade sentiments. New export orders PMI and imports PMI are in contractionary zone for 5 and 4 consecutive months respectively. Trading balance is set to deteriorate in the months ahead.
Indonesia
: After a buoyant 2Q18 GDP growth due partly to Eid festivity, 3Q number is expected to ease slightly to 5.1% in 3Q18 as private consumption stays relatively robust while net export remains on the back seat. Stable inflation has supported consumption growth. The risk of inflation to reach an uncomfortable level this year is small despite the recent fuel price hike and escalating rice price. Additionally, several real sector indicators also pointed to a robust private consumption growth. First, retail sales – albeit slightly lower than 2Q - were significantly higher than 1Q when GDP growth reached 5.06%. Second, government personnel spending, which correlates positively to consumption, shows an uptick in 3Q. From the investment side, industrial production grew stronger than 1Q implying stable investment growth. That said, investment sentiment ahead could be dented by pressure to Rupiah, higher financing cost and uncertainty ahead of the election.
Malaysia
: Trade and industrial production figures are on tap this week, as well as Bank Negara (Malaysia) policy meeting. Export growth is expected to clock a rebound of 6.6% YoY, up from a decline of 0.3% previously. However, this is likely lifted by significant price and FX effects. Rising energy prices probably accounts for the improvement in crude oil and petroleum related products. Depreciation in the ringgit is expected to add some impetus to the export sales arising from the currency translation from USD to MYR. Net off these nominal price effects, external demand is probably flat and bias to the downside given an increasing challenging external environment.
Indeed, industrial production growth is expected to remain unchanged at 2.2% YoY. This should be more reflective of the underlying demand against the current global backdrop. On that basis, the central bank is expecting growth to slow in the coming quarters. This makes for a stable monetary policy stance, particularly when inflation has remained benign. We expect BNM to keep the Overnight Policy rate (OPR) at 3.25% in the coming policy review.
Philippines
: Growth is expected to stand at 6.2% YoY in 3Q18 after a 6% growth rate in 2Q18. Consumption growth was stalled by surging inflation that reached a 9-year record at 6.4% YoY in August with the largest contributors coming from food & beverages and fuel-related expenditure. We estimate that inflation firm up to 6.9% YoY in October. For the remaining of the year, risks to inflation are tilted to the upside as pressure to Peso and possibility of higher oil price are likely to stay present. Given the surging inflation, consumption was in fact, remain relatively robust thanks partly to steady remittances and disposable income boost resulting from the personal income tax reform. The main driver of growth in 3Q18 was still investment, especially durable equipment, construction and machinery related to infrastructure developments.
Moving on to the external side, trade balance is projected to improve slightly to -USD2.8bn from -USD3.5bn previously on the back of lower imports and slightly higher exports. Slight improvement in exports was contributed by strong US growth recovery, Philippines' major trading partner. Yet, we see that as global demand on electronics has not recovered yet, a significant improvement of Philippines exports might still be far from sight given that electronics accounts for more than half of total exports.
Taiwan
: CPI inflation is expected to have eased to 1.4% YoY in October from 1.7% in September. Prices of fresh food, housekeeping and some other services items should have come down after the Mid-Autumn Festival. Despite the surge in global oil prices, the inflationary impact on Taiwan should have been muted, as the state-owned Chinese Petroleum Corporation decided to freeze retail fuel prices for the Oct-Dec period. The easing of inflation and the further rise in wage growth (latest: 3.0% YoY in Aug) should lend support to consumption and domestic demand. On the external front, the impact of the ongoing US-China trade war on Taiwan's supply chain is not yet pronounced for the time being. October exports, due this week, are expected to show a steady growth of 5.3% (vs. 2.6% in Sep).
To read the full report, click here to Download the PDF.


Disclaimers and Important Notices
The information herein is published by DBS Bank Ltd and PT Bank DBS Indonesia (collectively, the "DBS Group"). It is based on information obtained from sources believed to be reliable, but the Group does not make any representation or warranty, express or implied, as to its accuracy, completeness, timeliness or correctness for any particular purpose. Opinions expressed are subject to change without notice. Any recommendation contained herein does not have regard to the specific investment objectives, financial situation & the particular needs of any specific addressee. The information herein is published for the information of addressees only & is not to be taken in substitution for the exercise of judgement by addressees, who should obtain separate legal or financial advice. The Group, or any of its related companies or any individuals connected with the group accepts no liability for any direct, special, indirect, consequential, incidental damages or any other loss or damages of any kind arising from any use of the information herein (including any error, omission or misstatement herein, negligent or otherwise) or further communication thereof, even if the Group or any other person has been advised of the possibility thereof. The information herein is not to be construed as an offer or a solicitation of an offer to buy or sell any securities, futures, options or other financial instruments or to provide any investment advice or services. The Group & its associates, their directors, officers and/or employees may have positions or other interests in, & may effect transactions in securities mentioned herein & may also perform or seek to perform broking, investment banking & other banking or finan­cial services for these companies. The information herein is not intended for distribution to, or use by, any person or entity in any jurisdiction or country where such distribution or use would be contrary to law or regulation. Sources for all charts & tables are CEIC & Bloomberg unless otherwise specified.
DBS Bank Ltd., 12 Marina Blvd, Marina Bay Financial Center Tower 3, Singapore 018982. Tel: 65-6878-8888. Company Registration No. 196800306E.
PT Bank DBS Indonesia, DBS Bank Tower, 33rd floor, Ciputra World 1, Jalan Prof. Dr. Satrio Kav 3-5, Jakarta, 12940, Indonesia. Tel: 62-21-2988-4000. Company Registration No. 09.03.1.64.96422.