Indonesia government bonds have room to catch up in the coming months.
Indo GB are lagging peers in the market recovery

There is room for Indo GB to play catch up in 2H

A return of foreign interest would be key

This could be facilitated by a return of the carry environment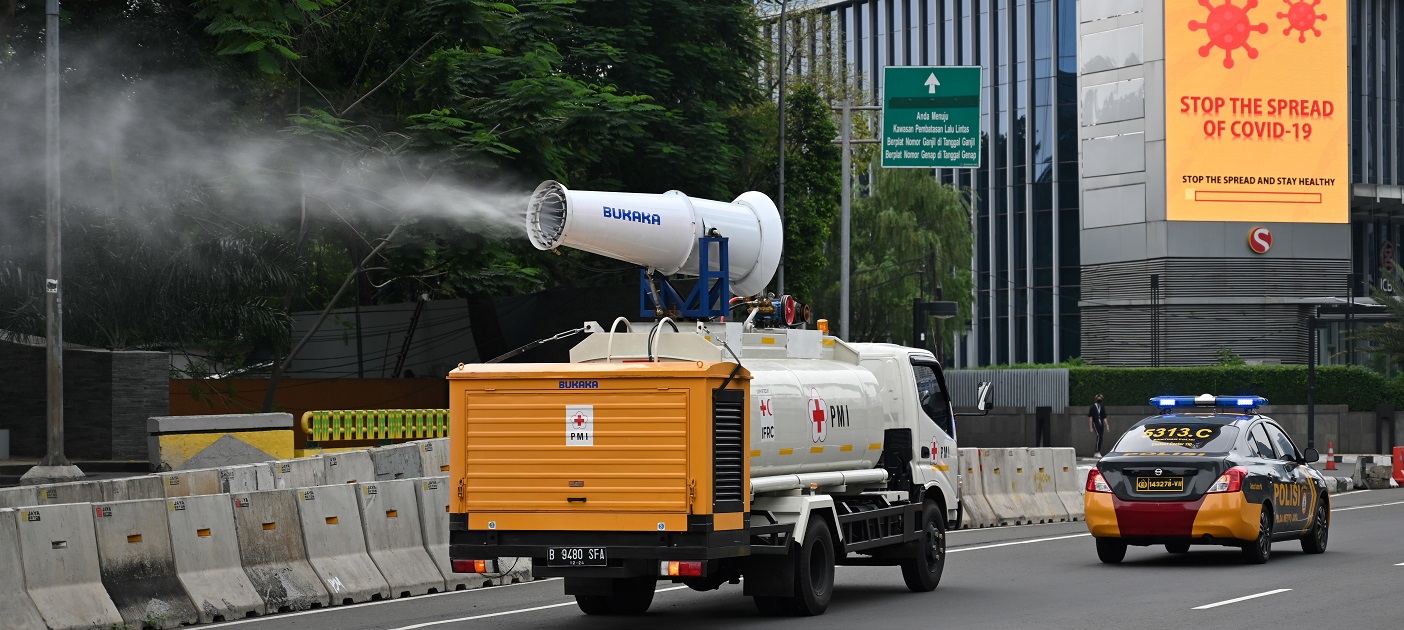 Photo credit: AFP Photo
Indonesia Rates: Catchup play
The rally in Indonesia government bonds have further to go and we think that the belly tenors may be the best way to express this view.
Within Asia, Indo govvies were one of the worst hit when foreign portfolio investors exited. From a govvie perspective, 10Y Indo yields touched as high as 8.38% in late March (from as low as 6.5% in mid-February) when global markets got roiled. While yields have retraced a sizable amount (10Y yields are now hovering around 7.2%), Indonesia government bonds have lagged that of peers in the region. Accordingly, we see Indo govvies as a catchup play over the medium term with foreign investors
likely to revisit the carry theme.


The underperformance of IndoGB can be attributed to a few factors. First and most importantly, foreign investors are still somewhat cautious. Foreign investors now own 30% of outstanding government bonds, down from almost 40% in late January. While caution on this front is warranted given uncertainties over the evolving COVID-19 situation, we think that investors will eventually be persuaded to return. Across much of the developed world, rates are likely to stay relatively depressed. If the Fed eventually embarks on yield curve control (YCC), reduced uncertainties on this front should also encourage carry trades. Moreover, hedging costs (as represented by NDFs) have collapsed close to pre-COVID-19 levels.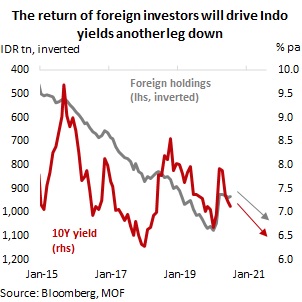 Second, Bank Indonesia prioritises the currency and sees the rupiah as undervalued. This point can be best seen from the performance of the IDR and the pace of accumulation of foreign reserves over the past two months. While foreign reserves did rebound in April and May, current levels are still slightly below that of end-January (USD131.7bn). Comparatively, India's foreign reserves are up by close to 8% over the same period. Due to BI tolerating a faster pace of rebound in the rupiah, domestic IDR liquidity conditions are not quite as flush as it could have been.


Domestic agents key for bond demand
BI is already buying government bonds, with much of the purchases concentrated at the during stressed financial market conditions in 1Q. BI's gross ownership rose to 14.4% of total outstanding IndoGBs, up from 9.9% at the start of the year. More recent development that BI will finance part of the government's debt (IDR397tn) at a benchmark rate (with interest set to be returned to the government) and co-fund another IDR176.8tn of debt may be somewhat uncomfortable for investors. However, the key focus should be on the fact that LCY govvie issuances are likely to be lower than it otherwise would have been. We also consider that Indonesia is diversifying its investor base and has issued Samurai bonds (JPY100bn) in in early July tapping on global investors' appetite for yield (but with less fx risks).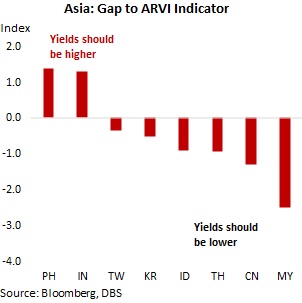 Our Asia Rates Valuation Indicator (ARVI) suggests that Indonesia government bonds are still cheap. While yields have declined a significant amount, there is room for further gains once sentiment improves. At this point, there are still concerns on the COVID-19 situation in the country. More broadly, appetite for EM assets have not fully recovered. We think that interest in EM bonds would improve if the Fed strengthens forward guidance or embark on yield curve control (YCC). One way to view this is the period in 2012 where the Fed first introduced the dot plot and strengthened dovish forward guidance. By removing tail risks from USD rates rising suddenly, investors were emboldened to hunt yield. Conditions were also very favourable (hedging costs as measured by NDF points were generally depressed). We reckon that events could play out similarly as the world settle into a world of generally low DM interest rates, driving a second leg of rally in Indo govvies. We have revised down our Indo yield forecasts (see table below).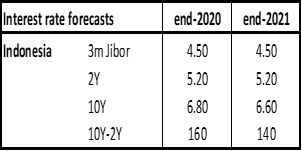 Assessment of Carry Attractiveness
From the perspective of Indo govvies as a pure carry opportunity, the timing appears to be favorable. Reward-risks measures of carry, such as ratio of spot yield to yield volatility, are elevated relative to historical. I.e. investors are well compensated for possible fluctuations in yields, at current volatility levels. On the currency front, continued stability in IDR, whether due to BI support or cheap hedging costs, should also underpin Indo govvies' carry performance ahead.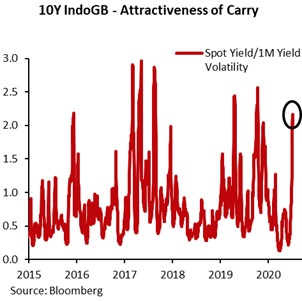 To read the full report, click here to Download the PDF.
Subscribe
here
to receive our economics & macro strategy materials.
To unsubscribe, please click
here
.
Disclaimers and Important Notices
The information herein is published by DBS Bank Ltd and PT Bank DBS Indonesia (collectively, the "DBS Group"). It is based on information obtained from sources believed to be reliable, but the Group does not make any representation or warranty, express or implied, as to its accuracy, completeness, timeliness or correctness for any particular purpose. Opinions expressed are subject to change without notice. Any recommendation contained herein does not have regard to the specific investment objectives, financial situation & the particular needs of any specific addressee. The information herein is published for the information of addressees only & is not to be taken in substitution for the exercise of judgement by addressees, who should obtain separate legal or financial advice. The Group, or any of its related companies or any individuals connected with the group accepts no liability for any direct, special, indirect, consequential, incidental damages or any other loss or damages of any kind arising from any use of the information herein (including any error, omission or misstatement herein, negligent or otherwise) or further communication thereof, even if the Group or any other person has been advised of the possibility thereof. The information herein is not to be construed as an offer or a solicitation of an offer to buy or sell any securities, futures, options or other financial instruments or to provide any investment advice or services. The Group & its associates, their directors, officers and/or employees may have positions or other interests in, & may effect transactions in securities mentioned herein & may also perform or seek to perform broking, investment banking & other banking or finan­cial services for these companies. The information herein is not intended for distribution to, or use by, any person or entity in any jurisdiction or country where such distribution or use would be contrary to law or regulation. Sources for all charts & tables are CEIC & Bloomberg unless otherwise specified.
DBS Bank Ltd., 12 Marina Blvd, Marina Bay Financial Center Tower 3, Singapore 018982. Tel: 65-6878-8888. Company Registration No. 196800306E. DBS Bank Ltd., Hong Kong Branch, a company incorporated in Singapore with limited liability. 18th Floor, The Center, 99 Queen's Road Central, Central, Hong Kong.
PT Bank DBS Indonesia, DBS Bank Tower, 33rd floor, Ciputra World 1, Jalan Prof. Dr. Satrio Kav 3-5, Jakarta, 12940, Indonesia. Tel: 62-21-2988-4000. Company Registration No. 09.03.1.64.96422