SGS are cheap compared to swaps.

Photo credit: AFP Photo
Making the most of tight liquidity

Tight liquidity conditions are making SGSs compelling relative to interest rate swaps. Notably, bond-swap spreads have narrowed close to zero across multiple tenors (2Y, 5Y and 10Y). For the 10Y tenor, this development has only occurred twice since 2013. In both instances, the bond-swap spread stayed negative only for a very brief period and widened swiftly in the coming few months. To put things into perspective, the average and median spread since 2013 is at 24bps. From a risk-to-reward perspective, paying SGD swaps and going long the equivalent tenor SGS results in minimal negative carry and significant upside if bond-swap spreads widen to more normal levels (10-20bps).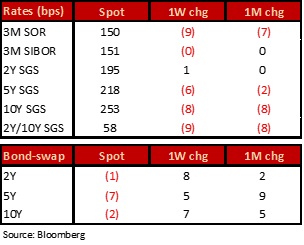 Signs of tight liquidity is not immediately apparent. Typically, a wide spread between the 3M Sibor and the 3M Libor is a signal that SGD liquidity is flushed. By this measure, there is ample SGD in the system with the spread at 81bps (very large by recent standards). We reiterate that Sibors and SORs may not be reflective of the current tightness in SGD liquidity. One sign that stood out was the climb in yields on 4W bills to 1.61% at the auction on Wednesday. While the yield cutoff for the latest 3M and 6M auctions appear relatively normal, significantly higher rates for the very short tenor suggest that SGD is tight at least for the immediate term.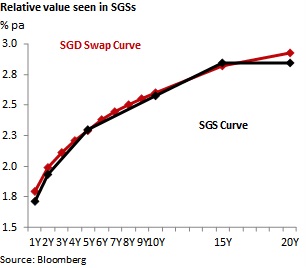 To read the full report, click here to Download the PDF.



Disclaimers and Important Notices
The information herein is published by DBS Bank Ltd and PT Bank DBS Indonesia (collectively, the "DBS Group"). It is based on information obtained from sources believed to be reliable, but the Group does not make any representation or warranty, express or implied, as to its accuracy, completeness, timeliness or correctness for any particular purpose. Opinions expressed are subject to change without notice. Any recommendation contained herein does not have regard to the specific investment objectives, financial situation & the particular needs of any specific addressee. The information herein is published for the information of addressees only & is not to be taken in substitution for the exercise of judgement by addressees, who should obtain separate legal or financial advice. The Group, or any of its related companies or any individuals connected with the group accepts no liability for any direct, special, indirect, consequential, incidental damages or any other loss or damages of any kind arising from any use of the information herein (including any error, omission or misstatement herein, negligent or otherwise) or further communication thereof, even if the Group or any other person has been advised of the possibility thereof. The information herein is not to be construed as an offer or a solicitation of an offer to buy or sell any securities, futures, options or other financial instruments or to provide any investment advice or services. The Group & its associates, their directors, officers and/or employees may have positions or other interests in, & may effect transactions in securities mentioned herein & may also perform or seek to perform broking, investment banking & other banking or finan­cial services for these companies. The information herein is not intended for distribution to, or use by, any person or entity in any jurisdiction or country where such distribution or use would be contrary to law or regulation. Sources for all charts & tables are CEIC & Bloomberg unless otherwise specified.
DBS Bank Ltd., 12 Marina Blvd, Marina Bay Financial Center Tower 3, Singapore 018982. Tel: 65-6878-8888. Company Registration No. 196800306E.
PT Bank DBS Indonesia, DBS Bank Tower, 33rd floor, Ciputra World 1, Jalan Prof. Dr. Satrio Kav 3-5, Jakarta, 12940, Indonesia. Tel: 62-21-2988-4000. Company Registration No. 09.03.1.64.96422.