SGD will appreciate when risk appetite improves. We expect US Treasury yields to be stable and continue to trade in tight ranges in the short-term.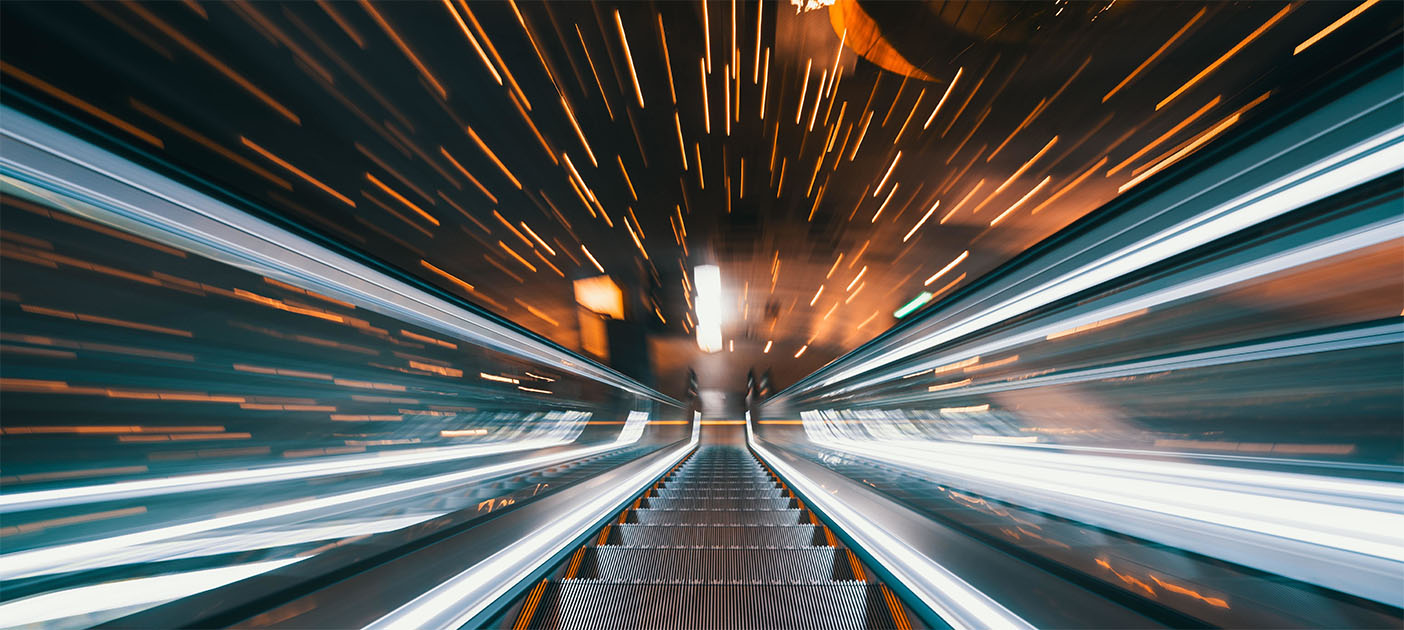 Photo credit: Unsplash Photo
FX: Risk appetite holding up
Commodity currencies rallied strongly on Monday. AUD rallied most and gained 1.5%, followed by NZD with 1.1%. In line with our expectations, AUDUSD held its 0.60 support and closed the session above 0.61. The Reserve Bank of Australia meets today and is not expected to follow through with more easing measures. The RBA surprised with an emergency rate cut of 25 bps to 0.25% and launched QE on March 19. Meanwhile, USDJPY has closed above 109 for the first time since March 26 after Japan declared a state of emergency and announced a huge stimulus plan to combat the coronavirus. AUDJPY, which held its 65 support, will be closely watched as a gauge of risk appetite.
The SGD appreciated most in Asia, by 0.5%, on Singapore's third package to combat the coronavirus. Singapore has brought forward to April 9 its disclosure of forex intervention operations for 2H19 during which foreign reserves increased to USD279bn from USD274bn. This should not have much bearing on the SGD's price-taker credentials. Put simply, the SGD will appreciate when risk appetite improves and vice versa. Hence, expect the SGD to remain firm on the first day of its month-long "circuit breaker" from the Dow's sharp 7% rally in overnight markets on signs that the coronavirus may be peaking in New York, Italy and Spain.


Rates: Deluge of US Treasury issuances and USD funding
The US Treasury is starting to ramp up issuances, especially in T-bills, to fund the ~USD2tn cost of the CARES Act. We see sizable increases across all T-bill maturities. For example, in 13-week T-bills, the Treasury has gone from offering weekly sizes of USD42-45bn in January and February to USD54bn this week. Just in the first week of April, the Treasury has already issued USD270bn of cash management bills (bills outside of regular auction schedule).
Despite surging Treasury issuances, we expect US Treasury yields to be stable and continue to trade in tight ranges in the short-term. At present, the Fed remains a huge offsetting presence in the US Treasury market, buying USD50bn of securities per day. Other buyers like the Government Money Market Funds are also key - continued strong inflows into these funds should ensure healthy demand for T-bills and help to anchor yields close to zero. The Fed's recent buying results/patterns suggests that it hopes to stabilize yields and dampen volatility to avoid the large intraday ranges/swings we saw in March, in a state of quasi yield curve control.
The Fed's provision of USD funds to the rest of the world is something to watch. In the second half of March, foreign central banks have already pulled down ~USD350bn of USD funds via FX swap lines with the Fed. On 31 March, the Fed announced a "FIMA Repo Facility" which would allow foreign central banks and other international monetary authorities to swap their US Treasury holdings for USD cash. If we assume a take-up of 10-20% on the ~USD3tn US Treasury securities that these foreign entities hold with the Fed, that is another USD300-600bn from the Fed disbursed to the rest of the world. At the rate that the Fed is pumping USD funds out, the risk is that some could be caught off guard if we quickly flip from a world where people are scrambling for USD funds to one with USD surfeit.
We certainly see hints of that possibility in cross currency basis swaps. 3M EUR and JPY bases have quickly flipped from very negative levels (USD funding at a premium) to very positive levels (USD funding at a discount).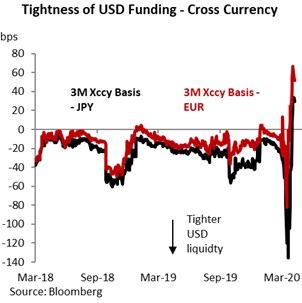 Disclaimers and Important Notices
The information herein is published by DBS Bank Ltd and PT Bank DBS Indonesia (collectively, the "DBS Group"). It is based on information obtained from sources believed to be reliable, but the Group does not make any representation or warranty, express or implied, as to its accuracy, completeness, timeliness or correctness for any particular purpose. Opinions expressed are subject to change without notice. Any recommendation contained herein does not have regard to the specific investment objectives, financial situation & the particular needs of any specific addressee. The information herein is published for the information of addressees only & is not to be taken in substitution for the exercise of judgement by addressees, who should obtain separate legal or financial advice. The Group, or any of its related companies or any individuals connected with the group accepts no liability for any direct, special, indirect, consequential, incidental damages or any other loss or damages of any kind arising from any use of the information herein (including any error, omission or misstatement herein, negligent or otherwise) or further communication thereof, even if the Group or any other person has been advised of the possibility thereof. The information herein is not to be construed as an offer or a solicitation of an offer to buy or sell any securities, futures, options or other financial instruments or to provide any investment advice or services. The Group & its associates, their directors, officers and/or employees may have positions or other interests in, & may effect transactions in securities mentioned herein & may also perform or seek to perform broking, investment banking & other banking or finan­cial services for these companies. The information herein is not intended for distribution to, or use by, any person or entity in any jurisdiction or country where such distribution or use would be contrary to law or regulation. Sources for all charts & tables are CEIC & Bloomberg unless otherwise specified.
DBS Bank Ltd., 12 Marina Blvd, Marina Bay Financial Center Tower 3, Singapore 018982. Tel: 65-6878-8888. Company Registration No. 196800306E. DBS Bank Ltd., Hong Kong Branch, a company incorporated in Singapore with limited liability. 18th Floor, The Center, 99 Queen's Road Central, Central, Hong Kong.
PT Bank DBS Indonesia, DBS Bank Tower, 33rd floor, Ciputra World 1, Jalan Prof. Dr. Satrio Kav 3-5, Jakarta, 12940, Indonesia. Tel: 62-21-2988-4000. Company Registration No. 09.03.1.64.96422