We see value in IDR govvies; better risk appetite in FX (except INR)
Photo credit: Unsplash Photo
IDR rates: Climbing the steep curve
Indonesia government bonds were one of the hardest hit within Asia through the COVID-19 Pandemic crisis. Most of this has to do with the high levels of foreign ownership (close to 40% of outstanding) leading into a volatile March. That share is presently down to 32% of Indo govvies, suggesting that caution still lingers. The Indo govvie curve is steep, with the 2Y/10Y spread hovering around 150bps, high by historical standards. Part of this can be attributed to larger issuances to accommodate temporary increase in budget deficit to 6.3% of GDP (breaching the long-standing deficit ceiling of 3%) for 2020 as the government acted to cushion the fallout from COVID-19.
Bank Indonesia (BI) is now playing an active role in buying government bonds and has also encouraged banks to take on more government bonds. For local investors, we like extending duration out to the intermediate tenors, noting that BI will likely embark on another cut today and keep rates low for an extended period. That said, domestic demand for govvies will probably not be enough to nudge yields significantly lower. It would likely require a return of foreign investor interest (likely over the medium term) to nudge 10Y yields towards 7%. On that front, we are more optimistic over the medium term. Indo govvies screen well on our Asia Rates Valuation Indicator (ARVI)* and we suspect that investors will have improved appetite for EM debt when the global economic recovery gains traction.
*The ARVI is a standardized way to compare relative valuation between a 10Y local currency govvie vs 10Y US Treasuries. This takes into account macro factors including real rates and external funding dynamics (see
here
).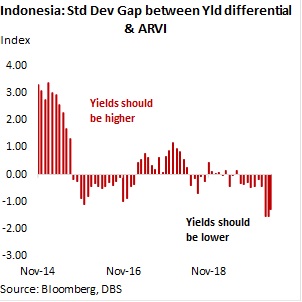 FX: Better risk appetite (except for INR)
EURUSD steadied but 1.10 remains a hurdle. EURUSD has risen above 1.09 again after languishing around 1.08 the past fortnight. There are three positives from the EUR500bn EU recovery fund proposed by Germany and France to fight the coronavirus on Monday. First, the proposal is one step closer to Eurobonds and would help mend some of the damage to EU unity from the German Constitutional Court's ruling against ECB's asset purchases last week. Second, the fund is targeted at helping EU nations hit hard by the coronavirus. Italian debt worries subsided; 10Y BTPS yield fell to 1.67%, its lowest level since 9 April. Third, this should temper the overly bearish growth expectations in the private sector. The Bundesbank's weekly activity index has signalled 1Q's weakness extending into April but improving in May. Hence, EUR's fate today hinges on a better ZEW survey for May.
NZDUSD recovers into 0.60-0.62 range on improved risk appetite. Commodity-led currencies benefitted most on Monday from higher oil prices and global equities. WTI crude oil prices closed above USD30/bbl, four weeks after it went negative for a day. Global equities rallied after Moderna Inc, a US biotech firm, reported that its initial vaccine trials have been positive in building immunity against the coronavirus. For many governments, a vaccine is key to reopening economies fully. Regulatory approval is, however, expected only by end-2020 after its third trial (that starts in July) across large populations. Fed Chairman Powell is expected to tell the US Senate Banking Committee tonight that a full recovery next year requires not only a vaccine but also the additional fiscal support. On the latter, the Treasury is banking on low rates to borrow almost USD3trn in 2Q.
INR is under pressure within its 75-77 range. Sensex has lately fallen to near 30,000 (post-pandemic peak was 34,000 at the end of April). The Indian economy remains under pressure from the lockdown extension to 31 May, with the number of coronavirus cases surpassing 90k. Also, questions remain about the reach and efficacy of the government's support packages announced so far, along with the trade-off between growth over fiscal slippage. The rebound in oil prices (WTI closed above USD30/bbl on Monday) is marginally negative for the world's third largest oil importer. Weaker domestic demand has not only narrowed the trade deficit but also lowered CPI inflation to 5.8% yoy in March from its 7.6% peak two months earlier. Bond yields have eased in anticipation of more monetary support at the next central bank meeting on 5 June.
Disclaimers and Important Notices
The information herein is published by DBS Bank Ltd and PT Bank DBS Indonesia (collectively, the "DBS Group"). It is based on information obtained from sources believed to be reliable, but the Group does not make any representation or warranty, express or implied, as to its accuracy, completeness, timeliness or correctness for any particular purpose. Opinions expressed are subject to change without notice. Any recommendation contained herein does not have regard to the specific investment objectives, financial situation & the particular needs of any specific addressee. The information herein is published for the information of addressees only & is not to be taken in substitution for the exercise of judgement by addressees, who should obtain separate legal or financial advice. The Group, or any of its related companies or any individuals connected with the group accepts no liability for any direct, special, indirect, consequential, incidental damages or any other loss or damages of any kind arising from any use of the information herein (including any error, omission or misstatement herein, negligent or otherwise) or further communication thereof, even if the Group or any other person has been advised of the possibility thereof. The information herein is not to be construed as an offer or a solicitation of an offer to buy or sell any securities, futures, options or other financial instruments or to provide any investment advice or services. The Group & its associates, their directors, officers and/or employees may have positions or other interests in, & may effect transactions in securities mentioned herein & may also perform or seek to perform broking, investment banking & other banking or finan­cial services for these companies. The information herein is not intended for distribution to, or use by, any person or entity in any jurisdiction or country where such distribution or use would be contrary to law or regulation. Sources for all charts & tables are CEIC & Bloomberg unless otherwise specified.
DBS Bank Ltd., 12 Marina Blvd, Marina Bay Financial Center Tower 3, Singapore 018982. Tel: 65-6878-8888. Company Registration No. 196800306E. DBS Bank Ltd., Hong Kong Branch, a company incorporated in Singapore with limited liability. 18th Floor, The Center, 99 Queen's Road Central, Central, Hong Kong.
PT Bank DBS Indonesia, DBS Bank Tower, 33rd floor, Ciputra World 1, Jalan Prof. Dr. Satrio Kav 3-5, Jakarta, 12940, Indonesia. Tel: 62-21-2988-4000. Company Registration No. 09.03.1.64.96422