This week's market developments were typical of a budding pandemic scare.
There is growing evidence that the coronavirus infection has spread

Widespread fallout would undermine the Chinese and regional economic cycle

Pandemics cost a lot—loss of lives, hurts sentiments, GDP, and markets

Asia remembers SARS all too vividly and is not ready to allow repeat

Photo credit: AFP Photo
Latest coronavirus infection: Lessons from past pandemics

Spike in sales of masks and gloves, nervousness in equity markets, spate of travel cancellations and restrictions, rally in G3 bonds, softening of commodity prices—this week's market developments were typical of a budding pandemic scare. The epicentre of Coronavirus contagion is Wuhan, a city of 11 million in central China. While the Chinese authorities have moved in expeditiously to quarantine the areas from where the virus began to spread, there is growing evidence that the disease has spread to some places around China and overseas. Unfortunately, long before train and airline travel out of Wuhan was suspended, many students and migrant workers had left town for the Lunar New Year holidays.

Widespread fallout would undermine the Chinese and regional economic cycle just as it was beginning to show signs of stabilisation around improving external demand. Equally crucial would be the dent to confidence in the Chinese public health system, as it could reveal insufficient investment in health safety and sanitation by some city governments.

We will hope that the spread of the virus will be limited with the containment actions that are being taken by healthcare professionals in the region. But we should be open to the possibility that things will get worse before they get better. The cost of the recent pandemic episodes has been considerable, as the following analysis will illustrate.

Let's begin with SARS. A viral respiratory illness caused by a coronavirus, it was first reported in Asia in February 2003. Over the next few months, the illness spread to more than two dozen countries in North America, South America, Europe, and Asia before the global outbreak was contained. According to the World Health Organization, a total of 8098 people worldwide became sick with SARS during the 2003 outbreak. Of these, 774 died, largely in Mainland China and Hong Kong.

Beyond the tragic loss of human lives, the outbreak caused a sharp decline in travel, tourism, and commerce in Mainland China, Hong Kong, Singapore, and Taiwan. As far as the financial market response, both Hong Kong and Singapore saw about 100bps decline in bond yields and 15% decline in equity market valuation. The loss of GDP was as high as 2.5% for Hong Kong and around 0.5% for Singapore.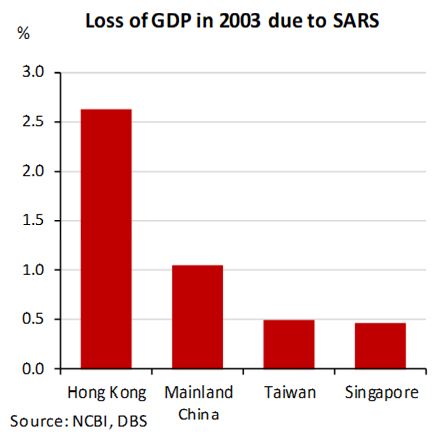 Other notable pandemics in recent years have been H1N1 influenza in North America, Africa, and South-East Asia (2009) and viral fever Ebola in West Africa (2014-16). Just like SARS, by the time the outbreaks were contained, considerable resources and lives were lost.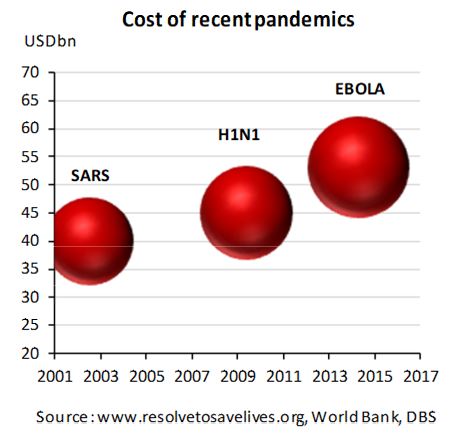 The key lesson from these episodes is that economies with advanced healthcare infrastructure and a well-rehearsed policy response system can absorb the shock, contain the damage, and bounce back quickly. Transparent and expeditious disclosures about the fallout and risks could very well dent public sentiments, but are essential for awareness to spread.

Lunar New Year festivities in the region will be affected by the ongoing developments and the tourism and sales data for January would not be particularly strong as a result. It is however too early to start guessing major downsides to economic and financial indicators. While we wait for successful containment, this episode will nonetheless be a reminder that pandemics are real and not that rare. Exercising vigilance is essential.


To read the full report, click here to Download the PDF.


Disclaimers and Important Notices
The information herein is published by DBS Bank Ltd and PT Bank DBS Indonesia (collectively, the "DBS Group"). It is based on information obtained from sources believed to be reliable, but the Group does not make any representation or warranty, express or implied, as to its accuracy, completeness, timeliness or correctness for any particular purpose. Opinions expressed are subject to change without notice. Any recommendation contained herein does not have regard to the specific investment objectives, financial situation & the particular needs of any specific addressee. The information herein is published for the information of addressees only & is not to be taken in substitution for the exercise of judgement by addressees, who should obtain separate legal or financial advice. The Group, or any of its related companies or any individuals connected with the group accepts no liability for any direct, special, indirect, consequential, incidental damages or any other loss or damages of any kind arising from any use of the information herein (including any error, omission or misstatement herein, negligent or otherwise) or further communication thereof, even if the Group or any other person has been advised of the possibility thereof. The information herein is not to be construed as an offer or a solicitation of an offer to buy or sell any securities, futures, options or other financial instruments or to provide any investment advice or services. The Group & its associates, their directors, officers and/or employees may have positions or other interests in, & may effect transactions in securities mentioned herein & may also perform or seek to perform broking, investment banking & other banking or finan­cial services for these companies. The information herein is not intended for distribution to, or use by, any person or entity in any jurisdiction or country where such distribution or use would be contrary to law or regulation. Sources for all charts & tables are CEIC & Bloomberg unless otherwise specified.
DBS Bank Ltd., 12 Marina Blvd, Marina Bay Financial Center Tower 3, Singapore 018982. Tel: 65-6878-8888. Company Registration No. 196800306E. DBS Bank Ltd., Hong Kong Branch, a company incorporated in Singapore with limited liability. 18th Floor, The Center, 99 Queen's Road Central, Central, Hong Kong.
PT Bank DBS Indonesia, DBS Bank Tower, 33rd floor, Ciputra World 1, Jalan Prof. Dr. Satrio Kav 3-5, Jakarta, 12940, Indonesia. Tel: 62-21-2988-4000. Company Registration No. 09.03.1.64.96422