Japan has already embarked on modest fiscal easing. There is room to do more over the next couple of years.
Japan has already announced a small-scale stimulus

There is no appetite for further monetary easing

More substantial stimulus is possible in the next couple of years

The BOJ is unlikely to deviate from its ±0.2% 10Y yield target

Photo credit: AFP Photo
Japan: Fiscal consolidation is slightly delayed
The Japanese government is resorting to small-scale fiscal stimulus to boost the economy, delaying the fiscal consolidation process initially supported by the sales tax reform.
A JPY13tn stimulus package was announced in Dec19
(the first one since 2016), to help the economy recover from the sales tax hike and typhoon disaster, as well as to prevent a slowdown after the 2020 Tokyo Olympics. The headline figures of JPY13tn are inflated by the promised loans and private sector assistance. Funding through the supplementary budget amounts to a small JPY4.5tn, which includes an issuance of deficit-covering bonds worth JPY2.2tn.
The general budget proposed for FY20 is largely neutral.
Government revenues and expenditures are projected to increase by a modest 1.9% YoY and 1.2%, respectively. New bond issuance will be kept at JPY32.6tn, roughly unchanged from last year's JPY32.7tn. Including the bonds issued to roll over those reaching maturity, the total amount of bond issuance will increase by JPY4.7tn to JPY 153.5tn. The amount of JGB market issuance through normal auctions will be managed at JPY128.8tn, a JPY0.6tn decline from last year. Note that the government's budget projections imply an optimistic forecast for nominal GDP to grow by 2.1% in FY20, compared to the average of 1.7% in the past six years (after Abenomics was introduced). Given the likelihood of revenue shortfall, the actual size of JGB issuance would exceed expectations by a small margin this year.
More substantial fiscal stimulus remains possible in the next couple of years.
The country's next lower house election is required to be held before October 2021. PM Shinzo Abe's term as the LDP leader is scheduled to expire in September 2021. The chance for Abe to call a snap election later this year (after Tokyo Olympics) and seek for an extension of his term as LDP leader should not be ruled out. Whether this will happen and involve a fresh round of fiscal stimulus will be worth watching.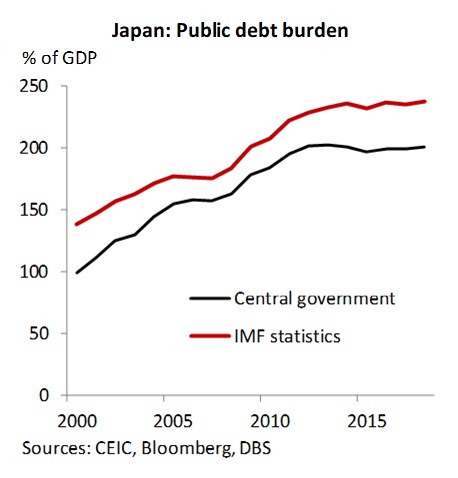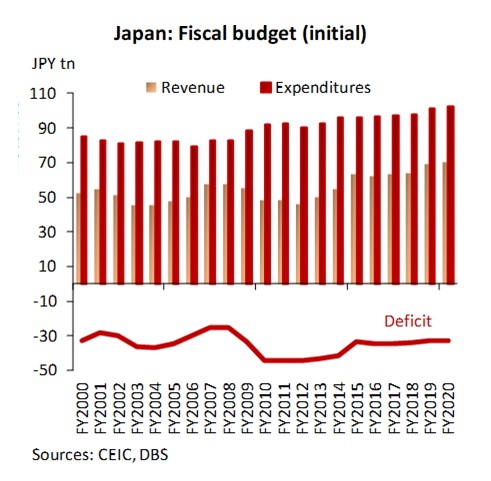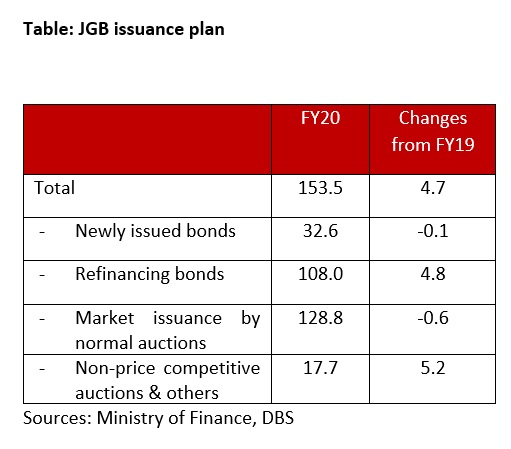 On the demand side,
the Bank of Japan (BOJ) has been gradually slowing the pace of government bond purchases.
The gross quantity of the BOJ's JGB purchases during the monthly operation plan for Jan20 is calculated to be JPY4.9tn (mid-point of the target range). This translates into an annual pace of JPY59tn, compared to JPY78tn in Jan19 and the peak of JPY109tn in Sep16. The BOJ appears reluctant to allow the long-term yields to stay at the lower-end of its ±0.2% target band for too long, in light of mounting concerns about financial institutions' profit pressures.
Implications for investors
Global sentiment is still the largest factor driving JGB yields and curve shape. Notably, the BOJ briefly lost control of the 10Y yield during the height of risk aversion in August / September last year as yields dipped below -0.2%.
Assuming that volatility will be more subdued in 2020 and a broadly stable JGB issuance outlook, the ±0.2% range for 10Y yields should hold. Trading the range is still the clearest way to handle JPY interest rates.
To read the full report, click here to
Download the PDF
.
Disclaimers and Important Notices
The information herein is published by DBS Bank Ltd and PT Bank DBS Indonesia (collectively, the "DBS Group"). It is based on information obtained from sources believed to be reliable, but the Group does not make any representation or warranty, express or implied, as to its accuracy, completeness, timeliness or correctness for any particular purpose. Opinions expressed are subject to change without notice. Any recommendation contained herein does not have regard to the specific investment objectives, financial situation & the particular needs of any specific addressee. The information herein is published for the information of addressees only & is not to be taken in substitution for the exercise of judgement by addressees, who should obtain separate legal or financial advice. The Group, or any of its related companies or any individuals connected with the group accepts no liability for any direct, special, indirect, consequential, incidental damages or any other loss or damages of any kind arising from any use of the information herein (including any error, omission or misstatement herein, negligent or otherwise) or further communication thereof, even if the Group or any other person has been advised of the possibility thereof. The information herein is not to be construed as an offer or a solicitation of an offer to buy or sell any securities, futures, options or other financial instruments or to provide any investment advice or services. The Group & its associates, their directors, officers and/or employees may have positions or other interests in, & may effect transactions in securities mentioned herein & may also perform or seek to perform broking, investment banking & other banking or finan­cial services for these companies. The information herein is not intended for distribution to, or use by, any person or entity in any jurisdiction or country where such distribution or use would be contrary to law or regulation. Sources for all charts & tables are CEIC & Bloomberg unless otherwise specified.
DBS Bank Ltd., 12 Marina Blvd, Marina Bay Financial Center Tower 3, Singapore 018982. Tel: 65-6878-8888. Company Registration No. 196800306E. DBS Bank Ltd., Hong Kong Branch, a company incorporated in Singapore with limited liability. 18th Floor, The Center, 99 Queen's Road Central, Central, Hong Kong.
PT Bank DBS Indonesia, DBS Bank Tower, 33rd floor, Ciputra World 1, Jalan Prof. Dr. Satrio Kav 3-5, Jakarta, 12940, Indonesia. Tel: 62-21-2988-4000. Company Registration No. 09.03.1.64.96422