Phase 1 trade deal allows US President Trump to assert gains from a zero-sum approach to negotiations.
China to buy more US goods, widen market access, tighten IP protection looks like capitulation

But many such reforms were already in train…

…and the purchase commitments are much smaller than the original deficit reduction targets

US will continue to push back China on tech access, human rights, and territorial disputes

Great power rivalry will continue to simmer in 2020, in our view

Photo credit: AFP Photo
Trade deal and superpower rivalry

Starting the year with a high-profile assassination of an Iranian general while dealing with impeachment proceedings at home, US president Donald Trump added to the headlines by signing the Phase 1 trade deal with China this week. The agreement allows Mr. Trump to assert gains from what he sees as a zero-sum negotiation.

Indeed, China's pledge to buy more US goods, provide American firms more market access, and enforce tighter protection for intellectual property, while most tariffs imposed since 2018 remain in place may seem like a capitulation. But compared to the demands with which the US started the trade war (USD200bn in bilateral trade deficit reduction in 2019, major changes to subsidy for industries, dealing with cyber security), phase 1 barely scratches the surface.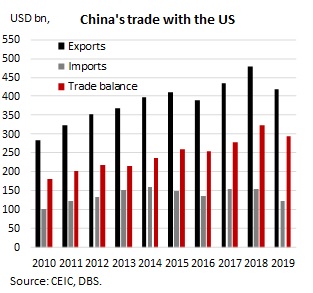 In fact, many of the market reforms in the deal were already in train (some in fact got delayed by the trade war), and the purchase commitments (USD200bn over two years) are much smaller than what would be needed under the original deficit reduction targets. Note that China's trade surplus vis-à-vis the US in 2019 was only 9% lower than in 2018 (and 6% higher than in 2017). Also, the point of fixating on bilateral deficits looks hollow when one takes into account the fact that China's overall trade balance vis-à-vis the world improved in 2019, while the same for the US has barely changed (despite a surge in energy exports).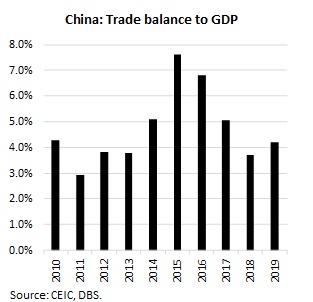 We are sure that regardless of the course of the US economy or the political calendar, the White House will continue to push back China on many areas this year, including access to technology, human rights, and territorial disputes. Great power rivalry will continue to simmer in 2020 and beyond, in our view.

Along the way, there are two critical considerations for us. First, among the various players in Washington, we see three camps in the trade war—(i) focus on lowering the trade deficit (Trump), (ii) promotion of corporate America's interest (Trade representative Robert Lighthizer), and (iii) pure antagonism (Trade advisor Peter Navarro). Among these three lines of attack, (i) and (ii) may rest for a while, but (iii) is likely to persist.

Second, with the US fixated on the zero-sum nature of the conflict, China may end up reducing certain agriculture purchases from other countries to show that they are buying more from the US. Similarly, goods that are cleared in the port of Hong Kong may now be diverted to mainland China so that they show up officially as Chinese imports. These are types of distortions one can expect in the prevailing environment, we're afraid.

Clearly the prospect of a cessation of tit-for-tat tariffs at least for this year is helpful to market sentiments. We have noted a reflation rally keen to get going, in the form of curve steepening and commodity price (gold and oil, in particular) jumps. It is just a matter of time, in our view.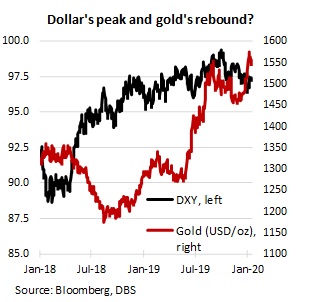 To read the full report, click here to Download the PDF.


Disclaimers and Important Notices
The information herein is published by DBS Bank Ltd and PT Bank DBS Indonesia (collectively, the "DBS Group"). It is based on information obtained from sources believed to be reliable, but the Group does not make any representation or warranty, express or implied, as to its accuracy, completeness, timeliness or correctness for any particular purpose. Opinions expressed are subject to change without notice. Any recommendation contained herein does not have regard to the specific investment objectives, financial situation & the particular needs of any specific addressee. The information herein is published for the information of addressees only & is not to be taken in substitution for the exercise of judgement by addressees, who should obtain separate legal or financial advice. The Group, or any of its related companies or any individuals connected with the group accepts no liability for any direct, special, indirect, consequential, incidental damages or any other loss or damages of any kind arising from any use of the information herein (including any error, omission or misstatement herein, negligent or otherwise) or further communication thereof, even if the Group or any other person has been advised of the possibility thereof. The information herein is not to be construed as an offer or a solicitation of an offer to buy or sell any securities, futures, options or other financial instruments or to provide any investment advice or services. The Group & its associates, their directors, officers and/or employees may have positions or other interests in, & may effect transactions in securities mentioned herein & may also perform or seek to perform broking, investment banking & other banking or finan­cial services for these companies. The information herein is not intended for distribution to, or use by, any person or entity in any jurisdiction or country where such distribution or use would be contrary to law or regulation. Sources for all charts & tables are CEIC & Bloomberg unless otherwise specified.
DBS Bank Ltd., 12 Marina Blvd, Marina Bay Financial Center Tower 3, Singapore 018982. Tel: 65-6878-8888. Company Registration No. 196800306E. DBS Bank Ltd., Hong Kong Branch, a company incorporated in Singapore with limited liability. 18th Floor, The Center, 99 Queen's Road Central, Central, Hong Kong.
PT Bank DBS Indonesia, DBS Bank Tower, 33rd floor, Ciputra World 1, Jalan Prof. Dr. Satrio Kav 3-5, Jakarta, 12940, Indonesia. Tel: 62-21-2988-4000. Company Registration No. 09.03.1.64.96422