June inflation quickened to 5.0% YoY vs May's 4.9%. Industrial production growth eased in May, along our expectations. We highlight few risks to the outlook, which makes the case for a tighter p...
Thursday's data mix signaled a build-up in inflation on higher non-food pressures, whilst production growth slowed.
June CPI inflation rose to a five-month high of 5% YoY, lower than consensus at 5.3%, but up vs May's 4.9%.
The downside surprise was on lower food, which eased to 3.2% vs 3.3% in May, despite a strong sequential rise led in vegetables, whilst fruits and protein products subsided. Non-food pressures registered a more notable rise (see chart), led by fuel (7.1% vs May's 5.8%) and higher transport costs. Housing was steady at 5% while service component quickened on across-the board increase. More worryingly, core inflation extended its climb to 6.4% vs May's 6.2%, past the higher end of the RBI's target band for the second consecutive month. The rise in the trimmed measure, core-core (ex-food, fuel, transport, precious metals) gauge was steeper, pointing to a build-up in generalised price pressures.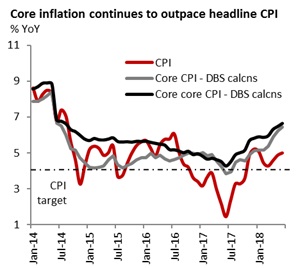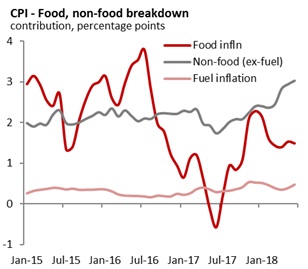 Source: Raw data is from CEIC, transformations are by DBS Group Research
Industrial production moderates
May industrial production (IP) eased to 3.2% YoY (DBSf - 3.4%, consensus - 4.4%), from a downwardly revised 4.8% in April. Mining and electricity output improved, but manufacturing production lagged. On the use-based end, slowdown was broad-based despite favourable base effects. To recap, factory output had eased up in May-June last year ahead of the GST rollout, as manufacturers dipped into inventories and dialled back on production.
On 3MMA basis, signs are that the industrial trend is moderating. From 7.8% YoY rise in January, headline IP slow to 4.2% YoY in May, reflecting a broader pullback amongst the sub-sectors. While these trends suggest that the post-GST spurt in industrial activity might be running out of steam, other indicators, including auto sales, PMI-manufacturing and consumption indices bode well for the IP outlook, helped also by low base effects for the headline. Notably, higher input costs are increasingly getting reflected in output prices, as manufacturers' pricing power improves, lifting core pressures.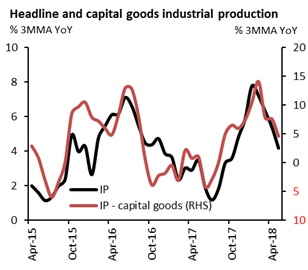 Inflationary risks building up

Base effects and seasonal factors are likely to temper headline CPI readings in 2H FY19, but keep the full-year average above target.
We maintain our forecast for FY19 at 4.7% vs FY18's 3.6%, but will watch evolving risks closely. Yet far, the Reserve Bank of India projects 1H FY19 inflation at 4.8-4.9%, before easing to 4.7% in 2H. Key pipeline risks for the outlook, include:
-
Minimum support price increases
: Higher MSPs carry inflation and fiscal costs, but the magnitude boils down to effective implementation (see here). Given the lag between the announcement and execution, the inflationary impact is likely in the range of ~25-30bp this year, remaining spilling over to the next. Material lift in inflation will also hinge on the procurement strategy (especially if prices fall below MSPs) through price or income support, buffer stocks availability, actual harvest and rollout of new measures. As a purely supply-driven measure, the MSP impact should dissipate beyond a year. But, the pressures might persist, if demand conditions recover through higher rural wage growth.
-
Higher oil/fuel prices
: Apart from hardening inflationary expectations, the direct impact of crude prices on CPI inflation is smaller than on WPI inflation, given the differing weightage in the respective baskets (see here). Petrol and diesel carry a total weight of 2.33% in the basket, along with a 1.3% for non-administered LPG prices. A 10% rise in global crude prices lifts headline CPI by 20-30 bps, assuming a complete pass-through. The cumulative impact might, however, be higher on second-order pass-through of high transport costs feeding into manufacturing/ food costs (if high crude prices sustain).
-
Weak rupee
: Owing to sizeable foreign portfolio debt outflows, high oil prices disrupting domestic macro stability and a broad dollar recovery, the rupee has surfaced as the regional underperformer (-7%/USD YTD). This amplifies the impact of imported inputs, particularly oil and gold purchases. In the April monetary policy report, the RBI estimated that that a 5% depreciation in the rupee could push inflation up by 20bp. On the other hand, a cheaper rupee is expected to benefit the exports sector. Historically, a weak rupee has not always benefited India's exports, though we suspect that any benefit through the currency channel will be short-lived as prices of the traded goods adjust to the new equilibrium when contracts/ pricing is re-negotiated.
-
Fiscal conditions
:
At a time when the slippage in centre's fiscal deficits is contained at -3.5% of GDP, states' finances are deteriorating.
The RBI's report on the FY17-19 State Budget revealed that the revised FY18 deficit at -3.1% of GDP was wider than the targeted -2.7%. This comes after the FY17 deficit also ballooned to -3.5% vs budgeted -2.9%, staying above the Fiscal Responsibility and Budget Management (FRBM) threshold for the third consecutive year. Most of the FY18 slippage owed to higher revenue expenditure (-0.13 % of GDP), particularly due to pay revisions and farm loan waivers, alongside lower revenue receipts (-0.3%). For FY19, the deficit target is set at -2.6% of GDP. Weaker states finances have kept the consolidated deficit above 6% of GDP, limiting the room for monetary policy to take an accommodative stance.
-
Others
:
The central bank highlighted other risks to its inflation outlook at the June review
, including a closing output gap, staggered impact of housing rent allowance (HRA) revisions by various state governments and strength in the southwest monsoon. Strengthening core inflation signals a gradual build-up in generalised price pressures, coupled with improving pricing power amongst manufacturers as input costs rise. Monsoon rainfall is more than 10% below the long-term average by 12 July, with a favourable spatial and geographical distribution necessary to replenish groundwater levels and support the peak in the sowing season for the summer crop.
Policy implications

Even as June likely marked the peak for inflation, with readings expected to moderate thereafter, the smaller extent of correction and firmer core pressures will be of concern for the central bank. Upside risks owing to the factors highlighted above, and a need to maintain financial stability will keep monetary policy on a tightening bias. We expect 50bp more hikes in FY19, with the next likely in August.
Besides tighter policy, non-monetary tools
(stepped up FX intervention, incentivise non-resident deposits, currency swaps and temporary tariffs to correct the CAD imbalance, amongst others)
might also be tapped to contain rupee depreciation, if risk sentiments deteriorate further
.
To read the full report, click here to
Download the PDF
.