But after learning how to surf the net from his computer-savvy kids, it didn't take him long to discover the simplicity and convenience of online banking, and the decision to manage his cash via the ether net was a no-brainer. "When I think about the hours I spent over the years at my bank branch, and how quick it is now, I wonder why we didn't have this choice sooner," Alan Tan says.
He is one of a growing number of people making the leap of faith that few banking experts could have predicted five years ago. Despite a relatively small percentage of customers regularly using online banking by the end of 1999, the rise in Internet penetration and the advantages of e-banking make this trend inevitable, especially in tech-happy Asia. For many banks struggling with the idea of reworking their traditional methods of serving personal and business customers alike, the weight of incipient demand and far-reaching extent of change feels almost unbearable. But the writing seems already emblazoned on the web: ignore the hype about Internet banking at your peril.
The Internet's global reach and explosive growth are potent indeed. Consumers around the world are embracing the net much faster than they did radio and television. The number of surfers could soon surpass audience sizes of both these seemingly ubiquitous media. Net users in the region have doubled annually in recent years to about 30 million people, and the forecasts for China and India are staggering when added to the potential for even faster growth in Korea, Taiwan, Hong Kong and Singapore.
To this heady brew, add the current banking environment with customers growing more demanding, and less tolerant of slipshod service. Research from U.S. consultancy McKinsey & Co. shows that up to 50% of all Asian consumers are dissatisfied with the service they get from their banks. Customers are also increasingly busy individuals, with little patience for wasting time in queues, and a growing penchant for searching online for the best deal on the world wide web - the most timely and conveniently-delivered information wherever and whenever they want it.
Simultaneously, their banks recognise that the distinctions between the traditional role of a financial intermediary and what brokers or fund managers do is fading fast. Deregulation and globalisation are bringing fierce competitors to their doorsteps in growing numbers. Many also realise that as corporate loan growth slows in the aftermath of the Asian crisis, they had better seek consumers' business quickly and aggressively, as it may well form a larger proportion of revenue in the future.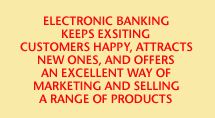 Electronic banking keeps existing customers happy, attracts new ones, and offers an excellent way of marketing and selling a range of products from mortgages, personal loans and credit cards to insurance, unit trusts and a lot of other things. But some banks see e-banking as a threat rather than an opportunity. While the Internet facilitates the entrance of small and nimble start-ups, it also raises security issues, has significant set-up costs, and appears to undermine an established bank's costly physical infrastructure.
In reality, both branches and portals - the "clicks and mortar" approach - can co-exist and complement one another, since the transition into full online banking will most likely take time. As for the upstarts· better to beat them to it, even if it involves initial expense and significant investment in technology. While the models for Internet banking are still evolving, what is crucial now is to appreciate how logical this direction is for financial services and prepare for it by experimenting wisely. Some domestic and international banks in the region are already doing just that, with confidence, either rolling out or expanding their e-banking services. Yet overall, despite widespread recognition of its importance, few Asian banks have actively prepared for this paradigm shift. Many seem still to be banking on today, instead of on the future.