Shining a light for youth in the dark
Ms Farah Malik (third from left) with (from left) her father, Mr Malik Shah, her brother, Mr Faris Malik, and her mother, Madam Fatimah Alwi, at her graduation ceremony. The siblings started a social enterprise that aims to provide students with affordable tuition services. PHOTO: COURTESY OF FARAH MALIK
Organisations step up programmes to help youth at risk, students with financial difficulties, during the pandemic.
Through the course of Ms Farah Malik's educational journey, even without her asking, many have reached out to lend a hand.
In secondary school, a Vietnamese Asean scholar classmate, who aced additional mathematics and chemistry, tutored her between and after classes whenever she had difficulties. A kind teacher gifted her with a copy of a chemistry 10-year-series when she did not want to burden her parents, whose jobs had been affected during the 2001 and 2008 recessions, with the cost.
Applying for internships as an undergraduate at the Singapore Management University (SMU), she turned to mentors such as Member of Parliament Nadia Ahmad Samdin, then part of the Lembaga Biasiswa Kenangan Maulud Youth Ambassador Programme, who gave her tips on how to write effective e-mails and dress smartly for interviews.
All these experiences made the 25-year-old, who graduated from a two-year fast-track Master of Philosophy in Psychology programme at SMU in June and is looking for a job, resolve to give back as soon she could.
In 2014, while doing a bachelor of social science in psychology and marketing course at SMU, she and her brother, Mr Faris Malik, 28, a digital marketing trainer, launched Sky High Educators.
The social enterprise taps undergraduate tutors to help primary-to tertiary-level students access more affordable tuition. Prices range from $20 to $30 an hour depending on their level - this is at least $10 to $20 cheaper than the market rate.
Of late, the economic fallout from the coronavirus pandemic has made it even more difficult for underprivileged kids to get the help they need.
Home-based learning has also revealed a stark digital divide. Some families do not have laptops or a steady Internet connection at home. Others, who are tightening their belts, have to prioritise buying essential items over paying for tuition, says Ms Farah.
Free online tuition was the siblings' way of chipping in.
Funded by a grant from a donor organisation which prefers to remain anonymous, the social enterprise launched free online tuition for students with financial difficulties last month. On top of paid sessions, they are offering 10 free tuition sessions to at least 70 students, to help them through the end-of-year examinations.
"We want to ensure financial difficulties will not prevent students from doing well academically because we are firm believers that education is the most effective driver of social mobility," she says.​
But beyond tuition, which she acknowledges is only one aspect of learning, she hopes tutors will also serve as mentors to these students.
"We don't like tuition, but we are realistic and know that the society we live in needs it. We encourage our educators to offer advice on subject combinations or career paths, or inspire students to aim for goals which seem unattainable," she adds.
Another non-profit youth organisation, Majulah Community, also believes in the power of mentorship. Since 2010, it has run various programmes to nurture leadership qualities in youth, focusing on those facing academic and personal challenges.
It identifies youth at risk, helps boost their self-esteem and offers them guidance through after-school engagement sessions and outdoor adventure activities.
Those with criminal records, anger management issues or whose parents have filed family guidance orders - formerly known as beyond parental control orders - also take part in a separate programme called Gear Up. This focuses on one-to-one mentorship and outdoor activities, in which mentors nurture their positive traits.
In a game of dodgeball, for instance, mentors might point out how a student played fair by not attacking a teammate when he was down.
Mr Shafiee Razali, 32, the organisation's chief executive, says: "Ninety per cent of the students might not even know they have these strengths because all their lives, they have been bombarded by parents and teachers with all the negative things they do.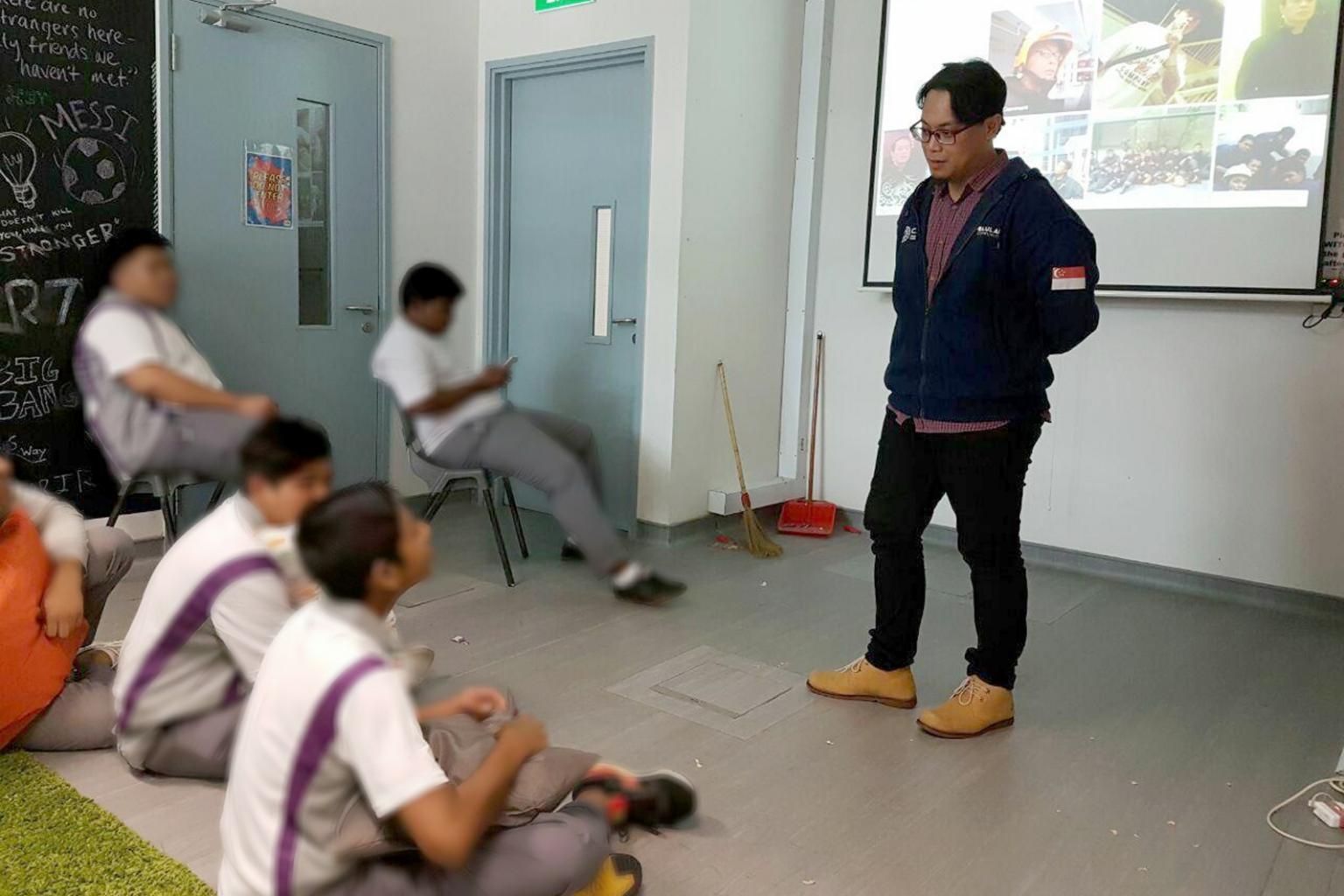 "We want to be that alternative adult figure they can feel safe with and open up to without being judged."
In the past few months, he says, it became even more important to keep at-risk youth engaged so they would comply with circuit breaker measures and stay home.
Besides the organisation's main social media accounts, staff created a private Instagram account to serve as a safe space for youth to communicate. It featured live chats with former at-risk youth who are now in Institute of Technical Education colleges and in a more stable situation.
"The students shared things they would have done differently in the past, such as trying to manage their anger or do better in school. When we interacted with them before, some were aggressive and would spew vulgarities, but now, they have matured," Mr Shafiee says.​
"Youth mentorship is about planting a seed and watching it grow into a tree. You may say something to the students today and they disappear tomorrow, but they may come back to you years later and realise what you taught them makes sense."
- MR SHAFIEE RAZALI, chief executive of non-profit youth organisation Majulah Community
On Majulah Community's public Instagram account, he also chats with changemakers such as Mr Chandra Shekahar, 22, a menteeturned-volunteer who used to visit an after-school drop-in centre that the organisation runs.
Now a full-time national serviceman, he shared his experiences in competitive e-sports tournaments, how he intends to monetise his passion, as well as tips for others hoping to embark on a similar journey.
These are the heartening success stories, the ones who emerged stronger from adversity, says Mr Shafiee. There are many others who alternate between improvement and regression.
As a mentor, he admits that the journey can be tiring and mentally draining, but he is in it for the long haul.
He says: "Youth mentorship is about planting a seed and watching it grow into a tree. You may say something to the students today and they disappear tomorrow, but they may come back to you years later and realise what you taught them makes sense."
About the series
This series is in collaboration with The Sunday Times to showcase people in Singapore who have come together to uplift the community in these trying times.
---