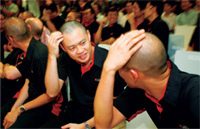 DBS colleagues shave their heads to raise finds for the Children's Cancer Foundation.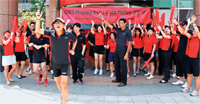 Over 200 DBS/POSB colleagues take part in a 180km charity relay race, covering 87 branches in six hours.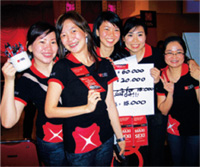 DBS Indonesia colleagues create DBS-branded products as part of a regional fund-raising initiative.
In December, DBS holds our first Family Day by the beach to promote camaraderie and foster teamwork.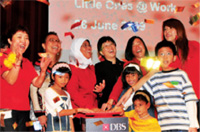 Over 150 DBS colleagues bring their children to work as part of the Little Ones @ Work programme.


CHILDREN AND LEARNING IN ASIA
As a bank that lives and breathes Asia, DBS' corporate social responsibility (CSR) programme is focused on supporting children and learning because we believe that children hold the key to Asia's future.

DBS seeks to foster a culture of volunteerism to inspire our 14,000-strong organisation to give back to the community. By harnessing the collective 'can-do' and community-mindedness of our people, we believe we can make an impact on the communities in which we live and work.

In 2009, our people continued to touch many young lives in Asia in the area of learning, with a special focus on helping to keep children in school. These initiatives spanned Singapore and Hong Kong, our two largest markets, as well as our growth markets of China, India, Indonesia and Taiwan.

Hair for Hope: In June 2009, 23 colleagues, including members of the bank's senior management, demonstrated courage when they shaved their heads for the Children's Cancer Foundation (CCF) Hair for Hope event. DBS' partnership with CCF is in line with the bank's commitment to support children in Asia in the area of learning. It was also in tribute to late CEO Richard Stanley, who passed away in April 2009, following complications arising from an infection due to leukemia. In all, this initiative raised SGD 120,000 for the CCF's therapeutic play and 'Back to School' programmes. Through therapeutic play, the children are taught to cope with anxieties related to the illness in a fun manner, while the 'Back to School' programme helps them transition back to school after treatment has been completed.

DBS Happy Ever Asia Relay: In October 2009, DBS launched a regional fund-raising initiative known as the 'DBS Happy Ever Asia Relay', whereby our people across the region came up with an array of creative fund-raising ideas to raise funds for underprivileged children in Asia.

More than 3,000 DBS employees participated directly in this initiative, demonstrating tremendous creativity and enthusiasm in the process. For example, Private Banking in Singapore raised funds by putting together a musical from scratch. This event played to a full house at the DBS Auditorium and raised over SGD 45,000. Our Indonesia and China colleagues organised large-scale bazaars. Our people also raised funds through sporting events – in Hong Kong, colleagues participated in a vertical marathon; Taiwan folks initiated a biking road trip; and in Singapore, over 200 DBS/POSB colleagues took part in a 180 km charity relay race, covering 87 branches in about six hours. Together with dollar-for-dollar funds-matching by the bank, this initiative raised about SGD 1.3 million. The beneficiaries include Shanghai Charity Foundation, Aseema, Indonesian Street Children Organisation and Taiwan Fund for Children and Families. The proceeds will help fund the building of school infrastructure and scholarships in our growth markets of China, India, Indonesia and Taiwan.

POSB Initiatives: As the bank that has nurtured generations of Singaporeans, POSB is very much a part of the fabric of Singapore. With the economic slowdown affecting many families last year, POSB, recognising our role as the 'People's Bank', stepped up efforts to help the needy children in our midst.

In July 2009, more than 3,500 DBS/POSB colleagues, their family members and customers, took part in the inaugural POSB Run for Kids. In all, this initiative raised SGD 250,000, which went towards the Singapore Children's Society and an education welfare fund for primary school children, managed by the Punggol Central Citizens' Consultative Committee. Funds for the latter were used to cover the school and enrichment programme fees of needy students in 19 primary schools in the Pasir Ris-Punggol Group Representation Constituency.

In conjunction with the Community Chest's TV fundraising programme, Truehearts, POSB also made available its extensive distribution network, facilitating public donations of SGD 50,000.

In addition, last year, POSB partnered with the South West Community Development Council to initiate 'ClicktoAid.Sg', a media platform which marries educational and entertaining games, to raise funds for residents in need. This initiative garnered SGD 50,000, which will go towards helping over 900 Primary One students from low-income families with their school-going needs.

Other Initiatives: For the eighth year in a row, over 1,300 DBS Hong Kong colleagues, together with their families and friends, took part in the Hong Kong Community Chest Walk for Millions in January 2009. This represented a 25% increase in participation from the previous year. Colleagues from DBS China, Shenzhen branch, also joined in the meaningful event. In all, this effort raised over HKD 215,000 for the Hong Kong Community Chest. This year, our colleagues also supported the Walk for Millions in full force.
Top

CRISIS RELIEF
Last year, DBS, together with our customers, donated more than SGD 400,000 to crisis relief efforts in markets hit by natural disasters.

In August 2009, DBS and our people contributed close to SGD 200,000 to the Red Cross Society of the Republic of China in aid of reconstruction projects, after Typhoon Morakot hit Taiwan. Over 70% of DBS Taiwan staff donated funds towards the rebuilding effort. Taiwan colleagues also went to affected areas to help clean flood-damaged homes.

In October 2009, DBS opened up our extensive Singapore ATM network, AXS stations and Internet banking channels to facilitate public donations in aid of victims of the Padang earthquake and Typhoon Ketsana. Within a week alone, our customers donated SGD 100,000 to the 'Red Cross Padang Earthquake', 'Red Cross Philippines Tropical Storm' and 'Red Cross Ketsana Relief Appeal' funds.

Our own people also chipped in to help those affected rebuild their lives. In Indonesia, five DBS colleagues voluntarily had their heads shaved to raise funds for victims of the Padang earthquake. This effort, coupled with generous contributions from the bank, customers and partners, saw DBS donate IDR 1 billion to Habitat for Humanity to help rebuild homes in the quake-hit city.
Top

SOCIAL ENTERPRISE
At DBS, we are committed to making a positive impact on the communities in which we live and work by encouraging the development of social entrepreneurship. In 2008, DBS Enterprise Banking launched the DBS Social Enterprise Special Package. An industry first, the package is specially designed to meet the banking needs of social enterprises in Singapore. Last year, we further enhanced the package by making available better banking privileges for these customers.

In Hong Kong, we rolled out the DBS Social Enterprise Experience, a pioneer community programme co-organised with Baptist Oi Kwan Social Services. Under this initiative, DBS Hong Kong enables youth from five secondary schools to run a Chinese New Year stall in Victoria Park, and provides them with seed money as operating capital. Last year, over 40 DBS Hong Kong staff mentors worked with the students throughout the programme, guiding them on how to run a business. These students are subsequently given the opportunity to apply these new skills as they work with a local social enterprise in Hong Kong.
Top

STAFF ENGAGEMENT
To instill a strong sense of organisational pride and ownership among our people, we make it a priority to engage our colleagues through regular townhalls, dialogue sessions, as well as targeted divisional and unit-specific engagement programmes.

In June, we kicked off the national Little Ones @ Work programme at DBS. The programme, put together by DBS Staff Union and supported by volunteers from Human Resources and the bank's recreation club, saw over 150 colleagues bring their children to work.

In December, DBS also held our first Family Day by the beach. More than 3,300 DBS colleagues and family members made their way to Sentosa for this fun-filled day, which promotes camaraderie and fosters teamwork across the organisation.

In Hong Kong, to help our people achieve a balanced work-life, the senior management fully funded an initiative that enables our people to learn more about stress management, parenting and positive psychology, through an array of workshops organised by the bank. Under this programme, our people were also treated to such activities as 'Family Fun Day' and free movies on Saturday. They also got to participate in community actitvites including interacting with underprivileged children at Ocean Park.
Top

ENVIRONMENTAL SUSTAINABILITY
In 2008, DBS embarked on an environmental sustainability programme focusing on energy conservation and recycling. Last year, DBS continued to drive these green initiatives, and we were the first Singapore bank to be awarded the 'Green Office Label Certificate' in November 2009.

DBS now actively runs programmes which encourage our people to save energy and recycle used materials. Last year, we also rolled out a waste recycling programme as well as utilities management programme to track and reduce the bank's utilities consumption.

In Hong Kong, the DBS office in One Island East was awarded the Class of Good Wastewi$e Label in the Hong Kong Awards for Environmental Excellence, a government-initiated environmental scheme led by the Hong Kong Productivity Council.
Top

LOOKING AHEAD
While 2009 was a challenging year for the global economy, DBS continued to do our part to build a better Asia. Going forward, DBS remains committed to giving back to the community, investing in our people and workplace, and looking at ways to better serve our customers.
Top