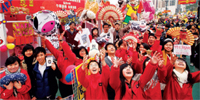 The DBS Social Enterprise Experience makes its debut at the Chinese New Year flower market at Victoria Park in Hong Kong.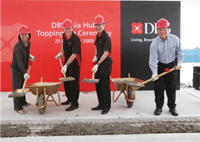 DBS Asia Hub will consolidate most of the the bank's technology and operations units under one roof.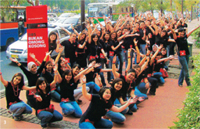 DBS continues to expand our footprint in Indonesia, with a presence of 40 branches in 11 cities.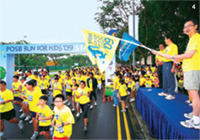 Besides underscoring POSB's commitment to the community, the POSB Run for Kids event is also a platform for staff, customers and business partners to join hands in helping the less privileged.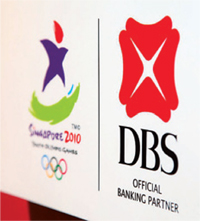 DBS is proud to be marking another first with Singapore, as the nation stages the first-ever Youth Olympic Games.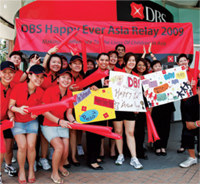 More than 3,000 DBS employees in the region participate in the DBS Happy Ever Asia Relay, demonstrating tremendous creativity and can-do spirit in the process.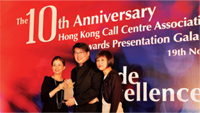 The HKCCA Awards aim to recognise the best of the best in the customer centre industry and promote excellence in three main areas: Process Improvement, People Management and Technology.


JANUARY
•
DBS and EZ-link announce an alliance, enabling commuters to top up their ez-link cards across DBS' network of over 900 ATMs and 600 AXS Stations in Singapore, as part of DBS' continuing efforts to deliver greater convenience and access to customers.
•
DBS Hong Kong launches its flagship community programme 'DBS Social Enterprise Experience', providing a learning platform for youths to hone their business skills and cultivate social entrepreneurship.
•
DBS Hong Kong staff take part in the 2009 Walk for Millions organised by the Community Chest. Over 1,300 staff participate in the Walk which raises funds for 'Family and Child Welfare Services.'
Top

FEBRUARY
•
DBS Asset Management launches the DBS Singapore STI ETF on Singapore Exchange (SGX) and signs an MOU with SGX to develop more Exchange Traded Funds ETF).
•
DBS tops up 340,000 sq ft purpose-built premises – DBS Asia Hub – at Singapore's Changi Business Park. The Hub will house DBS' key operations functions, a milestone in its strategic occupancy programme.
•
DBS China opens a new sub-branch in Shanghai's Sichuan Bei Road as well as a new branch in Nanning which offers a full range of financial services to customers.
•
DBS Private Equity sets up a USD 100 million investment vehicle in China; the RMB Fund is among the first by a foreign private equity group.
•
Inaugural POSB Everyday Champions for Sports Award recognises a total of 57 individuals and organisations who have gone beyond the call of duty to help Singaporeans enjoy a sporty lifestyle; the award ceremony is graced by President S R Nathan and Minister for Community Development, Youth & Sports, Dr Vivian Balakrishnan.
•
DBS Indonesia opens the fifth unsecured loan centre, Rumah DBS, in Serpong, serving more customers in West Jakarta. Rumah DBS Serpong completes the establishment of Consumer Finance business centres in five different areas within Jakarta.
Top

MARCH
•
POSB Everyday Card is voted as the 'No. 1 Credit Card' in Singapore in the AsiaOne's People Choice Awards 2008.
•
DBS is joint lead manager and underwriter for the SGD 1.84 billion fullyunderwritten rights issue of CapitaLand.
Top

APRIL
•
DBS CEO Richard Stanley, succumbs to infection aftera 10-week battle with leukemia.
•
DBS Taiwan opens its third DBS Treasures Centre in Kaoshiung and launches a two-year fixed rate mortgage loan.
•
DBS India opens two branches in Salem and Surat, bringing its total number of branches to 10 across 10 cities.
•
DBS Indonesia has a total of 40 branches in 11 cities with the opening of three more branches: Mangga Dua in Jakarta, and Gatot Subroto and Jalan Asia in Medan City.
•
DBS is sole financial adviser for the milestone SGD 1.23 billion rights issue by CapitaMall Trust, the largest equity fund-raising by a S-REIT to date.
Top

MAY
•
Ravi Menon, Second Permanent Secretary of the Ministry of Trade & Industry, is appointed to the boards of DBS Group and DBS Bank.
•
The Islamic Bank of Asia launches USD Islamic Placement, its first USD liquidity Shariah-compliant product.
•
DBS sees increased demand for escrow services which helps to safeguard customers' interest in an uncertain environment.
•
DBS India is joint arranger for Lusako Trading Limited's USD 40.7 million term loan for its acquisition of Poland based Bolix S.A., a leading provider of EIFS (External Insulation Finishing Systems). Lusako is a 100% subsidiary of Berger Paints India Limited, the second largest decorative paint company in India.
Top

JUNE
•
POSB and The Council for Third Age team up to address the financial needs of baby boomers and older Singaporeans, kicking off with three initiatives: POSB Active Neighbours Programme, Financial Literacy for Seniors and Ageing has its Privileges. The POSB Active Neighbours Programme is successfully received by the seniors and is expanded in December.
•
DBS Hong Kong launches 'The Best Service Staff' voting competition to give customers a voice in identifying staff who put customers first.
•
DBS Taiwan opens Tien Mu branch in Taipei.
Top

JULY
•
DBS China signs lease for the new DBS building in Shanghai's Lu Jia Zui Financial District. The new premise will be named DBS Bank Tower.
•
DBS China issues its first RMB debit card, which allows customers to withdraw cash from DBS ATMs in China, Hong Kong and Singapore at no cost.
•
Inaugural POSB Run for Kids charity event raises SGD 250,000 and attracts over 3,500 participants from all walks of life.
•
DBS launches DBS xDDA in Singapore, an industry-first initiative which will simplify and speed up GIRO applications for customers.
•
DBS Taiwan launches the 'Wealth Savings Account' which offers tiered interest rates to investors.
•
DBS Taiwan launches its first integrated brand campaign that highlights the Bank's origins and its growth across 40 branches in Taiwan.
•
DBS India participates in Volkswagen India Private Limited's maiden syndicated facility of Euro 135 million arranged by International Finance Corporation.
Top

AUGUST
•
DBS offers cross-border yuan trade settlement service in key Asian markets.
•
DBS introduces the new Live Fresh Visa payWave Platinum card, the first credit card in Singapore to offer Visa payment, Visa payWave and EZ-Link services on a single card.
•
DBS launches the DBS Happy Ever Asia Relay, our 2009 regional Corporate Social Responsibility programme which supports children in the area of learning. More than 3,000 DBS employees across the region participate in this initiative. With dollar-fordollar funds matching by the bank, DBS raises SGD 1.3 million to help keep children in Asia in schools.
•
DBS receives a 'Special Achievement Award' at Singapore Exchange's 10th anniversary celebrations for our pioneering efforts and pivotal role in promoting Singapore as a key fundraising centre.
•
DBS emerges as the Safest Asian Bank in Global Finance's 'World's 50 Safest Banks' ranking.
•
DBS India structures an innovative, end-toend cross border trade financing solution for Singapore-based suppliers of Godrej Industries Limited for purchase of palm-related products, commencing business under a USD 20 million supplier financing facility.
Top

SEPTEMBER
•
DBS appoints veteran banker, Piyush Gupta, as Chief Executive Officer.
•
DBS sweeps eight FinanceAsia awards and is named Best Asian Bank.
•
DBS is named the official banking partner of the Singapore 2010 Youth Olympic Games.
•
DBS India arranges a foreign currency loan of USD 35 million for Shree Cement, one of India's lowest cost cement producer. DBS is also inducted into the working capital consortium of the company, a first such success for the Kolkata branch.
•
DBS is sole bookrunner, sole underwriter and mandated lead arranger for YTL's SGD 2.25 billion term loan facilities for the acquisition of PowerSeraya.
Top

OCTOBER
•
In just a week, DBS and POSB customers in Singapore donate over SGD 100,000 towards earthquake victims in Padang, Indonesia as well as those affected by Typhoon Ketsana across the region. The donations to three Red Cross funds were made via the bank's extensive banking network and Internet banking channels.
•
DBS is the first bank in Singapore to offer customers seven extra days to review their unit trust investment decision, over and above the industry standard of seven days.
•
DBS is the only Singapore bank among a group of international banks that is lead arranger and bookrunner for Noble Group's USD 2.4 billion syndicated revolving credit facilities.
•
DBS advises Fortune REIT on its HKD 1.9 billion rights issue and the acquisition of three retail properties located in Hong Kong for HKD 2.04 billion. DBS is joint financial adviser, joint lead manager and underwriter for the rights issue as well as the underwriter, mandated lead arranger and bookrunner for a HKD 3.1 billion loan facility. This is the first syndicated loan arranged in the Hong Kong market on a fully underwritten basis in 2009.
•
DBS is joint bookrunner for PT Adaro Indonesia's USD 800 million 10-year guaranteed fixed rate senior bonds, which heralds the first 10- year USD private sector bond and the largest corporate bond deal out of Indonesia.
•
DBS India is sole arranger for a USD 171 million financing transaction for Fineline Holdings Limited, owners of the Fourseasons property in India. This is the single largest bilateral deal done by DBS India.
Top

NOVEMBER
•
DBS and State Bank of India (SBI) launch 'DBS2SBI Remittance', a new service which allows customers to remit money to more than 16,000 SBI branches in India.
•
DBS Hong Kong bags nine awards at the Hong Kong Call Centre Association Awards (HKCCA).
•
DBS appoints Peter Seah, Chairman of SembCorp Industries, Singapore Technologies Engineering and Singapore Health Services, to the boards of DBS Group Holdings and DBS Bank.
•
DBS China announces the official opening of Dongguan Branch, the third branch in the Guangdong Province, strengthening DBS China's network in Southern China.
•
DBS is joint issue manager, bookrunner and underwriter for the SGD 2.8 billion IPO of CapitaMalls Asia, the largest IPO in Singapore since Singapore Telecommunications' IPO in 1993.
Top

DECEMBER
•
DBS is the first bank in Hong Kong to introduce a Dual Password Authentication by sending out the One-Time Password via SMS.
•
DBS Hong Kong opens its fifth Enterprise Banking Centre in Kwai Chung, bringing greater banking convenience to small and medium-sized enterprises.
•
POSB supports Singapore's first online charity platform 'ClicktoAid.Sg', launched by Southwest Community Development Council (CDC). More than 900 needy school children each receive a SGD 60 grant from POSB and the CDC.
•
DBS is the sole bookrunner for Temasek Holdings's inaugural SGD 300 million 4.0% 20-year bond issue and SGD 300 million 4.2% 30-year bond issue. The 30-year bond is the longest dated SGD corporate bond to date.
Top