DBS treasury activities were also boosted by the recovery of the Asian economies in 1999. Improved market conditions and synergies arising from the POSBank merger paved the way for an exceptional 40 percent improvement in revenue for the year.

DBS keeps pace with the latest industry and technological developments to maintain its leadership in treasury activities.
Staying at the forefront of the Singapore government's efforts to liberalise the financial sector, DBS led the industry in helping to establish a Singapore-dollar interest rate futures market. It also maintained its leadership in the local interest rate and Government bond markets.
In the robust capital market sector, DBS continued to play an important role in placing bond issues. Among these was the successful placement of the S$100 million 10-year asset securitisation of 6 Battery Road, the largest issue of the year. DBS also completed the placement of Land Transport Authority's inaugural S$300 million 10-year bond issue and Rabobank Nederland's S$100 million five-year bond issue.



A New Structure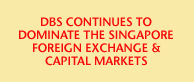 Internally, DBS restructured its treasury operations in 1999 to allow for a more efficient integrated global strategy to be implemented across branches and subsidiaries. As an outcome, new sections have been created to specialise in product areas and expertise. Similarly, the treasury sales unit was reorganised according to customer focus teams that can deliver the appropriate level of service to each customer group.
A middle office was established to oversee corporate governance and compliance and provide product, customer and technical support. Functionally, the reporting structure and workflow were streamlined to allow DBS to capitalise more effectively on market opportunities.


A Mandate To Lead
Numerous accolades showered on DBS during the year included top-three rankings in foreign exchange activity by The Asset magazine and for Singapore-dollar foreign-exchange forwards by Asia Risk. These honours will spur DBS to maintain its leadership in the deposit market and Foreign Exchange markets and increase its market share in other products such as derivatives.