Regional Integration - In the aftermath of the Asian economic crisis, DBS is working aggressively to position its regional subsidiaries as effective intermediaries for financing individuals, businesses and other economic activities.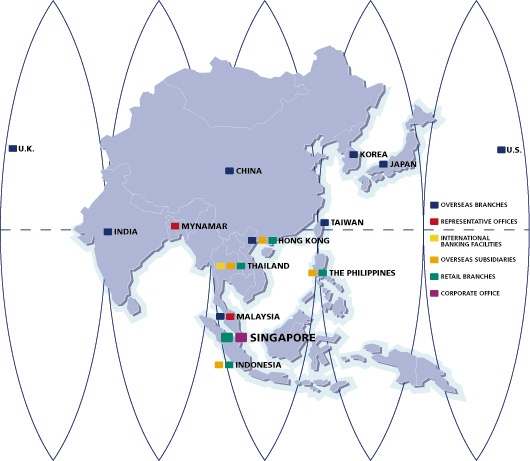 While loan restructuring efforts continue to restore financial health to the regional subsidiaries, there is an equally pressing challenge to reorganise the entire network. The ultimate aim is to integrate all subsidiaries into a seamless, regional DBS network and instill best practices across disciplines and borders.
Responding to this challenge, DBS instituted a regional integration programme in November to accelerate its move towards operating as a regional bank. The programme seeks to create a common platform of technology and operating standards as a basis for regional growth and excellence. Specifically, the effort will standardise and harmonise operating policies and control, establish a regional infrastructure and capabilities and strengthen business and operating practices.
Driving this initiative is a regional integration centre staffed by senior and experienced DBS personnel and operating out of DBS Thai Danu Bank in Bangkok. Subsequently, a regional management model was put in place that defined new roles and responsibilities in country management, regional business management and operations.
Key subsidiary businesses and functions now report directly to business and function heads in Singapore, with secondary reporting lines to subsidiary presidents or country heads.
A major part of this integration initiative is to instill best practices across the regional operations and provide a full range of services expected by customers throughout Asia.
Structural changes began in early 1999. DBS invested heavily in information technology and moved the headquarters operations of DBS Kwong On Bank, DBS Bank Philippines and PT Bank DBS Buana into new premises. These moves will prepare the network for growth opportunities brought about by the region's economic recovery.


Significant Events Around The Region
April 1999
DBS' Shanghai Branch commenced Renminbi banking operations. Individual and corporate customers can enjoy a range of Renminbi-denominated products and services such as capital and basic accounts, deposit placements, foreign exchange conversions, remittances and loan facilities.
June 1999
DBS Thai Danu Bank concluded a capital increase comprising a one-for-one rights issue, Capital Augmented Preference Shares issue and another Capital Augmented Preference Shares special issue to DBS Bank. In total, Baht 13.67 billion was raised to provide the additional capital to support expansion and meet the Bank of Thailand provision requirements ahead of the December 2000 deadline.
October 1999
US operations were consolidated in Los Angeles to capitalise on business potential arising from the historical strong trade links between the country's West Coast and Asia. As a result, the New York business was transferred to provide Los Angeles with an enlarged platform to complement and strengthen DBS' Asia-Pacific coverage.
August 1999
As part of a deposit-mobilisation programme, PT Bank DBS Buana launched Interbank Quotation deposits, a new treasury-linked retail banking product which expanded deposits to US$65 million for the year, compared to US$5 million in 1998. The bank also launched retail-banking services and lead-coordinated two loan restructuring programmes for PT Dankos Laboratories and PT Murni Multi Finance during the year.
November 1999
DBS invested S$1.2 billion for stakes in Far East Bank and Trust Company and Bank of the Philippine Islands. The expected merger of these two banks in early 2000 will create the largest bank in The Philippines, in which DBS will hold a 19.7 percent share.