Logistics at DBS have taken up the challenge, laying the technology infrastructure, integrating essential support functions and streamlining processes for world-class transaction capabilities. The resulting support and service infrastructure from these collective efforts create a new model for deployment throughout DBS' regional network.


Information Technology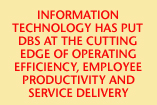 Information technology is the key to putting DBS at the cutting edge of operating efficiency, employee productivity and effective service delivery. By applying technology to all aspects of its business, DBS is laying the infrastructure and achieving business synergies through a common system to be shared throughout our regional network.
In Singapore, the integration of POSBank operations into DBS was progressing smoothly at year-end. Plans for implementing a new branch desktop system in Singapore is planned for this year. Regionally, investments in telecommunications links, technical support and staff training led to the successful implementation of a Virtual Data Centre at DBS Bank Philippines Inc. in November 1999. This is the first regional subsidiary to operate with back-end systems support from Singapore.
In another key initiative, DBS' data warehousing capabilities continue to advance with the aim of anticipating customer needs, allowing business units to leverage data mining tools and data for cross-selling. Future data warehousing applications will facilitate the assessment of customer and operating unit profitability and improve risk analysis, monitoring, and reporting.


Processing & Servicing Functions
An efficient processing and servicing environment is fundamental to achieving economies of scale for optimising operational efficiency. To this end, the central Processing & Servicing Division within DBS consolidates these functions to facilitate streamlining and re-engineering of internal processes as we strive to achieve world-class standards across a variety of different businesses. Besides the integration of POSBank and DBS systems, progress was made in transforming and reconfiguring group-wide transaction processing. Similar processing functions across the group are being integrated into common platforms which can be benchmarked and evaluated for future viability. DBS is creating common processing engines devoted to credit, payments, treasury and securities as well as a new customer service centre. We expect further efficiencies will be realised as we bring together similar processing activities.
Since October, DBS has been producing credit cards and ATM cards in one location. Loan processing, remittances and trade services are also being centralised within the Processing & Servicing Division to better focus sales and after-service efforts.


Strategic Partnerships
DBS believes in complementing its expertise with that of strategic partners to ensure that scaleable technology can be created to respond to emerging business trends.
DBS has entered into a partnership with bex.com to create an e-commerce hub in Asia. The IBEX system developed provides a business exchange for companies to source, market, place and fulfill orders and send invoices. Used in combination with the newly-launched IDEAL cash management system and Corporate Purchasing Card, IBEX couples a trading hub for business-to-business activities on the Internet with multiple payment functions.
Another alliance, established with Singapore Telecom, provides a suite of innovative mobile electronic banking services. This partnership allows more than three million customers to manage their personal financial needs from mobile phones in Singapore or overseas. DBS' expertise is increasingly focused on delivering customised information that can be packaged and sent via mobile phones and other hand-held devices.


Y2K Transition
The successful implementation of DBS' Y2K initiative resulted in the smooth transition of all bank systems to the new millennium. Meticulous coordination ensured Y2K compliance in all audit and internal operating systems as well our full chain of suppliers, counter-parties, vendors, clients, regulatory agencies and other external parties.
Extensive training programmes, tests and reviews involved virtually every employee at DBS in verifying compliance and identifying potential problems. Our Y2K command centre established to monitor the situation closely during the crossover period, functioned flawlessly.