In the wake of the Asian financial crisis, the need for good corporate governance has never been more keenly felt. At DBS, we have adopted a 360¡ approach to corporate governance. Companies, like countries, run more efficiently with transparent and vigorous self regulation. As the world shrinks, the importance of good governance has only increased. We believe markets will ultimately reward companies with strong accountability and transparent decision making.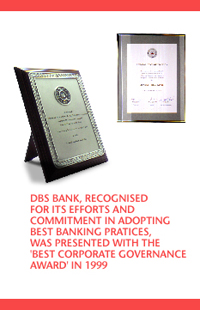 A new organisation structure was implemented on February 11, 1999. It recognises the need to focus externally through effective integration internally in an effort to better address DBS' target markets and the delivery of products and services to customers bysegment. Organising product and support needs by market creates a clear model for defining responsibilities and accountabilities in every country where DBS does business.
A management structure alone will not ensure that all the resources and skills are focused on achieving objectives. The business environment is too complicated and dynamic for that. The forces of change require new ways of thinking and new ways of acting - processes and procedures that adapt to new forces and, hopefully, anticipate future developments.
To strengthen accountability and business leadership, we have put in place a committee structure that accentuates communication, efficiency and responsiveness across functions and geography. The goal is to maximise the value of our people by emphasising openness, customer focus, and participative management at all levels and across boundaries. Highly focused 'discussion forums' open to a wide range of views and diverse functional talents enhance our ability to communicate and help us sustain high levels of growth without losing organisational cohesiveness.
The committee structure is made up of five clusters:
Policy Committee
Retail Products and Services and Wholesale Products and Services Committees
Human Resources Committees
Risk Management Committees
Technology and Operational Risk Committees
Each committee is composed of senior managers from across the Bank's businesses and functions, drawn for their experience and expertise and day-to-day involvement in the business. The frequency of meetings ranges from weekly for those committees dealing with markets to quarterly for those dealing with broader issues.

Together, these groups give us the means for managing our businesses strategically using the Bank's people, systems and capital. They provide integrity and direction to the business as a whole, fostering Bank-wide communications; promoting fact-based analysis and initiative, accountability and decision making; and limiting bureaucracy and delays that often result from rigid hierarchies.

Specifically, the committees:
Provide access to a wider range of views and talents;
Strengthen the integration of our management team - at home and abroad- as we expand and employ individuals from different geographies with diverse backgrounds, experiences and skill sets;
Provide a channel for supporting line managers and for discussing opportunities and issues in real time;
Disseminate decisions faster to proliferate best practices.


Policy Committee
The focus of the Policy Committee is to ensure that all of our actions and efforts remain coordinated and customer focused. Its priorities include: fostering an organisational culture that is market driven and customer centred; developing a management style that is pro-active and entrepreneurial; and building businesses that together deliver long-term shareholder value. The Policy Committee provides a Bank-wide forum comprising senior business leaders charged with ensuring common purpose and value-based management.


Products and Services Committees
This cluster is separated into two units to better support our key customer groups. The Retail Products and Services Committee coordinates the development, marketing and delivery of products and services for individuals. The Wholesale Products and Services Committee has a similar mission focused on corporations, governments and financial institutions. Both Committees are cross-functional: searching for opportunities to achieve synergies and linking market strategies and offerings throughout DBS.


Human Resources Committees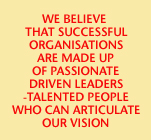 We believe that successful organisations are made up of passionate, driven leaders - talented people who can articulate our vision; gain organisational understanding and support for specific business initiatives; and energise those whom they lead. We know that delivering our best to DBS customers takes men and women who give us their best every day. To that end, Human Resource philosophies and policies are an integral part of our business strategies, practised in every country where DBS has a presence. We pay special attention to managing people as our most important resource and an important stakeholder. The officers and staff of DBS are the critical channel for expressing our brand to customers and prospects alike.
The Human Resources Committees serve as regular forums to communicate and implement policies, processes and other activities across the entire DBS organisation, from top to bottom. They also facilitate the identification and intra-company transfer of best practices.
The Human Resources cluster comprises three committees:
Recruitment, Training and Resource Development Committee
Oversees all activities that impact hiring talent, entry level and mid-career training.

Performance Measurement, Compensation, Appraisal and Career Development Committee
Coordinates performance evaluation rocesses, establishes benchmarks for competitive compensation, human resource allocation, executive career development and succession planning.

Management Development, Executive Compensation and Succession Committee
Oversees and recommends policies relating to senior management compensation and succession. This is a Board-level committee composed of independent directors.


Risk Management Committees
Each new banking instrument, market cycle and move to consolidate business around the world changes our view of risk and our approach to managing it - one of the basic building blocks of finance. We consider having world-class skills in monitoring, interpreting and forecasting our risk profile a critical internal capability. To that end, the Risk Management Committees cluster is a vital focal point for our newly-centralised Risk Management Group and senior management. The Committees are a mechanism for taking a panoramic view - across products, geography and counterparties on and off the balance sheet - of the risks in DBS' day-to-day business activities.
Our approach to risk management has several components; comprehensive risk management processes, early identification systems, accurate risk measures, investments in people and technology to interpret and manage risk on a daily basis, stress tests and comprehensive process reviews in conjunction with internal auditors, independent accountants and regulatory officials.
Although business units have primary responsibility for managing specific risk exposures, the Risk Management Group is the central resource for quantifying and managing the portfolio of risks taken by the Group as a whole.
The Risk Management Group performs the following roles:
Implements, maintains, improves and communicates a common risk management framework;
Recommends market risk limits and concentration limits for credit risk by client type, product, industry and country;
Performs independent reviews of significant risk concentrations and has the authority to challenge such positions;
Oversees allocation of balance sheet capacity;
Helps identify opportunities to optimise risk-based return on capital.
The Risk Management Committee, which is supported by the Risk Management Group, provides:
Oversight and management of all risks;
The central point of risk management policy formulation and review;
Oversight, direction and counsel to other risk committees and risk management processes;
Information and perspective for the management of DBS' overall risk profile; material changes in our products and the markets in which we participate; business environments; and required changes in risk management processes.
Sub-committees of the Risk Management Committee provide executive forums for discussion and decisions on specific areas:
Credit Committee. Credit risk and its management
Asset-Liability Committee. Structural interest rate and liquidity risks and their management.
Capital and Commitments Committee. Adequacy, use and allocation of capital across DBS.


Technology and Operational Risk Committees
Today DBS customers can conduct a wide range of banking transactions on street corners using ATM machines, or at home via the Internet or the telephone - no matter the time zone, country, currency or time of day. Clearly, technology is vital to all aspects of our operations. The required pace of change creates a continuous need to adapt our major systems and applications to provide customers and employees with real-time informationand transaction execution capabilities.
There are capacity and cost constraints on our ability to deliver everything we wish on time and at an appropriate cost which makes IT an even more critical area for the Bank to manage well, keeping pace with change, and coordinating our response to it, throughout our organisation. The Technology Steering Committee is charged with the integration of all IT and telecommunications activities across the Bank, and the prioritisation of future expenditures to improve our platform's capabilities, providing an inter-business, cross-functional and international forum for linking IT development and overall direction for the IT users throughout DBS.
As new information technology comes on line, the Bank must also ensure that the risks inherent in technology are well managed. The Operational Risk Committee (ORC) provides an executive-level forum for discussion and decisions on all aspects of operational risk and its management. The Committee also addresses critical back-up and contingency planning issues and provides a focal point for responding to unforeseen circumstances that could delay or interrupt service.
Sound business processes, internal controls, an independent audit group and cross-functional committees are all integral elements in managing operational risk. Our control environment is built on the integrity, competence and supervision of our professionals, as well as management's control philosophy and operating style. Primary responsibility for managing operational risk rests with business managers, who are responsible for establishing and maintaining internal control procedures that are appropriate for their operating environments.
A comprehensive system of internal controls, comprising business managers, the ORC and the Audit Committee ensure compliance with internal policies and regulatory procedures.


Best Practices Guide
The Audit Committee comprises three non-executive directors. The Audit Committee's function is to perform the duties and functions required of an Audit Committee under Section 201B(5) of the Companies Act which includes a review of the financial statements of DBS Group Holdings and DBS Group for the financial year and the external and internal auditors' reports thereon.
The Singapore Exchange Limited (SGX) issued a Best Practices Guide in 1998. In accordance with the principles and best practices set out in the Guide with respect to Audit Committees, we are pleased to report that:
All members of the Audit Committee are non-executive directors who are independent. They are Bernard Chen Tien Lap (Chairman), Alan Chan Heng Loon and Prof Tommy Koh Thong-Bee.
The Audit Committee has full access to and cooperation from management and full discretion to invite any director or executive officer to attend its meetings.
The Audit Committee has been given reasonable resources to enable it to discharge its functions properly.
The Audit Committee has reviewed with internal and external auditors its findings and evaluation of the Bank's systems of internal controls and has duly reported its findings to the full Board.
Based on the foregoing, DBS Group Holdings has complied with the Guide with respect to Audit Committees. DBS has also adopted the principles and best practices in the Guide relating to dealings in securities.