DBS and RESET Carbon Partner to scale up the adoption of decarbonisation solutions in Asia's manufacturing supply chain
Singapore, Hong Kong
.

14 Sep 2023
MOU signed to facilitate opportunities for sustainable finance
Singapore, Hong Kong, 14 Sep 2023 - DBS and RESET Carbon (RESET) announced a partnership to focus efforts on accelerating the adoption of decarbonisation and sustainability solutions in the apparel, footwear and textile (AFT) supply chain. The collaboration was formalised with a memorandum of understanding (MOU) that was inked today, in conjunction with the ReThink HK Sustainable Business Conference & Expo.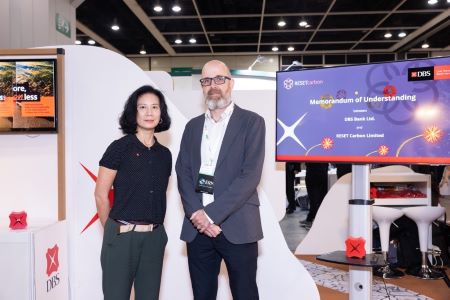 Yulanda Chung, Managing Director, Head of Sustainability, Institutional Banking Group at DBS (left) and Liam Salter, CEO of RESET Carbon (right)
signed a MOU at ReThink HK Sustainable Business on Conference & Expo
to scale up decarbonisation solutions in Asia's manufacturing supply chain
According to the United Nations Environment Programme, the trillion-dollar fashion industry accounts for up to 8% of global carbon emissions
[1]
. Of this, upstream activities within the supply chain including materials production, preparation and processing, account for an estimated 80% of emissions
[2]
. While apparel brands have made strides to reduce emissions
[3]
in their own operations to be in line with their commitments, decarbonising supply chains continues to be a hurdle.
To enable and accelerate sustainable growth in the AFT sector, DBS and RESET aim to work with both buyers and suppliers, including small and medium enterprises, in Asia's manufacturing supply chain. AFT brands can access RESET's advisory services and technical support to help drive carbon reductions in their supply chains, set science-based carbon targets, as well as strengthen in-house capabilities. DBS will provide financing solutions to suppliers to invest in cost-effective technologies that enable meaningful reductions in their factory emissions, water use and waste.
In addition, companies can participate in the Carbon Leadership Program developed by RESET and the Apparel Impact Institute. The three-year-old programme is designed to help apparel brands and their suppliers set science-based carbon reduction targets. Action plans are then developed through benchmarking and assessments, using a set of standardised tools and collaborative processes.
To date, over 20 of some of the world's largest apparel brands have participated in the programme – representing up to three million tonnes of CO2 avoided per year, if the action plans are fully implemented.
Yulanda Chung, Managing Director, Head of Sustainability, Institutional Banking Group at DBS, said: "Joining forces with an experienced industry practitioner like RESET is a signal that we mean to effect changes in the real economy rather than offering soundbites. The apparel sector is looking for solutions, in both finance and resource efficiency advisory, to mitigate the harmful impacts of fast-changing fashion. This partnership brings together DBS' extensive Asia network, expertise in sustainable finance with RESET's successful Carbon Leadership Program."
Liam Salter, CEO of RESET, said: "RESET's mission is to drive significant carbon reductions in our customers' value chains. With financing increasingly seen as an integral part of the solution, we are excited to partner with DBS who we view as the most innovative bank in the region to develop new solutions for our collective customers."
Named World's Best Bank for Corporate Responsibility
[4],
DBS offers support to corporate and institutional clients through a range of
sustainable finance solutions
, from renewable energy financing, green loans, sustainability-linked loans, ESG bonds, green and sustainable trade financing.
[1]
https://www.unep.org/news-and-stories/press-release/un-alliance-sustainable-fashion-addresses-damage-fast-fashion
[2] "Fashion on climate" report authored by McKinsey & Company (McKinsey) in partnership with Global Fashion Agenda (GFA)
[3]
https://unfccc.int/news/new-report-fashion-industry-needs-to-make-climate-action-a-top-trend
[4] DBS is recognised as the world's best bank for corporate responsibility by Euromoney magazine in its Euromoney Awards for Excellence 2023.
[END]
About DBS
DBS is a leading financial services group in Asia with a presence in 19 markets. Headquartered and listed in Singapore, DBS is in the three key Asian axes of growth: Greater China, Southeast Asia and South Asia. The bank's "AA-" and "Aa1" credit ratings are among the highest in the world.
Recognised for its global leadership, DBS has been named "
World's Best Bank
" by Global Finance, "
World's Best Bank
" by Euromoney and "
Global Bank of the Year
" by The Banker. The bank is at the forefront of leveraging digital technology to shape the future of banking, having been named "
World's Best Digital Bank
" by Euromoney and the world's "
Most Innovative in Digital Banking
" by The Banker. In addition, DBS has been accorded the "
Safest Bank in Asia
" award by Global Finance for 14 consecutive years from 2009 to 2022.
DBS provides a full range of services in consumer, SME and corporate banking. As a bank born and bred in Asia, DBS understands the intricacies of doing business in the region's most dynamic markets. DBS is committed to building lasting relationships with customers, as it banks the Asian way. Through the DBS Foundation, the bank creates impact beyond banking by supporting social enterprises: businesses with a double bottom-line of profit and social and/or environmental impact. DBS Foundation also gives back to society in various ways, including equipping communities with future-ready skills and building food resilience.
With its extensive network of operations in Asia and emphasis on engaging and empowering its staff, DBS presents exciting career opportunities. For more information, please visit
www.dbs.com.
About RESET Carbon
For over 14 years, RESET Carbon has been working with companies and institutions across Asia to resolve the environmental crisis by making meaningful reductions in their carbon, water and waste footprint.
Headquartered in Hong Kong, with offices in Shanghai, Shenzhen, Taipei, Ho Chi Minh City, Chennai, and Munich, RESET delivers end-to-end carbon management and corporate renewable energy services for customers in the real estate, manufacturing, and retail sectors. Their services include strategy development, target setting, roadmap and carbon inventory development, renewable energy procurement, decarbonization programs and more. For more information please visit:
www.resetcarbon.com