DBS/POSB commits SGD 40 million to intensify efforts towards easing cost-of-living pressures
Support measures to help Singaporeans defray everyday expenses, reduce mortgage payments and bolster savings
They are in addition to DBS' 10-year commitment to contribute up to SGD 1 billion to uplift vulnerable and low-income communities
Singapore, 12 Aug 2023 - Amid an uneven economic recovery and high inflation, DBS/POSB is committing SGD 40 million this year to intensify efforts to help Singaporeans and residents ease cost-of-living pressures. These support measures, which have been progressively introduced since February this year, will help DBS/POSB customers to defray their everyday expenses, reduce mortgage payments and bolster savings. They augment the bank's initiatives that were introduced last year to help customers inflation-proof their finances.
Among the measures are some which provide targeted support to vulnerable and low-income communities, such as the low-income individuals who face acute financial stress. In a recent study, DBS found that those earning less than SGD 2,500 are among those who are in financial distress. Their expenses outpaced income growth by 1.2 times, with insufficient savings compounding cashflow woes. Their savings can last them for less than 1.5 months, which is well below the recommended range of three to six months.
Said Han Kwee Juan, Group Executive and Singapore Country Head, DBS: "Amid persistently high inflation, our customers continue to feel the sting of high prices. This is especially true for the financially vulnerable. So, it is more important than ever for us to enable our customers – via our comprehensive range of solutions – to stretch their dollar and alleviate their financial pressures. As a key member of the community, we will stand alongside our customers and do what we can to help them tide over the tough times."
The cost-of-living measures that have been rolled out so far this year include:
From this month:
A monthly transport rebate of up to SGD 20 for the first 100,000 people[1]who sign up for the scheme and use their DBS/POSB debit cards for public transport, groceries and shopping. Those with monthly income of less than SGD 2,500 only need to spend SGD 80 every month to offset the cost of their public transport rides. Today, 8 in 10 in this segment already spend more than SGD 80 a month on groceries and shopping.
Enhanced POSB HDB home loan package with an all-in interest rate of 2.6% p.a., for borrowers with monthly income of SGD 2,500 and below. This package, which is similar to the current HDB concessionary home loan, is available to new homeowners and those who want to refinance their HDB mortgages. In partnership with Chubb Insurance, all successful applicants will receive a one-year complimentary fire mortgage insurance.
Enhanced DBS Multiplier high-yield savings programme that makes it easier for low-income and gig workers to triple the interest rate to 1.8% p.a. on higher balances.
From June:
SGD2 weekly allowance subsidy to reduce expenses among students using POSB Smart Buddy for any transactions. The first 15,000 students who cumulatively spend SGD 2 within the week via their POSB Smart Buddy watch or card will be reimbursed. This programme runs till 30 November 2023. To date, more than 30% of POSB Smart Buddy users have been reimbursed, with 11% of them from low-income households.
From February:
A programme to subsidise five million hawker meals from February 2023 till January 2024. The 5 Million Hawker Meals scheme provides SGD 3 cashback to the first 100,000 diners who use DBS PayLah! to scan and pay for their meals at 11,600 SG-QR enabled hawker stalls every Friday. Since the initiative started, more than 2.5 million hawker meal subsidies have been redeemed. Nearly one-third of those who received the hawker meal subsidies are low-income earners or come from low-income households. Participating hawkers have also reported a 20-25% increase in weekly earnings.
Deputy Prime Minister and Minister for Finance Lawrence Wong and Minister for National Development and MP for West Coast GRC Desmond Lee joined the DBS/POSB staff this afternoon at the West Coast Food Centre to show their support for companies that are stepping up to do their part for the community. At the event, DBS/POSB employee volunteers guided participants in the first ever digital literacy workshop that is paired with Getai entertainment onsite. Organised by POSB and the DBS Foundation (DBSF), it is the first of five edutainment digital literacy roadshows to be held over the next three weeks.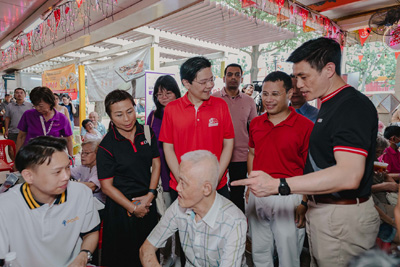 Deputy Prime Minister and Minister for Finance Lawrence Wong, Minister for National Development and MP for West Coast GRC Desmond Lee, DBS Group Executive and Singapore Country Head Han Kwee Juan, joined the bank's employee volunteers at a digital literacy workshop at the West Coast Food Centre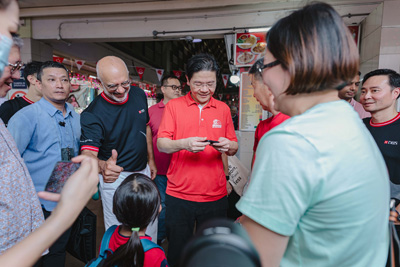 DPM Wong and Piyush Gupta interacting with diners at West Coast Food Centre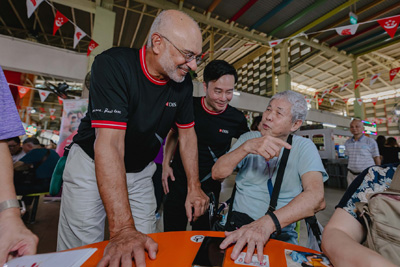 Piyush Gupta and Shee Tse Koon, Group Executive and Group Head of Consumer Banking Group and Wealth Management, interacting with the digital literacy workshop participants.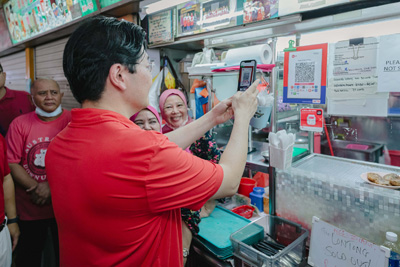 DPM Wong using DBS PayLah! to scan and pay at one of the SGQR-enabled stalls that is part of the DBS 5 Million Hawker meals initiative
On Friday, DBS announced that it will be committing up to SGD 1 billion over the next 10 years
[2]
to uplift the lives and livelihoods of the low-income and underprivileged. Starting 2024, the annual commitment of SGD 100 million will go towards programmes that will support vulnerable segments in Singapore and DBS' other key markets. In the same period, the bank's employees will also contribute more than 1.5 million volunteering hours to further catalyse social impact.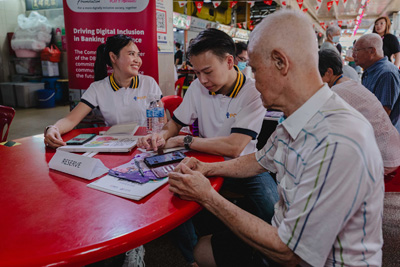 Volunteers from DBS People of Purpose, guiding a workshop participant on how to use digital banking. To date, more than 16,000 people have participated in the digital literacy workshops.
Over the years, the bank has consistently been giving back to the community via its banking solutions and community outreach efforts. This includes committing SGD 150 million towards DBSF's work and other philanthropic efforts. One of the key initiatives was a partnership with the Infocomm Media Development Authority (IMDA) to equip some 100,000 Singaporeans and residents, especially the digitally less-savvy, with digital and financial literacy skills through some 800 digital literacy workshops by 2024. This partnership is in support of the IMDA Digital for Life movement. So far, more than 16,000 people have participated in the workshops.
[1] DBS/POSB debit cardholders will also need to sign up for the transport rebate scheme on DBS PayLah! to qualify.
[2] The actual contribution each year, of up to SGD 100 million, will be determined based on the bank's financial performance in the preceding year.




[END]
About DBS
DBS is a leading financial services group in Asia with a presence in 19 markets. Headquartered and listed in Singapore, DBS is in the three key Asian axes of growth: Greater China, Southeast Asia and South Asia. The bank's "AA-" and "Aa1" credit ratings are among the highest in the world.
Recognised for its global leadership, DBS has been named "
World's Best Bank
" by Global Finance, "
World's Best Bank
" by Euromoney and "
Global Bank of the Year
" by The Banker. The bank is at the forefront of leveraging digital technology to shape the future of banking, having been named "
World's Best Digital Bank
" by Euromoney and the world's "
Most Innovative in Digital Banking
" by The Banker. In addition, DBS has been accorded the "
Safest Bank in Asia
" award by Global Finance for 14 consecutive years from 2009 to 2022.
DBS provides a full range of services in consumer, SME and corporate banking. As a bank born and bred in Asia, DBS understands the intricacies of doing business in the region's most dynamic markets.
DBS is committed to building lasting relationships with customers, as it banks the Asian way. Through the DBS Foundation, the bank creates impact beyond banking by supporting social enterprises: businesses with a double bottom-line of profit and social and/or environmental impact. DBS Foundation also gives back to society in various ways, including equipping communities with future-ready skills and building food resilience.
With its extensive network of operations in Asia and emphasis on engaging and empowering its staff, DBS presents exciting career opportunities. For more information, please visit
www.dbs.com
.