DBS survey: 93% of Hong Kong SMEs acknowledge the importance of digitalisation but 57% see funding as a major challenge
Mil Mill voted top SME of DBS BusinessClass Reborn Exhibition
Hong Kong, 20 Jun 2023 - DBS Hong Kong's new survey with the city's small and medium enterprises (SMEs) reveals 93% of the community believes digitalisation is important to business growth; however, 57% of those surveyed see funding as their biggest challenge when trying to digitalise their businesses. The survey provides insights into the needs of SMEs on their journey towards digitalisation.
The survey interviewed 105 respondents from the SME community in Hong Kong between March and June 2023 to understand the community's attitudes and priorities towards digital transformation, as part of the follow-up initiative after DBS BusinessClass 'Reborn Exhibition – We are Back: Digital Transformation of SMEs' ("Reborn Exhibition"), Hong Kong's first digital art exhibition led by SMEs held in March.
Funding key to digitalisation
Amongst all respondents of the survey, while funding emerges as the top challenge in digitalisation (57%), limited resources (46%) and relevant technical expertise / skillset (43%) are also identified as the primary reasons contributing to the digital gap. To step forward in their digitalisation journey, 65% of the SME community responded that they are planning to increase their investments in digitalisation by more than 25% this year compared to 2022.
Digital marketing and online channels ranked top priorities in digitalisation
With digitalisation and innovation continuing to re-define how people live and businesses are done, the respondents identified digital marketing (46%), establishing online presence / e-Commerce / mobile applications (41%) and developing data analysis and management (37%) as their top business priorities in the next five years.
Wallace Lam, Managing Director and Head of Institutional Banking Group, DBS Bank (Hong Kong) Limited, said, "As 'Hong Kong's Best Bank'[1] , 'Asia's Safest Bank'[2], and 'World's Best SME Bank'[3], DBS is committed to supporting SMEs to further their digital transformation agenda through our strong Asian network and digital capabilities. Our drive to serve SME customers with speed and scale is reflected in our full suite of digital banking solutions, from the speedy DBS Online Business Account Opening service, our hassle-free IDEAL online banking platform to our flexible digital financing solutions, as well as the BusinessClass platform that offers networking opportunities to our 250,000 members across Asia. Our ambition is grounded by a deep understanding of SMEs' evolving needs which will serve as a bedrock for their transformation into a digital future."
Jolynn Wong, Head of Business Banking at DBS Bank (Hong Kong) Limited, commented, "As Hong Kong returns to normalcy, we have witnessed positive business momentum in the SME community, with business account openings increasing by over 80% year-to-date as of May 2023 in Hong Kong, compared to the same period last year. We will continue to enhance our digital solutions and banking services as SMEs revitalise, enabling them to conduct business more efficiently, effortlessly, and intelligently."

Mil Mill receives over HK$380,000 worth of support from DBS

With a commitment to aid SMEs in their growth and pressing need for resources in digitalisation, especially in digital marketing, as evident in the results of the survey, DBS Hong Kong is glad to support the top SME by vote from the Reborn Exhibition. With over 4,700 votes for the six participating SMEs, Mil Mill is crowned winner by the public and is entitled to DBS' support, totalling more than HKD $380,000, including DBS business account opening and transaction fee waiver offers, as well as marketing promotions by 100 KOLs, to help their business embark on a transformative digital journey. Mil Mill, Hong Kong's first paper pulp mill, is operated by Secure Information Disposal Services, an awardee of DBS Foundation's grant programme in 2022.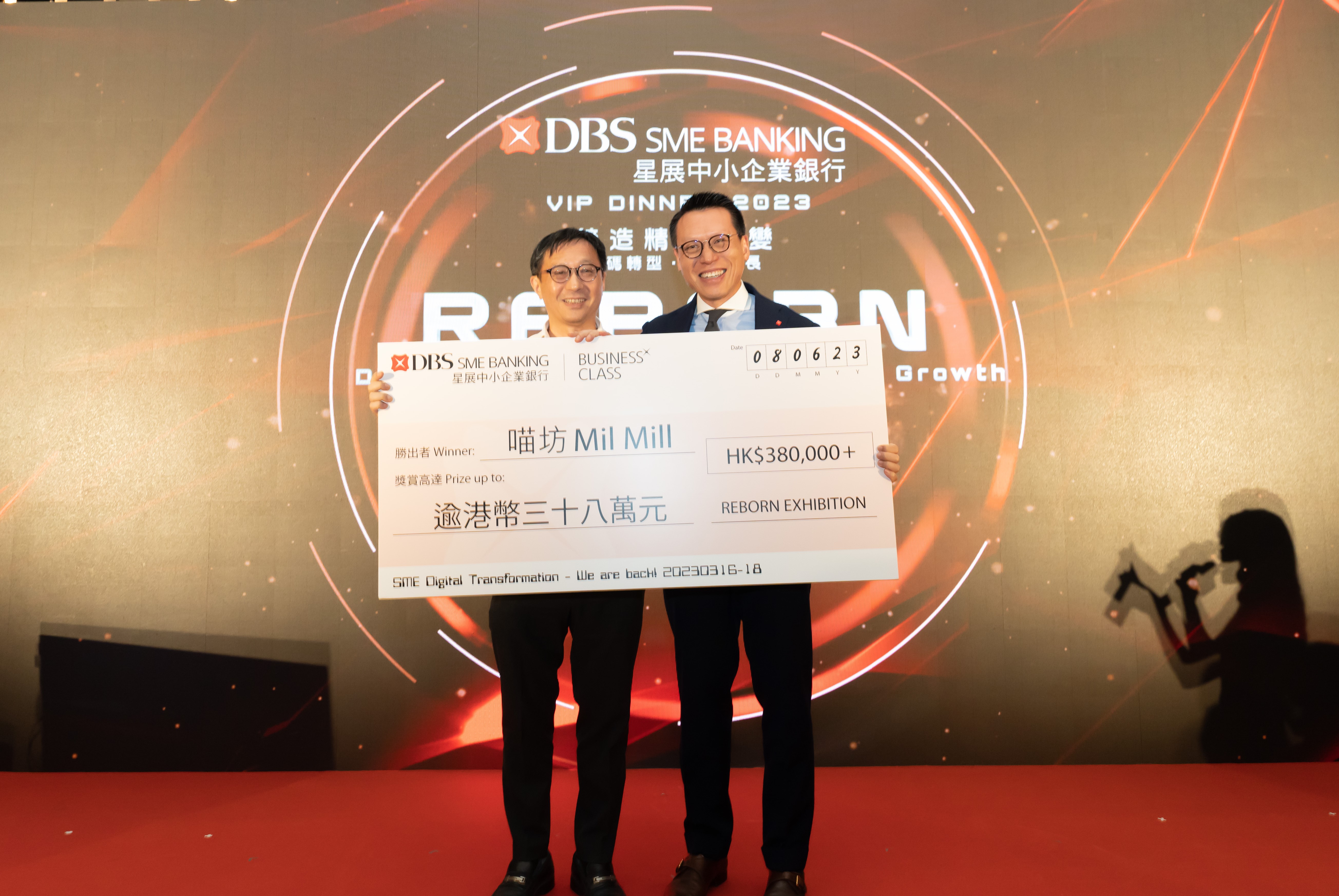 Mil Mill is voted by the public as the top SME from the DBS BusinessClass Reborn Exhibition – We are Back: Digital Transformation of SMEs digital art exhibition held in March and is entitled to a total prize of over HKD $380,000 from DBS Hong Kong.
[1] DBS honoured as Best Bank in Hong Kong by four top-tier financial publications for the first time
[2] DBS has been accorded the "Safest Bank in Asia" award by Global Finance for 14 consecutive years from 2009 to 2022
[3] DBS named 'World's Best SME Bank' by Euromoney for second time


[End]
About DBS
DBS is a leading financial services group in Asia with a presence in 19 markets. Headquartered and listed in Singapore, DBS is in the three key Asian axes of growth: Greater China, Southeast Asia and South Asia. The bank's "AA-" and "Aa1" credit ratings are among the highest in the world.
Recognised for its global leadership, DBS has been named "
World's Best Bank
" by Global Finance, "
World's Best Bank
" by Euromoney and "
Global Bank of the Year
" by The Banker. The bank is at the forefront of leveraging digital technology to shape the future of banking, having been named "
World's Best Digital Bank
" by Euromoney and the world's "
Most Innovative in Digital Banking
" by The Banker. In addition, DBS has been accorded the "
Safest Bank in Asia
" award by Global Finance for 14 consecutive years from 2009 to 2022.
DBS provides a full range of services in consumer, SME and corporate banking. As a bank born and bred in Asia, DBS understands the intricacies of doing business in the region's most dynamic markets. DBS is committed to building lasting relationships with customers, as it banks the Asian way. Through the DBS Foundation, the bank creates impact beyond banking by supporting social enterprises: businesses with a double bottom-line of profit and social and/or environmental impact. DBS Foundation also gives back to society in various ways, including equipping communities with future-ready skills and building food resilience.
With its extensive network of operations in Asia and emphasis on engaging and empowering its staff, DBS presents exciting career opportunities. For more information, please visit
www.dbs.com
.