DBS launches world's first bank-backed multi family office VCC for wealthy families
The DBS Multi Family Office Foundry VCC offers an alternative option for UHNW families seeking to consolidate their wealth in Singapore
Singapore, 12 Jun 2023 - Amid rising interest from ultra-high net worth (UHNW) families around the world to set up family offices in Singapore, DBS Private Bank has launched the DBS Multi Family Office Foundry VCC (DBS MFO), the world's first bank-backed multi family office that leverages Singapore's Variable Capital Company (VCC)
[1]
structure. It offers an alternative option for affluent families to manage their wealth in Singapore, without having to establish their own Single Family Office (SFO). Through DBS MFO, clients will be able to access a full suite of investment services - from investment management, trade execution, to custody solutions - via a single integrated platform.
How it works
DBS MFO is established as an umbrella VCC with multiple underlying sub-funds. Clients are offered a range of customisable investment strategies and can elect to either have their sub-fund professionally managed by the DBS Discretionary Portfolio Management (DPM) team, or by a family member/ an investment adviser of their choice.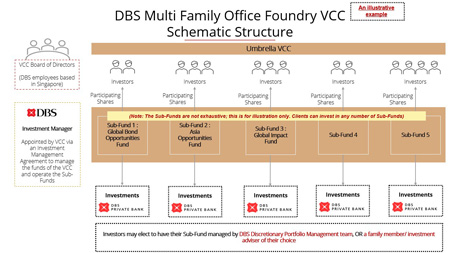 Other benefits of investing through DBS MFO include:
Peace of mind, as capital is held and managed professionally by DBS, thereby maintaining the highest standard of governance and oversight[2];
Ease of execution, given its integrated service model that provides a full suite of investment services, eliminating the need to separately work with other financial institutions on fulfilment;
Tax exemptions on specified income derived from designated investments;
A 'lower' barrier of entry for some clients who are not yet ready to set up an SFO;
Cost savings through shared resources and expenses across multiple sub-funds.
Said Lee Woon Shiu, Group Head of Wealth Planning, Family Office & Insurance Solutions, DBS Bank: "The launch of DBS MFO marks yet another milestone in the evolution of our family office proposition, where our clients look to us as a trusted advisor for bespoke wealth preservation and legacy planning solutions. Our new offering has already attracted keen interest from global UHNW families and their advisors, who see tremendous value in leveraging the VCC as a unique wealth structuring solution. It is also an attractive option for some families who are not looking to immediately relocate to Singapore, but would like to consolidate their assets here.
"As global demand for family offices continues to rise, the unique strength of the 'Singapore Inc' proposition – a cocktail of attributes including strong rule of law as well as political and economic stability, among others – will continue to appeal to families worldwide. And being Singapore's leading family office practice, we are very much committed to supporting our clients in their evolving needs and help safeguard their legacy for their loved ones."
Since previewing DBS MFO some weeks ago, the bank has received positive feedback and healthy interest from clients, and is currently in talks with more than 20 clients and prospects across Asia. Today, DBS banks more than one-third of the 700 SFOs established in Singapore
[3]
, and its Family Office AUM had also more than doubled in the last two years. "Client interest in succession planning and wealth preservation has intensified and, in fact, we recorded a substantial increase in the number of new requests in 1Q23. This will continue to fuel the growth of our Family Office business," added Lee.
The bank intends to maximise DBS MFO's potential by further developing innovative and sustainable long-term wealth structuring solutions to help UHNW clients navigate the complexities of the evolving legal and regulatory landscape in which they operate. For more information, visit:
https://www.dbs.com.sg/private-banking/default.page
[1]
https://www.acra.gov.sg/business-entities/variable-capital-companies
[2] DBS has been named "Safest Bank in Asia'' by Global Finance for 14 consecutive years from 2009 to 2022. The bank's "AA-" and "Aa1" credit ratings are among the highest in the world.
[3]
https://www.mas.gov.sg/development/wealth-management
[END]
About DBS
DBS is a leading financial services group in Asia with a presence in 19 markets. Headquartered and listed in Singapore, DBS is in the three key Asian axes of growth: Greater China, Southeast Asia and South Asia. The bank's "AA-" and "Aa1" credit ratings are among the highest in the world.
Recognised for its global leadership, DBS has been named "
World's Best Bank
" by Global Finance, "
World's Best Bank
" by Euromoney and "
Global Bank of the Year
" by The Banker. The bank is at the forefront of leveraging digital technology to shape the future of banking, having been named "
World's Best Digital Bank
" by Euromoney and the world's "
Most Innovative in Digital Banking
" by The Banker. In addition, DBS has been accorded the "
Safest Bank in Asia
" award by Global Finance for 14 consecutive years from 2009 to 2022.
DBS provides a full range of services in consumer, SME and corporate banking. As a bank born and bred in Asia, DBS understands the intricacies of doing business in the region's most dynamic markets.
DBS is committed to building lasting relationships with customers, as it banks the Asian way. Through the DBS Foundation, the bank creates impact beyond banking by supporting social enterprises: businesses with a double bottom-line of profit and social and/or environmental impact. DBS Foundation also gives back to society in various ways, including equipping communities with future-ready skills and building food resilience.
With its extensive network of operations in Asia and emphasis on engaging and empowering its staff, DBS presents exciting career opportunities. For more information, please visit
www.dbs.com
.