DBS unveils new café concept to entrench sustainability ethos among employees
Singapore, 18 Nov 2022 - DBS has opened the doors to
DBS Better World Café
, a new, 11,300 square foot employee café which aims to inspire Team DBS to do their part for a more sustainable world through food.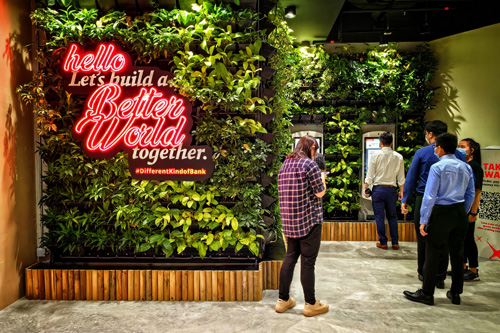 Visitors to the DBS Better World Café will be greeted by a biophilic green wall
Erwin Chong, Group Head of Corporate Real Estate Strategy and Administration at DBS, said, "At DBS, we advance our sustainability agenda through multiple avenues, and this includes embedding sustainability in the fabric of our operations. In conceptualising DBS Better World Café, we challenged ourselves to create a differentiated employee experience that goes beyond the functional. We hope that by incorporating sustainability elements in as many aspects of the café as possible, DBS Better World Café can serve as a beacon of inspiration for our employees and guests, and perhaps even encourage them to become sustainability advocates in their own lives."
Located in Singapore's Marina Bay Financial Centre Tower 3, DBS has embedded a host of novel sustainability features into the café's operations:
Sustainable Kitchen
DBS worked with homegrown F&B company Chilli Padi Holding Pte Ltd to curate a menu using ingredients sourced from local farms and suppliers with responsible agricultural practices. Such produce includes chicken and cage-free eggs that are 'Certified Humane' by HFAC[1], fish from BAP-certified[2] aquaculture farms, and pesticide-free mushrooms.
DBS partnered Chilli Padi to create job opportunities in the kitchen for disadvantaged individuals from local social enterprise The Social Kitchen. Discussions are also underway to offer internship opportunities for students studying at APSN[3].
Bettr Barista, a social enterprise supported by the DBS Foundation as well as Singapore's first Certified B Corporation[4], has also opened a coffee bar offering beverages made from responsibly sourced coffee beans.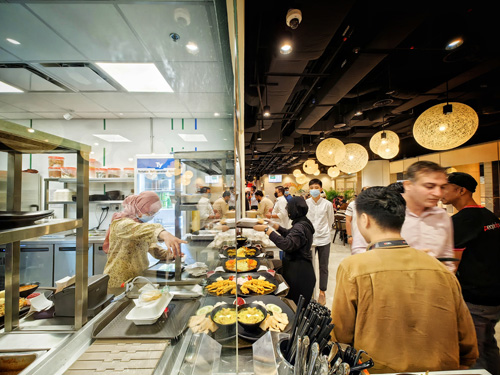 DBS worked with homegrown F&B company Chilli Padi Holding to set up a sustainable kitchen within the DBS Better World Café, the first such concept for Chilli Padi
Minimising Carbon Footprint
Leveraging its experience in developing DBS Newton Green, Singapore's first net zero bank building, DBS deployed occupancy-based lighting and air-conditioning systems as well as low-energy appliances to minimise the café's energy needs. Heat pumps were also installed in the kitchen to harness waste heat generated by refrigerators and freezers to produce hot water.
Only eco-concrete certified by Singapore's Building and Construction Authority was used for all café screeds. To avoid generating unnecessary embodied carbon, the furniture in the café was upcycled or repurposed from other parts of the bank where possible, while the café's feature walls and art pieces were made from upcycled waste.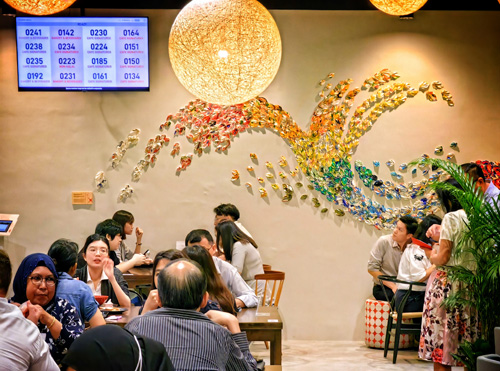 Art pieces made from recycled drink cartons adorn a wall at the DBS Better World Café. Digital menus enable diners to place orders and pay for meals from the comfort of their table, removing any need for queuing.
Giving New Life to Food Waste
In line with the bank's Towards Zero Food Waste initiative, DBS has deployed food composting stations for employees to dispose their food scraps in, thus diverting food waste from Singapore's diminishing landfills. All dine-in tableware and takeaway packaging used at the café are fully compostable, making food composting even easier.
DBS engaged Aperion Twin Gem Biofuel, a local company that specialises in recycling waste oil, to convert used cooking oil from the kitchen into biofuel to power the café's backup generator.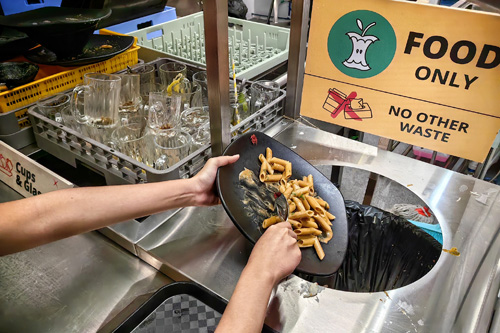 Food waste is given new life at the DBS Better World Café, with food composting stations enabling employees and visitors to turn food scraps into useful compost.
Patricia Lee, Director at Chilli Padi Holding Pte Ltd, said, "Pledging sustainability is not just a commitment – the effort of collective like-minded partners is more important than ever as we seek better and innovative ways to move towards a more sustainable future for generations to come. We are happy to partner with DBS to push the boundaries and bring to their employees our first sustainable kitchen concept."
Added Chong, "We are grateful to embark on this journey with an ecosystem of like-minded partners who share our vision for a better world. DBS Better World Café is a living experiment of how employee experience can be fused with sustainability, and we look forward to more collaborations as we continue to introduce new spaces and concepts within the café in the coming months."
[1] Humane Farm Animal Care is a leading international certification organisation based in the USA dedicated to improving the lives of farm animals in food production from birth through slaughter. In 2019, DBS provided Chew's Eggs with Singapore's first sustainability-linked loan for an SME to support the egg producer's shift towards more sustainable and humane methods of egg production.
[2] Managed by the Global Aquaculture Alliance, the Best Aquaculture Practices, or BAP, certification is the world's only third-party aquaculture sustainability certification programme.
[3] APSN is a social service agency in Singapore that provides special education, vocational training and employment support services for individuals with mild intellectual disability.
[4] B Corp Certification is one of the most stringent sustainability certifications in the world and recognises companies that voluntarily meet high standards of social and environmental performance.

[END]
About DBS
DBS is a leading financial services group in Asia with a presence in 19 markets. Headquartered and listed in Singapore, DBS is in the three key Asian axes of growth: Greater China, Southeast Asia and South Asia. The bank's "AA-" and "Aa1" credit ratings are among the highest in the world.
Recognised for its global leadership, DBS has been named "
World's Best Bank
" by Global Finance, "
World's Best Bank
" by Euromoney and "
Global Bank of the Year
" by The Banker. The bank is at the forefront of leveraging digital technology to shape the future of banking, having been named "
World's Best Digital Bank
" by Euromoney and the world's "
Most Innovative in Digital Banking
" by The Banker. In addition, DBS has been accorded the "
Safest Bank in Asia
" award by Global Finance for 14 consecutive years from 2009 to 2022.
DBS provides a full range of services in consumer, SME and corporate banking. As a bank born and bred in Asia, DBS understands the intricacies of doing business in the region's most dynamic markets. DBS is committed to building lasting relationships with customers, as it banks the Asian way. Through the DBS Foundation, the bank creates impact beyond banking by supporting social enterprises: businesses with a double bottom-line of profit and social and/or environmental impact. DBS Foundation also gives back to society in various ways, including equipping communities with future-ready skills and building food resilience.
With its extensive network of operations in Asia and emphasis on engaging and empowering its staff, DBS presents exciting career opportunities. For more information, please visit
www.dbs.com
.