DBS Hong Kong steps up for small and medium enterprises (SMEs) with up to HK$180,000 welcome offer
Hong Kong, 05 Oct 2021 - DBS Hong Kong today announced its latest "DBS SME $180,000 Online Account Opening Offers" package
1
, which comprises a host of specially designed promotions to give SMEs in Hong Kong the boost they need to capitalise on the current economic situation amid the pandemic.
"This is DBS digibanking" enables SMEs to set up a new business account completely online in as quickly as three working days1 and manage their businesses at their fingertips. What's more, the "DBS Loan Application for Business" can provide preliminary loan amount approvals as fast as 3 working days2.
From now till 31 December, 2021, new SME customers who successfully submit their DBS Online Account Opening for Business can enjoy the "DBS SME $180,000 Online Account Opening Offers" package1, which includes:
Over HK$100,000 transaction fee waivers, including Telegraphic Transfer, FPS, Autopay/ Payroll, etc.
Minimum Deposit Balance service fee waiver for the first 3 months;
Up to HK$50,000 Guarantee Fee's Cash Rebate of SME Financing Guarantee Scheme (SFGS)
Up to HK$20,000 discount for General Insurance policies
In addition, DBS is one of the banks offering the highest SME collateral-free loan of up to HK$8 million in Hong Kong.
Considering the current economic environment, the Bank sees high demand for financing and digital banking services from SMEs as they plan to expand and start new businesses as the result of decreasing in rental costs and lower interest loan rates.
According to the latest 2021 DBS Digital Readiness Survey3, which garnered insights from more than 1,000 SMEs across 6 markets in APAC4, 62% of SMEs in Hong Kong have clearly defined or are in development of its digital strategy and 51% of them worried they will have customer or revenue leakage for not digitalise. However, they cited the high costs of adopting new technologies as an impediment to their progress in this area.
Alex Cheung, Managing Director and Head of Institutional Banking Group, at DBS Hong Kong, said, "DBS Hong Kong focuses on addressing SMEs' pain points and to support them every step of the way. Enabling SMEs to manage their cashflow, daily transactions and financing needs digitally is vital to accomplishing their business demands and expansion goals. By adding our "DBS SME $180,000 Online Account Opening Offers" onto the quick approval process and innovative services we are already providing through the DBS Online Business Account, we hope to help them overcome market changes and achieve sustainable growth in the long run."
To enjoy the indicated "DBS SME $180,000 Online Account Opening Offers" 1, SMEs can submit their Online DBS Business Account Opening application through the DBS Online Account Opening for Business website (https://smeportal.dbs.com/hk/accounts/#/) from now until 31 December 2021.
For details of the "DBS Online account Opening Offers" package, please visit https://www.dbs.com.hk/sme/day-to-day/accounts/business-account
Remarks
Terms and condition apply. Please refer to https://www.dbs.com.hk/sme/day-to-day/accounts/business-account for details.
Terms and condition apply. Please refer to https://www.dbs.com.hk/sme/financing/working-capital/ec-loan-program
Previously known as the DBS Digital Treasures Survey. The DBS study was carried out by East & Partners. For the purpose of the survey, SMEs are defined as businesses with annual turnover of between USD 20 million and USD 200 million equivalent.
The 6 APAC markets are: China, Hong Kong, India, Indonesia, Singapore and Taiwan.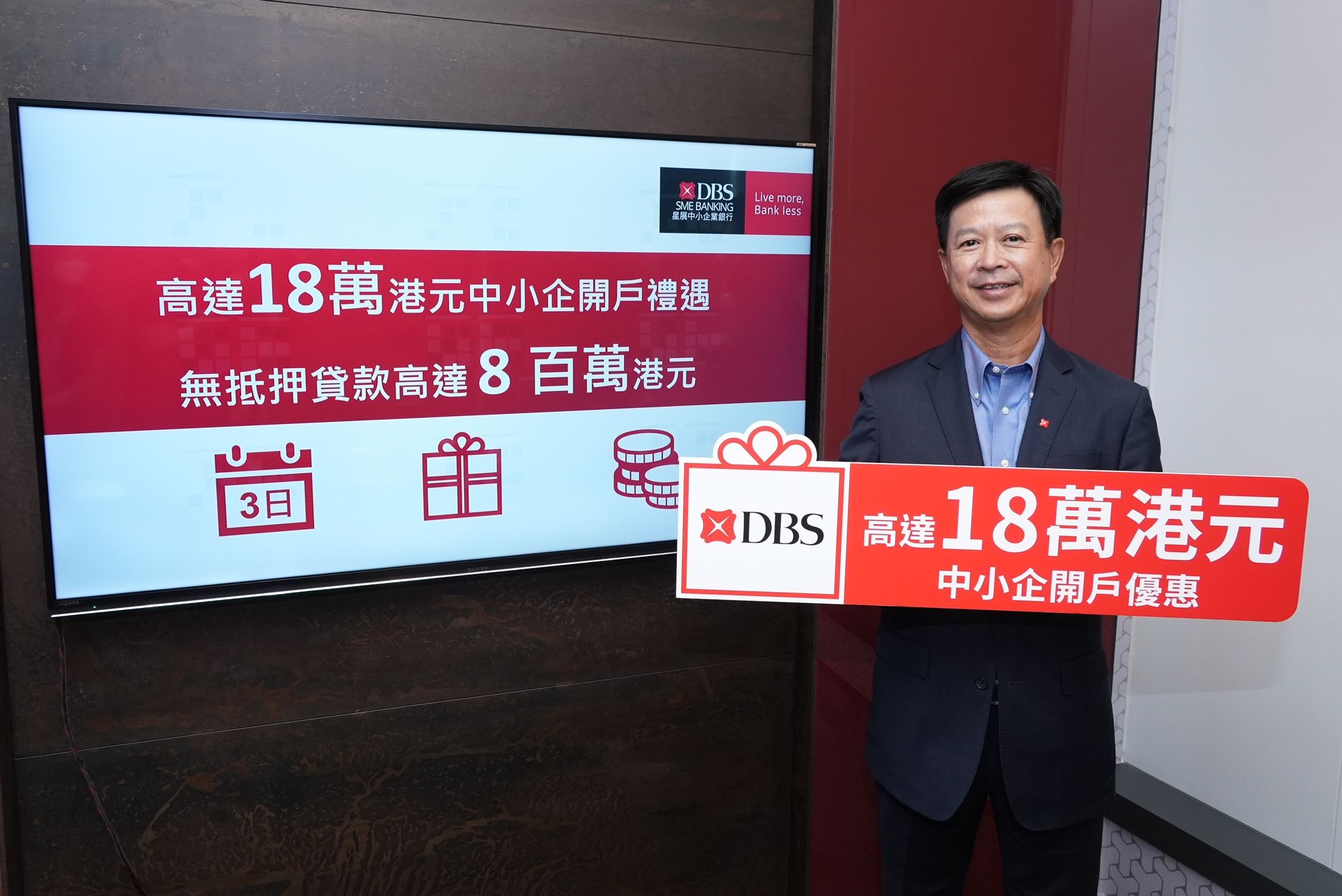 [END]
About DBS
DBS is a leading financial services group in Asia with a presence in 18 markets. Headquartered and listed in Singapore, DBS is in the three key Asian axes of growth: Greater China, Southeast Asia and South Asia. The bank's "AA-" and "Aa1" credit ratings are among the highest in the world.
Recognised for its global leadership, DBS has been named "World's Best Bank" by Euromoney, "Global Bank of the Year" by The Banker and "Best Bank in the World" by Global Finance. The bank is at the forefront of leveraging digital technology to shape the future of banking, having been named "World's Best Digital Bank" by Euromoney and the world's "Most Innovative in Digital Banking" by The Banker. In addition, DBS has been accorded the "Safest Bank in Asia" award by Global Finance for 12 consecutive years from 2009 to 2020.
DBS provides a full range of services in consumer, SME and corporate banking. As a bank born and bred in Asia, DBS understands the intricacies of doing business in the region's most dynamic markets. DBS is committed to building lasting relationships with customers, and positively impacting communities through supporting social enterprises, as it banks the Asian way. It has also established a SGD 50 million foundation to strengthen its corporate social responsibility efforts in Singapore and across Asia.
With its extensive network of operations in Asia and emphasis on engaging and empowering its staff, DBS presents exciting career opportunities. For more information, please visit www.dbs.com.