DBS and Lions Befrienders partner to launch Singapore's largest-ever virtual befriending initiative
1,000 DBS volunteers will reach out to 1,000 at-risk seniors to help ease loneliness and social isolation amid Covid-19
Ground-breaking initiative paves the way for future of volunteerism, allows Lions Befrienders to increase potential pool of volunteers going forward
Singapore, 14 Jun 2020 - To help tackle social isolation and loneliness among seniors in Singapore, DBS and Lions Befrienders (LB) have joined hands to roll out Singapore's largest-ever virtual befriending volunteer initiative –
LB Virtual Befriending@ SAC
(Senior Activity Centre). 1,000 DBS employees will engage 1,000 senior beneficiaries in July and August 2020 through virtual conversations, sing-along sessions, simple home gardening projects, as well as online games. The official launch of this programme is a successful culmination of pilot sessions run by both organisations since early June
[1]
to positive response from seniors and volunteers. The initiative paves the way for the future of volunteerism by allowing LB to unlock more high-quality volunteer engagements and widens LB's potential pool of volunteers by enabling more people – including those with mobility issues, transport issues, who are immuno-compromised or those who simply have little time to spare – to connect with beneficiaries remotely.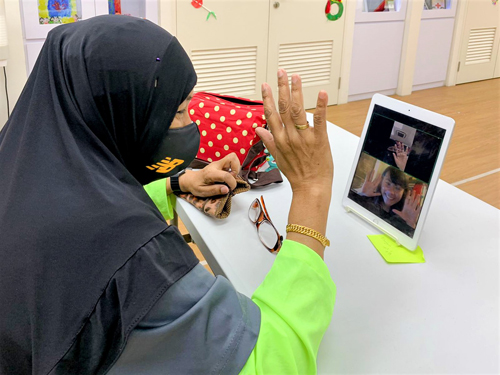 Lions Befrienders senior interacting with DBS volunteers virtually
This timely programme will help alleviate the ill-effects of social isolation faced by some 6,000 at-risk seniors served by LB, who mostly live in rental flats and are on financial assistance schemes. In recent months, LB has observed that safe distancing measures implemented to counter the spread of Covid-19 may have contributed to the increasing social isolation experienced by these seniors. Since February, LB has conducted twice weekly check-in calls following the cessation of activities at SACs and noticed a gradual decline in the seniors' emotional and mental health. During the eight-week 'Circuit Breaker' period, LB was alerted to four attempted suicides among their seniors – up from the average of one attempted suicide every three to six months prior to Covid-19. Despite the recent reopening of nine SACs, LB continues to face challenges in giving visiting seniors the full attention they require, due to constraints on the number of on-site staff.
Said Mr Anthony Tay, Chairman, Lions Befrienders, "While we have reopened our doors, we found that our seniors long for human interaction more than anything else, especially when socialising is currently not encouraged. This
LB Virtual Befriending@ SAC
programme adds a bright spot to their day and gives them a sense of purpose as they embrace and adopt technology into their lives. We plan to continue to grow and expand the virtual befriending programme even after the guidelines on social distancing are relaxed."
Said Mr Shee Tse Koon, DBS Singapore Country Head, "We can all empathise with the emotional impact of social isolation. Pre-Covid, this was something that many seniors in Singapore had already been experiencing involuntarily, and the lack of online access or smart devices among seniors is now making it even more challenging for them to connect with others. We are glad to continue our long-running outreach efforts with LB through our People of Purpose volunteer movement, to ensure that the seniors who have been pivotal in building our nation are not neglected during these trying times. We are also excited to be part of a ground-breaking volunteerism initiative that unlocks new ways to help our seniors, and enables more volunteers from all walks of life to connect with beneficiaries remotely. Our hope is this initiative will go on to catalyse greater societal awareness around at-risk seniors and action among fellow Singaporeans."
How LB Virtual Befriending@ SAC works
The purpose of
LB Virtual Befriending@ SAC
is three-fold:
Firstly, the provision of dedicated attention is important to helping at-risk seniors ease the feelings of loneliness and social isolation. The programme also enables seniors to stay connected and build friendships, especially during this difficult period.
Secondly, this period serves as a window of opportunity for seniors to adopt modern technology, as they have been more open to taking up new skills in order to continue engaging with others online. In the past, the ability to interact with others physically took precedence over the need to learn and use technology.
Thirdly, introducing new activities such as home gardening and cognitive games including chess and othello, which are considered time-consuming and challenging to roll out in larger groups, can now be implemented easily via this programme. These activities are proven to help improve motor skills and cognition among the elderly.
In a typical session, a senior would be paired with up to two DBS volunteers, where they would interact with each other in an hour-long session via video conferencing tools such as Webex and Zoom on tablet computers provided to the seniors at LB centres. Some of these pilot virtual interactions have uncovered the seniors' hidden talents and deepened intergenerational bonding – for instance, DBS volunteers were treated to a rare performance by a former Chinese opera singer who sang a few lines of classical Chinese opera, which is becoming a lost art today.
This large-scale virtual befriending programme is a continuation of DBS' initiatives to serve LB's seniors over the past five years. Since 2015, more than 3,600 DBS volunteers have put in over 17,000 hours to reach out to 3,000 seniors via activities such as grocery shopping and board game sessions. In addition to mobilising 1,000 DBS employees as volunteers for this initiative, the bank will donate 40 tablets for LB's use.
Ms Tan Suan Heok, Senior Vice President at DBS' Technology & Operations, is an active DBS volunteer with Lions Befrienders since 2015. Together with a team of volunteer leads, she has galvanised more than 200 colleagues to participate in volunteer activities each year. "Over the years, my colleagues and I have developed strong friendships with the seniors at Lions Befrienders, simply by lending them a listening ear and bringing them out for fun activities that they enjoy," she said. "With safe distancing measures in place, such activities are on pause. I'm glad that this initiative still allows us to interact with our senior friends online. Those of us at DBS who have been part of this pilot have really enjoyed chatting and playing games with the seniors virtually, as it helps to make up for the lack of physical interaction. At the end of the day, what matters is that we can be there for them to help make them feel less alone."
DBS has been actively involved in wide-ranging initiatives – both community and bank-led – that support the elderly segment in Singapore. These include advocating for active ageing, running digital literacy workshops for seniors, and providing them job opportunities. Since 2009, about 80 seniors have been hired and trained as "digital ambassadors" as part of the POSB Active Neighbours programme, to assist peers in digital banking services at branches. In April 2020, DBS launched its SGD 10.5 million DBS Stronger Together Fund to help communities hard hit by Covid-19 across the region. As part of the initiative, DBS is partnering The Food Bank Singapore and ItsRainingRaincoats to distribute up to 700,000 meals to underserved segments in Singapore, including the elderly, low-income and migrant workers, with the support of employees and fellow Singaporeans.
[1]The LB Virtual Befriending@ SAC pilot programme sessions took place at LB Senior Activity Centres at Ang Mo Kio and Mei Ling.
[END]
About DBS
DBS is a leading financial services group in Asia with a presence in 18 markets. Headquartered and listed in Singapore, DBS is in the three key Asian axes of growth: Greater China, Southeast Asia and South Asia. The bank's "AA-" and "Aa1" credit ratings are among the highest in the world.
Recognised for its global leadership, DBS has been named "
World's Best Bank
" by Euromoney, "
Global Bank of the Year
" by The Banker and "
Best Bank in the World
" by Global Finance. The bank is at the forefront of leveraging digital technology to shape the future of banking, having been named "
World's Best Digital Bank
" by Euromoney. In addition, DBS has been accorded the "
Safest Bank in Asia
" award by Global Finance for 11 consecutive years from 2009 to 2019.
DBS provides a full range of services in consumer, SME and corporate banking. As a bank born and bred in Asia, DBS understands the intricacies of doing business in the region's most dynamic markets. DBS is committed to building lasting relationships with customers, and positively impacting communities through supporting social enterprises, as it banks the Asian way. It has also established a SGD 50 million foundation to strengthen its corporate social responsibility efforts in Singapore and across Asia.
With its extensive network of operations in Asia and emphasis on engaging and empowering its staff, DBS presents exciting career opportunities. The bank acknowledges the passion, commitment and can-do spirit in all our 28,000 staff, representing over 40 nationalities. For more information, please visit
www.dbs.com
.