DBS beefs up support for social enterprises with cashflow support, skills training amid Covid-19
Avails increased access to financing to more than 360 SEs in Singapore to help alleviate cashflow woes and protect jobs in sector
DBS Foundation pledges SGD 500,000 in additional funding for SEs region-wide
Provides access to complimentary business and digital transformation courses and a Business Resource Guide
Singapore, 08 Jun 2020 - Recognising the important role that social enterprises (SEs) play in creating positive impact in society – whether by hiring disadvantaged members of society or solving societal problems – DBS today announced a slew of proactive measures to beef up support for this sector. They include a working capital loan at preferential interest rates, grant offerings, access to business and digital transformation courses, and a business resource guide for SEs to tap into.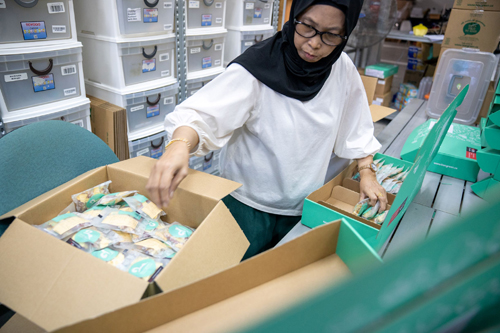 DBS is boosting its support for social enterprises such as Boxgreen to help protect jobs and alleviate cashflow woes amid Covid-19.
Joyce Tee, Group Head of SME Banking, DBS and Board Member of DBS Foundation said that the financial needs of SEs who have a positive impact on at least 126,000
[1]
beneficiaries in Singapore, are often overlooked by lenders as they usually do not have a borrowing history with banks or the relevant credit profiles. As a result, access to working capital to keep their business afloat may be even more difficult during the present Covid-19 economic downturn.
"The business community in Singapore has been buffeted by Covid-19. To fulfil their social and business mission, SEs are working harder than ever during this period to protect jobs and do their part for society. As a bank that has contributed to the development of Singapore, it is necessary for us to stand by these SEs by providing them with timely and affordable access not just to funding but also to the bank's expertise in business and digital transformation."
Availing affordable interest rates and providing fast access to working capital
To help SEs protect jobs and alleviate cashflow pressures amid these difficult times, DBS is making available the collateral-free SE Digital Business Loan to all 360 raiSE-registered SEs
[2]
at an interest rate as low as 2% per annum
[3]
. This makes it the lowest interest-rate loan offered to SEs during this period.
Through the SE Digital Business Loan, SEs will be able to receive up to SGD200,000 in funding as quickly as five days after they sign and accept their letter of offer as DBS recognises that timely access to funding is most important when keeping a business afloat.
Understanding the manpower crunch that SEs face, DBS has also simplified the loan application process to the SE Digital Business Loan to relieve SEs of the onerous task of submitting audited financial statements. Instead, credit assessment processes have been streamlined and SEs need only provide their most recent bank statement or Notice of Assessment for their application to be processed
[4]
. The application process is completely contact-free and digital.
The SE Digital Business Loan also comes bundled with complimentary loan replacement insurance which takes the financial strain off an SE in the event of unexpected circumstances, such as accidental death or accidental permanent disability. Loan processing fees usually pegged at SGD 500 or 2% of the approved loan amount will also be absorbed by the bank.
DBS Foundation Business Transformation and Improvement (BTI) Grant
The DBS Foundation has set aside SGD 500,000 in the DBS Foundation BTI Grant to tide SEs through these tough times. The Grant is open to 60 DBS Foundation-supported SEs across Asia, and is in addition to the annual DBS Foundation Social Enterprise Grant which has already provided more than SGD 5 million in funding to over 100 SEs in the past five years.
The purpose of DBS Foundation's BTI Grant is two-fold: to provide funding support to SEs so that they can protect and create jobs, as well as pivot digitally in search of new income streams to transform their business operations, ultimately empowering them to continue serving their beneficiaries and the wider community.
In the last few weeks, 13 Singapore-based SEs from a myriad of industries that provide employment to a total of 2,500 people and support more than 100,000 beneficiaries have already applied for the grant. The top reasons for applying for the BTI grant were to implement business solutions to:
Fund the expansion of enhanced caregiving and medical services to the elderly and other sectors of society who are vulnerable to Covid-19;
Provide employment for the disadvantaged and marginalised.
In addition to funding, grant awardees will benefit from DBS Foundation's SE support network which includes mentorship, business networking and matchmaking opportunities with the bank's clients and fellow SEs.
SEs can also tap into the bank's complimentary webinars and online courses to further ease them into the world of digital banking. Throughout the next few months, they can sign up
[5]
to be trained on how they can transact, trade and manage their banking needs from the comfort of their home offices.
In addition, DBS is also equipping all SEs with a complimentary Covid-19 Business Resource Guide to give SE business owners the insights needed to navigate their businesses through the current economic uncertainty. The guide will contain fresh perspectives from industry leaders on how the operating landscape is likely to change as a result of Covid-19, and actionable tips for SEs to position themselves for recovery and growth as economies in the region look towards a gradual restart. The guide will be available from mid-June onwards.
Social enterprise Boxgreen, which specialises in producing and delivering healthy snacks, recently secured a working capital loan from DBS. Walter Oh, Co-Founder, Boxgreen said, "At the onset of the virus outbreak, the first thing on our minds was to retain jobs and make sure that our employees' livelihoods would not be affected in a big way. We have more than 30 staff, who include seniors, the disadvantaged and ex-offenders, who are amongst the most vulnerable in our community during Covid-19. The loan from DBS was very timely in helping to ensure the cashflow needed to continue our operations, as well as retain and upskill all our staff. With the help of DBS' SME banking team, we are now able to stabilise and even grow the company as there is an increasing demand for healthy snacks as more people work from home and shop online."
"With the cashflow injection, we can now afford to hire more staff such as warehouse and production assistants. We count ourselves fortunate to be backed by DBS who has availed more than just financial solutions to us. Besides timely access to working capital, we've also been in touch with DBS Foundation and DBS' human resources team to tap into their best practices on how to help our staff stay strong and focused during this challenging time."
Alfie Othman, CEO, Singapore Centre for Social Enterprise, raiSE said, "We recognise that any aid extended to businesses to ease the strain on cashflow will keep them operational for a longer time, thus giving them the much needed runway to bounce back and retain jobs in the process. In addition to our support, favourable loan terms from DBS Bank will give social enterprises the cashflow options they can consider, as their founders endeavour to save jobs."
Tee added, "These are unprecedented times for all, and as the economy goes through a prolonged period of uncertainty, more than ever, SEs have a pivotal role to play in strengthening our societal bonds. As a bank that has supported the growth and development of many homegrown businesses since Singapore's independence, we want to also lend the same support and expertise to SEs who are working hard to make a difference in society."
[1] Source - https://www.raise.sg/ar2018.html/
[2] Source - https://www.raise.sg/ar2018.html/
[3] Subject to eligibility; terms and conditions also apply
[4] Customers with complete loan applications and full documentation submitted together with their loan application forms can expect to receive working capital monies within five working days of acceptance
[5] SEs can sign-up for courses at https://www.dbs.com.sg/sme/day-to-day/ways-to-bank/online-banking-ideal/dbs-ideal-customer-trainings

[END]
About DBS
DBS is a leading financial services group in Asia with a presence in 18 markets. Headquartered and listed in Singapore, DBS is in the three key Asian axes of growth: Greater China, Southeast Asia and South Asia. The bank's "AA-" and "Aa1" credit ratings are among the highest in the world.
Recognised for its global leadership, DBS has been named "
World's Best Bank
" by Euromoney, "
Global Bank of the Year
" by The Banker and "
Best Bank in the World
" by Global Finance. The bank is at the forefront of leveraging digital technology to shape the future of banking, having been named "
World's Best Digital Bank
" by Euromoney. In addition, DBS has been accorded the "
Safest Bank in Asia
" award by Global Finance for 11 consecutive years from 2009 to 2019.
DBS provides a full range of services in consumer, SME and corporate banking. As a bank born and bred in Asia, DBS understands the intricacies of doing business in the region's most dynamic markets. DBS is committed to building lasting relationships with customers, and positively impacting communities through supporting social enterprises, as it banks the Asian way. It has also established a SGD 50 million foundation to strengthen its corporate social responsibility efforts in Singapore and across Asia.
With its extensive network of operations in Asia and emphasis on engaging and empowering its staff, DBS presents exciting career opportunities. The bank acknowledges the passion, commitment and can-do spirit in all our 28,000 staff, representing over 40 nationalities. For more information, please visit
www.dbs.com
.
About DBS Foundation
Championing Social Entrepreneurship
As a corporate foundation in Asia solely dedicated to championing social entrepreneurship, DBS Foundation contributes towards building a more inclusive society so that those at society's margins can enjoy productive and rewarding lives. DBS Foundation works with Social Enterprises and Social Entrepreneurs in Singapore, India, Indonesia, China, Taiwan and Hong Kong with programmes ranging from venture challenges, learning forums, intensive incubation, grant support, financing and skilled volunteer mentoring. The Foundation is an endeavor from DBS Bank to make an even greater impact in addressing Asia's evolving social needs. Please visit
www.dbs.com/dbsfoundation
or reach us at
dbsfoundation@dbs.com
.