DBS survey reveals Government-assisted financing schemes paying off; proportion of SMEs flagging cash flow as top concern more than halves since February 2020
Only 30% of SMEs surveyed flagged cash flow needs as top concern, far cry from early February when almost 70% said that it was their top concern
Even with lessons during the extended Circuit Breaker period, SMEs rank digital transformation and workforce upskilling among their lowest priorities
Pandemic silver lining - overwhelming eight in 10 SMEs starting to think beyond own business, more conscious of needs of the broader community
Singapore, 05 Jun 2020 - A DBS survey signalled that the Singapore Government's relief measures are paying off, with only three in ten SMEs now flagging cash flow concerns as a top priority, compared to over seven in ten when the same question was asked in early February as the Covid-19 situation began unfolding.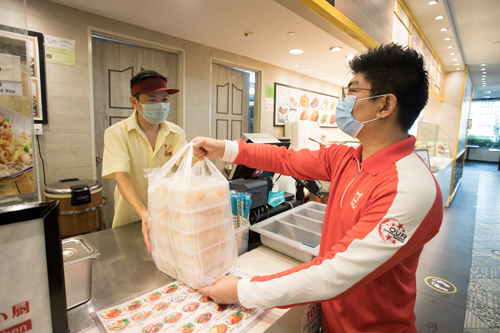 DBS' SME Pulse Check Survey showed that eight in ten SMEs are starting to think beyond their own business and be more sensitive to the needs of the wider community. Koufu is one of 23 SMEs and social enterprises in the F&B sector that DBS is partnering to provide some 400,000 meals to the elderly and low-income in Singapore during this time of economic uncertainty. (photo credit: Koufu)
This 40-percentage point drop indicates that the combined efforts of the Government and financial institutions in supporting SMEs in their working capital needs are bearing fruit, giving SMEs much-needed relief from intense cashflow pressures that they would otherwise be facing.
When asked what their most immediate priority was, medium-sized SMEs
[1]
seemed most bullish, with one in two responding that creating new revenue streams to capture growth opportunities would be their focus coming out of the extended circuit breaker period. Small SMEs
[2]
ranked access to working capital to keep their businesses afloat and exploring and creating new income streams as equally important.
These sentiments were reflected in the DBS SME Pulse Check Survey which the bank conducted with over 300 SMEs in Singapore in the last week of the extended Circuit Breaker period in end-May.
Joyce Tee, Group Head of SME Banking, DBS, shared that such trends provide useful insights to both financial institutions and policymakers on what needs to be done to continue supporting the SME community. "Availing working capital support to viable SMEs continues to be important, but that alone is insufficient in preparing our SMEs for the road ahead. With SMEs starting to focus on building new income streams, banks, industry associations and the Government can step up by offering innovative solutions for our local enterprises to identify and create new revenue opportunities. In doing so, we are helping our SMEs become more resilient so that they are better prepared to ride through the oncoming economic headwinds."
SMEs surveyed were also hopeful for further financial relief from the Government to help them cope with the ongoing crisis, with about 65% flagging that the Government should continue to provide additional support in the form of cash flow relief, tax relief or additional grants.
In preparing for future growth opportunities, digital transformation and workforce upskilling rank among lowest priorities – even as SMEs take first steps in digitalising amid Covid-19
Despite repeated emphasis on the importance of preparing for a digital economy and skills upgrading to survive in the post Covid-19 economy, SMEs surveyed ranked digital transformation and workforce upskilling among their lowest priorities.
Just over 10% indicated that digital transformation would be an immediate focus. However, this could be an indication that SMEs have already started their digital transformation projects amid the extended Covid-19 circuit-breaker period to optimise processes and reach out to a growing online consumer base.
When asked what was holding them back from prioritising their digital journeys, close to half of SMEs surveyed shared that insufficient knowledge of the digital solutions available, a poor understanding of the benefits of going digital, and inadequate employee capabilities were the top reasons hindering their digital transformation efforts. That said, some 15% want banks to provide more advisory services on digital transformation, hinting at a degree of openness among SMEs to continue transforming their businesses digitally.
However, recognising that digital transformation is a long-term journey that requires ongoing effort, commitment and investment, DBS has been proactively working with Government agencies and industry associations to maintain the current digital transformation momentum. Some recent examples include:
In May 2020, DBS launched Singapore's first cashless purchasing card for the logistics sector, eliminating the need for cash-based payments and collections at logistics depots, and helping to jumpstart the industry's digital transformation.
In March 2020, DBS introduced the F&B Digital Relief Package to enable F&B establishments to build a digital presence and create new income streams online in as fast as three days.
In January 2020, DBS launched an industry-first solution to digitalise the largely cash and paper-based B2B payments and collections landscape for businesses in Singapore.
DBS has also been helping to ease SMEs into adopting digital banking habits while making banking safer. In April 2020, the number of new signups for IDEAL, DBS' online corporate banking platform, saw a double-digit increase year-on-year, while the number of conversions from branch banking to digital banking tripled.
At the same time, workforce upskilling was ranked as one of SMEs' lowest priorities, with only 3% of respondents flagging this as an immediate focus. To nudge SMEs to upskill their employees, DBS has brought its popular DBS Academy
[3]
online so that SMEs can easily access free bite-sized training sessions run by industry practitioners from the comfort of home. DBS is also working with industry partners and Government agencies to roll out a series of webinars on the capabilities SMEs will require in the post Covid-19 economy, as well as avenues for SMEs to send their employees for more in-depth training.
SMEs keen on making a positive difference to the community beyond their business
A silver lining that has emerged from the extended Circuit Breaker period is that eight in ten SMEs are now starting to think beyond their own business and to be more sensitive to the needs of the wider community. Half of this group were also open to tapping on opportunities created by DBS to give back.
DBS has started partnering its SMEs to give back during this time of economic uncertainty. The bank is currently working with 23 of its SMEs and social enterprises in the F&B sector to provide some 400,000 meals to the elderly and low-income in Singapore. In doing so, SMEs are able to make a real difference to the lives of those who need a helping hand, even as DBS provides much-needed support to its clients in the F&B sector.
Tee added, "It is encouraging to learn that so many of our SMEs share DBS' commitment to be an organisation of purpose and are consciously thinking of how they can make a positive impact on society. Going forward, we will be ramping up our efforts to introduce more creative opportunities to partner SMEs in giving back to the community."
Pang Lim, Executive Chairman and Chief Executive Officer of Koufu, said, "As a longstanding client of DBS, Koufu is pleased to participate in DBS' efforts to help the more vulnerable communities in Singapore impacted by the Covid-19 situation. This is in line with Koufu's belief in creating positive impact on society, which is especially important during this challenging period, when now, more than ever, we need to stay united. We also appreciate how DBS has taken a win-win approach by driving business back to the F&B sector, which has been hit hard by Covid-19, while giving back to the community at the same time."
[1] DBS defines SMEs with annual revenue above SGD 20 million as 'medium-sized'
[2] DBS defines SMEs with annual revenue of between SGD 1 million and SGD 20 million as 'small-sized'
[3] DBS' SME Academy facilitated learning for over 1,500 SMEs across the region in 2019.
[END]
About DBS
DBS is a leading financial services group in Asia with a presence in 18 markets. Headquartered and listed in Singapore, DBS is in the three key Asian axes of growth: Greater China, Southeast Asia and South Asia. The bank's "AA-" and "Aa1" credit ratings are among the highest in the world.
Recognised for its global leadership, DBS has been named "
World's Best Bank
" by Euromoney, "
Global Bank of the Year
" by The Banker and "
Best Bank in the World
" by Global Finance. The bank is at the forefront of leveraging digital technology to shape the future of banking, having been named "
World's Best Digital Bank
" by Euromoney. In addition, DBS has been accorded the "
Safest Bank in Asia
" award by Global Finance for 11 consecutive years from 2009 to 2019.
DBS provides a full range of services in consumer, SME and corporate banking. As a bank born and bred in Asia, DBS understands the intricacies of doing business in the region's most dynamic markets. DBS is committed to building lasting relationships with customers, and positively impacting communities through supporting social enterprises, as it banks the Asian way. It has also established a SGD 50 million foundation to strengthen its corporate social responsibility efforts in Singapore and across Asia.
With its extensive network of operations in Asia and emphasis on engaging and empowering its staff, DBS presents exciting career opportunities. The bank acknowledges the passion, commitment and can-do spirit in all our 28,000 staff, representing over 40 nationalities. For more information, please visit
www.dbs.com
.