DBS delivers greater convenience this CNY with revamped DBS QR gift
Singapore, 10 Jan 2020 - Following last year's launch of the DBS QR Gift (then introduced as DBS QR Ang Bao), the world's first loadable QR solution, DBS is back this Chinese New Year (CNY) with an enhanced version, boasting new features that deliver greater convenience and ease of use to customers.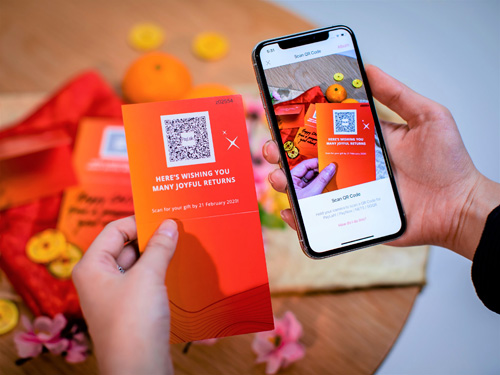 First piloted during CNY 2019, DBS' pioneering solution enabled users to 'load' desired cash values onto unique QR codes via DBS PayLah!, one of Singapore's most popular mobile payment platforms with some 1.6 million users. With the dual objective of eliminating the use of cash whilst preserving the tradition of exchanging physical red packets, the DBS QR Gift was well received by the public, with over SGD 1.5 million loaded onto DBS QR Gift cards during the CNY 2019 period.
The acceptance of digital alternatives for gifting is also reflected in the growing use of DBS PayLah!'s eGifts (previously known as eAng Baos). eGift usage has been rising steadily year-on-year since they were first introduced in 2015 – the total number of eGifts sent during CNY 2019 was almost double that of CNY 2018. CNY 2019 also saw double the average number of eGifts sent per day as compared to CNY 2018.
Enhanced DBS QR Gift with new features
To deliver greater convenience, time savings and festive cheer to consumers this CNY, DBS is rolling out a suite of new features for the DBS QR Gift:
1)
DBS PayLah! for teenagers
: Teenagers can now access DBS PayLah! with their parents' consent (the service was previously open only to those aged 16 years and above). This allows youths to redeem DBS QR Gift cards on their own, saving parents the hassle of doing so on their behalf.
2)
Open to all PayNow users
: Previously exclusive to DBS PayLah!, DBS QR Gift cards can now be redeemed by both DBS PayLah! and PayNow users. All Singapore bank account holders with SingPass and a PayNow-linked bank account can now conveniently scan and redeem funds from DBS QR Gift cards and have the loaded value credited directly into their accounts.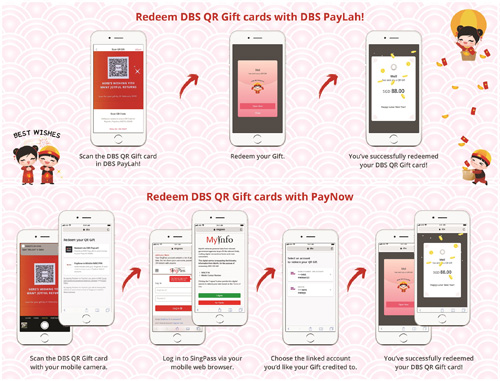 3)
Bulk-loading
: The new bulk-loading feature enables customers to save time by loading up to 10 DBS QR Gift cards at once, instead of having to scan and load each at a time. The 10 DBS QR Gift cards will feature the same loaded cash value, message and animation.

4)
New design
: The DBS QR Gift is made of environmentally-friendly paper and designed so they can be given out without the use of red packets, with space for users to pen personalised messages for their recipients.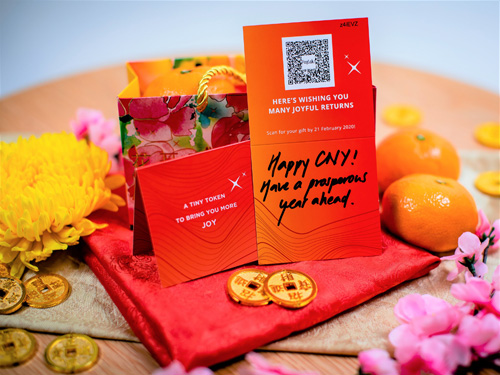 Jeremy Soo, Managing Director and Head of Consumer Banking Group (Singapore), DBS Bank said, "We're pleased that the public responded warmly to the DBS QR Gift last year and have been taking in feedback from consumers since then. Mindful that convenience and ease of use remain key for users, given how hectic preparing for CNY can be, we have since enhanced the DBS QR Gift by introducing bulk-loading features and making it accessible to more users. We hope this will make CNY celebrations more seamless and hassle-free for consumers, giving them more quality time with family and friends."
DBS QR Gift cards come in packs of eight and are now available for free at all DBS/POSB full-service branches, DBS Treasures Centres and
POSB Pop-up ATMs
located island-wide. The DBS QR Gift cards will be valid for use from 9 January 2020 to 21 February 2020; funds not redeemed by 21 February 2020 will be refunded to the givers.
Businesses pledging to use DBS QR Gift in CNY 2020
According to the Monetary Authority of Singapore, up to 40 million of the slightly more than 100 million notes printed for CNY each year end up being incinerated
[1]
. DBS has also built an in-house carbon calculator, which estimates that if all DBS customers reduced their cash withdrawal by 1%, the total carbon emissions saved would be equivalent to almost 600 trees.
By doing away with the need for cash, DBS QR Gift aims to lessen wastage caused by the printing of new notes and presents a more sustainable option to gifting. DBS is actively extending the use of DBS QR Gift cards to corporate partners, with SMRT Corporation, Chubb Insurance Singapore Limited, Manulife, Tribal Worldwide Singapore and VICOM – who collectively have some 14,000 employees – pledging to adopt it for employee gifting this CNY, replacing traditional physical red packets and new notes.
"Real change takes a collective effort – one that requires individuals, organisations and nations to play their part. We are committed to our sustainability journey at DBS, and have been looking to leverage digital technology and innovation to achieve greater progress on this front. We are heartened to have these companies' support in our shift towards using digital alternatives for festive gifting, and to join us in building a more sustainable Singapore," said Soo.
Recycle used red packets and DBS QR Gifts at DBS/POSB branches
DBS will also be bringing back its red packet recycling bins, which were first introduced during CNY 2019. Starting 28 January 2020, the recycling bins will be available at all DBS/POSB full-service branches all year round. Customers are encouraged to play a part in reducing waste by dropping off their used red packets and DBS QR Gifts in these bins. DBS was the first bank in Singapore to launch a dedicated recycling movement for red packets and is partnering Tay Paper Recycling for this initiative.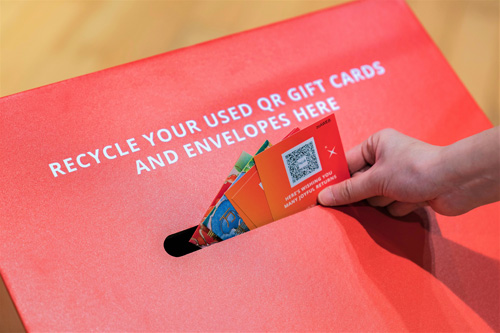 Win up to SGD 888 in the DBS TapLah! Contest
DBS will be rolling out "TapLah!", a mobile game hosted on DBS PayLah!. Players are required to collect as many gold coins (+3 points) and red packets (+25 points) as possible within 30 seconds, whilst avoiding the bombs (-10 points). Top players' points will be listed and ranked on a public scoreboard.
The game will be live on the DBS PayLah! app from 25 January to 8 February 2020 ("game period"). Throughout this period, daily prizes of SGD 88 will be awarded to the top 25 players with the highest game scores at the end of each day. The player with the highest score of the entire game period will walk away with the grand prize of SGD 800.
To participate in the DBS TapLah! Contest, DBS PayLah! users simply need to partake in a qualifying transaction – giving and receiving of a DBS QR Gift between a unique giver-receiver pair (i.e. multiple transactions between the same giver-receiver pair are counted as one transaction) that takes place by 8 February 2020 is considered as a qualifying transaction. DBS PayLah! users gain one chance to play for every qualifying DBS QR Gift given and received.
Qualifying Transactions

DBS PayLah! user loads and gives a QR Gift to a unique receiver, who redeems it by 8 February 2020

*It counts as a qualifying transaction for the giver regardless of whether the receiver redeems a QR Gift via DBS PayLah! or PayNow

1 Chance

DBS PayLah! user redeems a QR Gift from a unique giver by 8 February 2020

1 Chance
For more details on DBS QR Gift and the DBS TapLah! Contest, please visit:
go.dbs.com/sg-qrgift
Appendix – Partner quotes
SMRT Corporation
"At SMRT, we have a culture of Kaizen, where we strive for continuous improvement. The DBS QR Gift project is very 'Kaizen' in spirit. SMRT is happy to be a part of this initiative that helps our staff to embrace digital transformation to improve the way we think and work," said Ms Tan Ai Ling, Group Chief Human Resources Officer, SMRT Corporation.
"It is important that we keep up with technology in this digital age. My SMRT colleagues and I are excited to redeem our QR Gift cards," said Mr. William Seah, Engineering Maintenance Manager, SMRT Trains.
Tribal Worldwide Singapore
"We're looking forward to supporting DBS in their sustainability pledge this CNY. Beyond just being partners in communications and marketing, we're proud to undertake something bigger together, doing our part to build a sustainable future for Singapore," said Joshua Lee, Managing Director, Tribal Worldwide Singapore.
Chubb Insurance Singapore Limited


"Chubb recognises the importance of adopting sustainable practices in our operations and we continuously explore options to reduce our environmental footprint. A little effort goes a long way – with the adoption of the DBS QR Gift this year, we are helping to reduce paper waste as well as making it seamless and convenient for our employees with this digital solution," said Scott Simpson, Country President of Chubb in Singapore.
Manulife Singapore
"We are always looking for ways to offer new solutions in response to evolving digital behaviour to improve the lives of our employees and customers. We are proud to partner with DBS on this meaningful digital experience as we move towards a Zero Waste Singapore, and hope everyone will enjoy and embrace this new way of gifting this Chinese New Year." Said Dr Khoo Kah Siang, CEO of Manulife Singapore
[END]
About DBS
DBS is a leading financial services group in Asia with a presence in 18 markets. Headquartered and listed in Singapore, DBS is in the three key Asian axes of growth: Greater China, Southeast Asia and South Asia. The bank's "AA-" and "Aa1" credit ratings are among the highest in the world.
Recognised for its global leadership, DBS has been named "
World's Best Bank
" by Euromoney, "
Global Bank of the Year
" by The Banker and "
Best Bank in the World
" by Global Finance. The bank is at the forefront of leveraging digital technology to shape the future of banking, having been named "
World's Best Digital Bank
" by Euromoney. In addition, DBS has been accorded the "
Safest Bank in Asia
" award by Global Finance for 11 consecutive years from 2009 to 2019.
DBS provides a full range of services in consumer, SME and corporate banking. As a bank born and bred in Asia, DBS understands the intricacies of doing business in the region's most dynamic markets. DBS is committed to building lasting relationships with customers, and positively impacting communities through supporting social enterprises, as it banks the Asian way. It has also established a SGD 50 million foundation to strengthen its corporate social responsibility efforts in Singapore and across Asia.
With its extensive network of operations in Asia and emphasis on engaging and empowering its staff, DBS presents exciting career opportunities. The bank acknowledges the passion, commitment and can-do spirit in all of our 28,000 staff, representing over 40 nationalities. For more information, please visit
www.dbs.com
.