DBS Foundation announces inaugural batch of grant recipients
First foundation in Singapore to champion social entrepreneurship awards grants to 11 social enterprises
Hong Kong social enterprise won over 300 applicants
Hong Kong, 12 Nov 2015 - WEDO Global becomes one of the recipients of DBS Foundation (DBSF) inaugural Social Enterprise Grant Programme, amongst 11 social enterprises (SEs) from Singapore, Hong Kong, China, India, Indonesia and Taiwan were awarded grants between HKD equivalent (SGD 50,000 and SGD 100,000) to grow and develop their initiatives in areas such as healthcare, education and environmental sustainability.
The grants enable the SEs to test and create prototypes, improve existing processes or scale up their existing business for greater social impact. They will also join a community of SEs in Asia that the DBS Foundation will actively support and promote. The community can expect support in the form of funding, skilled mentoring, training and access to platforms to showcase their businesses.
In addition to support SE community in Asia, DBS has been supporting and promoting the development of SE in HK over the past years. DBS Social Enterprise Advancement Grant has funded HK$6 million in the last 3 years, helping 36 local SEs to enhance their commercial viability and social impact. To date, the grantees have developed over 100 new products/services, provided more than 7,000 training hours and 250 job opportunities for people in need.
WEDO Global was supported by the DBS Social Enterprise Advancement Grant in 2014 to develop a series of experiential learning tours and provide vocational training and jobs to 10 ethnic minorities. As a result, their income doubled in 2014, allowing them to further expand their business. With the new DBSF funds, WEDO Global will formally set up its first overseas office in Taiwan and develop an integrated and interactive online travel platform targeting parents and children.
Ms Glendy Chu, Executive Director and Head of Group Strategic Marketing and Communications, DBS Bank (HK) Limited, said, "We are pleased to see that, HK grantee of the SE Advancement Grant has sustainable growth and even started to explore overseas market in addressing the local social problems with innovative commercial models. Through the community of SEs in Asia that the DBS Foundation will actively support and promote, we wish to see the synergy in SEs, which in turn, create positive energy and value added to our society."
Bosco Ng, Founder of WEDO Global said, "Thanks to DBS for their commitment and continued efforts in scaling up the commercial and social impact of local SEs. The Grant helps enhance our competitiveness of operating SE and promote the idea of social inclusion. We believe that the development of Hong Kong's SE helps not only releasing a potential minority workforce, it also effectively enhance social inclusion in Hong Kong. Social enterprises are a new global trend. Hong Kong's SEs will gain strength too, where more young entrepreneurs are joining the sector. On one hand, they inspire more innovative ideas and business models in Hong Kong, and on the other, they spark progress for the world."
Photo Caption
Photo 1: Staff from WEDO Global explained their very own business model and development to Mr Chua Hoi-wai, Chief Executive of Hong Kong Council of Social Service (1st left), Professor Stephen Cheung, Chairperson of the Social Innovation and Entrepreneurship Development Fund Task Force, Commission on Poverty (2nd left) and Ms Glendy Chu, Executive Director and Head of Group Strategic Marketing and Communications, DBS Bank (HK) Limited (3rd left).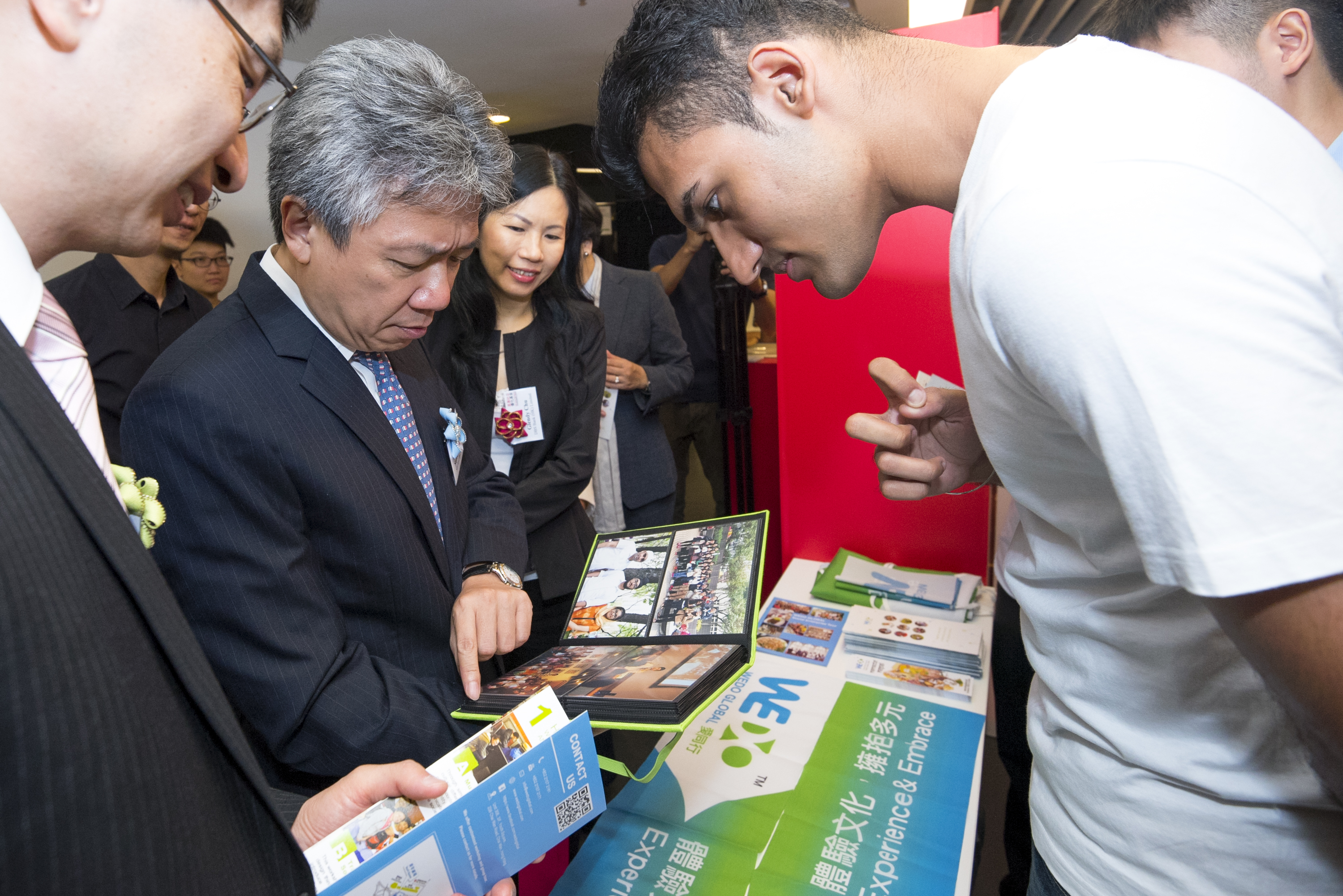 [End]
About DBS
DBS - Living, Breathing Asia
DBS is a leading financial services group in Asia, with over 280 branches across 18 markets. Headquartered and listed in Singapore, DBS has a growing presence in the three key Asian axes of growth: Greater China, Southeast Asia and South Asia. The bank's capital position, as well as "AA-" and "Aa1" credit ratings, is among the highest in Asia-Pacific. DBS has been recognised for its leadership in the region, having been named "Asia's Best Bank" by The Banker, a member of the Financial Times group, and "Best Bank in Asia-Pacific" by Global Finance. The bank has also been named "Safest Bank in Asia" by Global Finance for seven consecutive years from 2009 to 2015.
DBS provides a full range of services in consumer, SME and corporate banking activities across Asia. As a bank born and bred in Asia, DBS understands the intricacies of doing business in the region's most dynamic markets. These market insights and regional connectivity have helped to drive the bank's growth as it sets out to be the Asian bank of choice. DBS is committed to building lasting relationships with customers, and positively impacting communities through supporting social enterprises, as it banks the Asian way. It has also established a SGD 50 million foundation to strengthen its corporate social responsibility efforts in Singapore and across Asia.
With its extensive network of operations in Asia and emphasis on engaging and empowering its staff, DBS presents exciting career opportunities. The bank acknowledges the passion, commitment and can-do spirit in all of our 21,000 staff, representing over 40 nationalities. For more information, please visit www.dbs.com.
About DBS Foundation and DBS Social Enterprise Advancement Grant
As a corporate foundation in Asia solely dedicated to championing social entrepreneurship, DBS Foundation contributes towards building a more inclusive society so that those at society's margins can enjoy productive and rewarding lives. DBS Foundation works with Social Enterprises and Social Entrepreneurs in Singapore, China, Hong Kong, Taiwan, India and Indonesia with programmes ranging from venture challenges, learning forums, intensive incubation, project grant support, financing and skilled volunteer mentoring. The Foundation is an endeavor from DBS Bank to make an even greater impact in addressing Asia's evolving social needs. Visit us at: www.dbs.com/dbsfoundation.
Launched in Hong Kong in 2013, DBS Social Enterprise Advancement Grant is the first-in-town funding scheme that aims to enhance the commercial viability and social impact of operating social enterprises. In the past two years, 24 social enterprises were benefited by gaining extra resources to implement their advancement solutions, range from up-cycling, food waste management to job creation for the unemployed, the disabled, ex-offenders, ex-mentally ill, etc. The 24 grantees developed over 100 new products/services and provided over 7,000 training hours and 250 job opportunities for those in need.