Singapore's largest online marketplace Qoo10.sg taps mobile wallet DBS Paylah
Initiative – a Singapore first – reflects growing mobile-first trend
DBS PayLah! also opens its payment platform to SME sector, and is available to Singapore residents across all banks
Singapore, 04 Jun 2015 - For the first time, the largest local online marketplace Qoo10.sg has signed on a mobile wallet as a payment option for its customers. From mid-June onwards, customers shopping on Qoo10.sg will be able to pay for their purchases using DBS PayLah!, the fastest-growing personal mobile wallet in Singapore.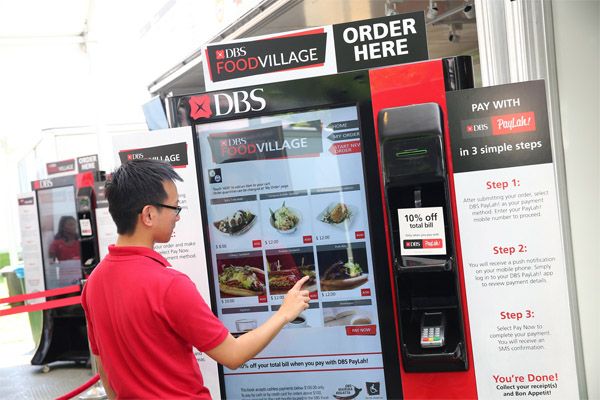 The move by Qoo10.sg to tap on DBS PayLah! reflects how readily Singaporeans have embraced mobile technology and how e/m commerce firms are adjusting to this rapid change. According to Google's Consumer Barometer research in 2014, Singapore has the highest rate of smartphone penetration globally, and this move by Qoo10.sg further underlines the mobile-first trend, where smartphone adoption has leapfrogged computer adoption.
Increasingly, Singaporeans are using their mobiles to purchase items like flight tickets, apparel and cinema tickets among many others. As customers become increasingly tech savvy, they are also demanding a more integrated experience on their mobiles. The partnership between DBS and Qoo10.sg will simplify the process for customers making payment via their mobiles. With only one or two clicks, customers are able to pay from their DBS PayLah! mobile wallet quickly and securely.
Mobile banking usage among Singaporeans also continues to grow strongly in line with the penetration of smartphones. In just five years, the number of DBS mBanking users recently crossed the one million mark while it took around 10 years for its iBanking users to reach that number. More than 50% of the bank's daily digital transactions are being done via mobile devices and DBS currently has over 2.2 million iBanking users.
Mr. Gene Wong, Executive Director of Regional eBusiness, Consumer Banking Group, DBS Bank said, "With more than 240,000 users, DBS PayLah! is the fastest-growing mobile wallet in Singapore. As the penetration of smartphones continues to deepen in Singapore, businesses are paying close attention to this trend, with many adopting a mobile-first mindset. As such, merchants are also keen to adopt DBS PayLah! to keep pace with their customers and stay relevant in the rapidly changing mobile landscape in Singapore. We are pleased to further expand our platform to them. Our aim is to make the entire mobile payment journey as seamless and intuitive as possible for all."
"Qoo10.sg is the largest online marketplace in Singapore, and we are seeing 50% of our customers coming in through the mobile app. With more than 20,000 transactions per day on the mobile, partnering with DBS PayLah! is an exciting step for us to enable a fully mobile experience that ultimately will drive better user experience and more transactions for us and DBS," said Mr. Hyun Wook Cho, Country Manager of Qoo10 Singapore.
DBS PayLah! is also enabling SMEs in Singapore to provide a more convenient payment option for their customers. BusOnlineTicket.com is one such SME, which is dedicated to providing long distance express bus services within the region.
"The bulk of our customers at BusOnlineTicket.com are tech-savvy Singaporeans. Having a payment method like DBS PayLah! that is trusted and widely recognised can help to further boost our business and sales," said Mr. Winston W., CEO of BusOnlineTicket.com.
From June onwards, to make a payment to Qoo10.sg and BusOnlineTicket.com, customers simply have to select DBS PayLah! as a payment method. They will then be redirected to login at the DBS PayLah! app to review the details of their payment, and approve the payment. Customers are then returned to the merchant site or app to complete their order.
In a move to drive greater mobile payment usage across the country, DBS has also made DBS PayLah! available to all Singapore residents, regardless of whether they are DBS/POSB customers.
"With DBS PayLah!, we have now reached a critical mass and that is why we are also expanding this service to all residents in Singapore as consumers have signalled their readiness to adopt mobile payments," said Wong.
At this year's DBS Marina Regatta happening over three weekends from 30 May to 14 June, DBS PayLah! will also be offered as a payment option for event-goers buying food and drinks at the DBS Food Village by Savour. When DBS PayLah! is selected as the payment option, customers only need to enter their phone numbers at the kiosks. They will then get a notification on their DBS PayLah! app to complete the payment on their mobile phones.
About DBS PayLah!
DBS PayLah! is a mobile wallet app available for Apple iOS and Android platforms. It is the fastest-growing personal mobile wallet in Singapore, and has more than 240,000 users since its launch in May 2014. The mobile wallet allows customers to send money instantly to either a single individual or a group of recipients via mobile numbers. Customers can also request for money from others, pay bills to 35 different billing organisations and donate money to 14 charities. DBS PayLah! also has a special "eAng Bao" feature – the first in Singapore – and saw more than 10,000 transactions being made over the Lunar New Year period.
While all users can access their DBS PayLah! mobile wallet with a personal password, customers on selected Apple devices may also login with Apple's Touch ID fingerprint sensor. The ability to login with Touch ID was introduced in DBS PayLah! in October 2014 – a first for a Singapore banking app. As of today, more than 40% of logins are being made through the feature.
DBS PayLah! is also open to non-DBS/POSB customers. By simply downloading the DBS Paylah! mobile app for free from Google Play Store or iTunes App Store, non-DBS/POSB customers can then link and verify their bank accounts to create their mobile wallets. Customers can then send and receive money to and from other DBS PayLah! users using only the recipient's mobile phone number, instead of needing their bank account information. Non-DBS/POSB customers can also withdraw their funds from their DBS PayLah! wallet to their linked bank accounts instantly.
Now, DBS PayLah! can be used at e/m-commerce merchants as well. Customers simply select DBS PayLah! as a payment option and they will be redirected to the DBS PayLah! app to log in, review the details of their payment, and approve the payment, all within two clicks. Customers are then returned to the merchant site or app to review and complete their order.

[End]

About DBS
DBS - Living, Breathing Asia
DBS is a leading financial services group in Asia, with over 280 branches across 18 markets. Headquartered and listed in Singapore, DBS has a growing presence in the three key Asian axes of growth: Greater China, Southeast Asia and South Asia. The bank's capital position, as well as "AA-" and "Aa1" credit ratings, is among the highest in Asia-Pacific. DBS has been recognised for its leadership in the region, having been named "Asia's Best Bank" by The Banker, a member of the Financial Times group, and "Best Bank in Asia-Pacific" by Global Finance. The bank has also been named "Safest Bank in Asia" by Global Finance for six consecutive years from 2009 to 2014.
DBS provides a full range of services in consumer, SME and corporate banking activities across Asia. As a bank born and bred in Asia, DBS understands the intricacies of doing business in the region's most dynamic markets. These market insights and regional connectivity have helped to drive the bank's growth as it sets out to be the Asian bank of choice. DBS is committed to building lasting relationships with customers, and positively impacting communities through supporting social enterprises, as it banks the Asian way. It has also established a SGD 50 million foundation to strengthen its corporate social responsibility efforts in Singapore and across Asia.
With its extensive network of operations in Asia and emphasis on engaging and empowering its staff, DBS presents exciting career opportunities. The bank acknowledges the passion, commitment and can-do spirit in all of our 21,000 staff, representing over 40 nationalities. For more information, please visit www.dbs.com.